by Maria Russo in Food Network Star, Interviews, Judges, June 22, 2017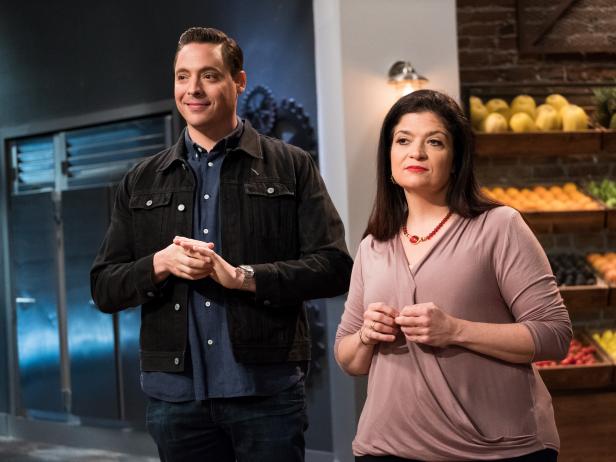 Nearly four weeks into the Food Network Star competition, several finalists have already experienced the sting of elimination and left the contest in defeat — but perhaps they'll be back. Starting Sunday night immediately after the new episode of Food Network Star, which premieres at 9|8c, Alex Guarnaschelli and Jeff Mauro will come together to mentor those ousted competitors on Star Salvation. This web-exclusive series on FoodNetwork.com will feature six weeks of challenges for the finalists eliminated along the way, and in the end one hopeful will earn the ultimate redemption: a chance to return to Food Network Star and rejoin the competition.
We checked in with Alex and Jeff on the set of Salvation about what they're looking for in a Star hopeful and their own roads to Stardom on Food Network. Read on below to hear what they had to say.
You've both mentored on Star Salvation before. What have you learned before that you're bringing to the competition this year?
Alex Guarnaschelli: My co-hosts always went to the culinary school of Food Network, so to speak. I think I bring the street smarts half, which is someone who offers advice about how to do a few fundamental things in front of the camera without having gone through this exact process. Plus a few totally impossible things that I actually learned from working with Bobby Flay: "Hey, relax and be yourself. Hey, if you don't like the shirt you're wearing, change into one that's comfortable. Hey, if you make it like that at home, chances are you should have the nerve to make it here, in this competition, the exact same way."
Jeff Mauro: Follow my instincts and look for the complete package, and look for somebody who is maybe looked over because of a bad day or a bad dish, and see through that one flub.