by Maria Russo in Food Network Star, Interviews, Judges, July 27, 2017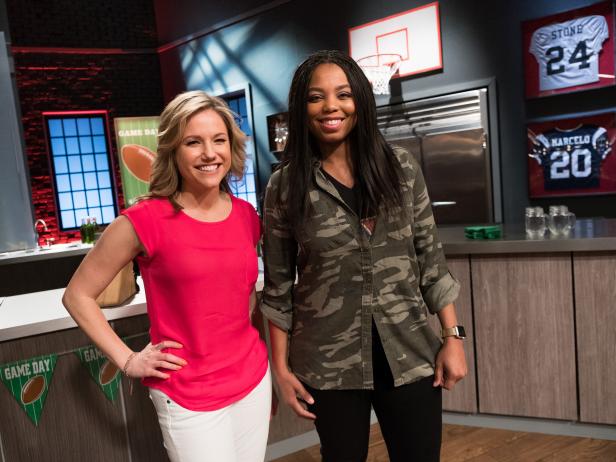 The Food Network Star competition has narrowed to just four remaining hopefuls, which means that this week, with just a few challenges left until the finale, the pressure will be on the competitors to deliver Star-worthy performances every step of the way. In addition to Bobby and Giada, two perfect-for-the-job judges will be on hand Sunday night to help evaluate finalists' presentations. ESPN's Jemele Hill and guest Jaymee Sire, who's set to be the floor reporter on the upcoming series Iron Chef Showdown, will join the Up Your Game Day Star Challenge, featuring a series of shared segments and culinary demos. To be successful in a livelike setting, the rivals must execute on multiple tasks at once, and no one knows the demands of that more than game-day enthusiasts Jemele and Jaymee. We caught up with them on set to get their take on the challenges ahead, their advice to guarantee game-day success and their own tailgating traditions at home.
Tell me a little bit about how food plays a role on game-day.
Jaymee Sire: I think food is the one thing that everybody can rally around. Everybody has their different team or their different players, but everybody can agree that you need good food on game day, and you need to fuel up, especially if you're going to be drinking. It's definitely something that everybody can rally around.
Jemele Hill: In a way, a game-day food is more challenging, because you're taking fairly basic things and you have to find a way to make them special. Of course, at any game-day party — nachos. OK, basic dish, but what kind of nachos? How will your nachos be different? Will there be seven layers? Will there be three? Will there be no layers? You have to take some of the most-basic things and figure out a way to make them special, and the worst thing you can have, especially when people are trying to have a specific sports experience, is have a dish that bombs. If you have the dish that bombs that just chilling on the table that nobody's eating, that's so awkward.