Last Sunday the gang of seven stared into the greenscreen of death with their POV-packed products in hand. Only six survived, and they headed to Las Vegas. Insert obligatory "steaks/stakes" joke here!
Salvation: If you didn't know it, over here on the Internet, Luca has been on a rampage in Star Salvation. After plowing through two fan favorites from previous seasons and the rest of the eliminated finalists, Luca walks back onto the set. The gang of six is now seven, and everybody's looking like they might get an endorsement deal for adult undergarments.
Nicole points out that Luca hasn't had as much of an opportunity for growth. While I agree to some extent, Luca has the confidence boost of personally slaying every other competitor.
Bacchus and Havoc: Giada offers to take the gang out to eat at Bacchanal Buffet. What sounds like a fun afternoon turns out to be Giada chewing up the contestants like they are linguistic linguini. Indeed, the crew must taste multiple dishes and articulate to Giada what makes each so tasty. Describing food is crucial to the career these cats covet, but only a few have a tongue that can taste and talk.
Emma crushes it. How? She doesn't once say the word "nice." "Nice" is a bank teller who offers you a lollipop even if you are 30 years old. "Nice" is an appropriate response to your friend who found a copy of The Physiology of Taste at a rummage sale. Food is not "nice." In my opinion, the best way to describe food is not to pay it a compliment (nice, delicious, yummy) or to say what it is (creamy, briny, chunky). Instead use words and phrases that conjure up magnified brain sensations. The burger doesn't just have a good texture — it feels like cherubs of grilled meat in a bouncy castle inside my mouth. See how it works?
With so many of the contestants now suddenly aware of their inability to vocalize their victuals, they are skittish as they head to the next round.
Piscine in the Pool: Alton rejoins Giada to drop some cast iron on the hopeful finalists. They'll be cooking for a fancy Vegas pool party, and each contestant must pitch a dish to the scantily clad revelers around them. The guests want to be entertained, and they want to indulge. Who will drown in the deluge of demanding dionysians and their dials of doom? Read on, Star fans!
Reinventing classic dishes is Chris, who swipes all the beef from the fridge and presents a beef tenderloin with cauliflower puree and mushroom chips. I don't know what dish this was in its former life, but it's overcooked in its current format. Maybe Chris knows this because when he gets up to spit the pitch on his dish, he practically just repeats "nice" and "tender" over and over.
Still miffed about Chris stealing her beef, Sarah compensates by saying "Texas" until we all assume that pork and grits is surely a Texas thing. Giada and AB like the grits, but that's about it.
The seafood star in Coley shines brightly in describing her scallop wrapped with Serrano. The dish even blows away, but she is unruffled. Unfortunately, it wasn't Serrano in the dish. For future reference, America, don't bs when Alton Brown is at your party. He practically shoulder-checks a party-goer in order to call out that food fibbery.
Why describe food when you can talk about how you like to get cray cray at ragers? Her Louisiana surf and turf is worth celebrating, but Loreal's pitch was meant for the yet-to-be-made Party Network Star.
Emma wings her presentation, and the unscripted, laid-back approach is perfect for the partygoers. Even better, she relates the dish to her personal life. Who doesn't want to taste a beach in Thailand? Too bad the guests can't manage to figure out her dish of scallop and mango, which has a whopping three components one could potentially add to customize the dish. It might not have been the best decision to make a customization station, but if she would have set up a taco bar, nobody would have batted an eye. This is the trouble with tentacles.
The culinary cowboy plays it safe with a burger and hedges his bets with the promise of a good ketchup. What's better, or maybe worse, the prize inside is more nekkid Lenny. He delivers on all fronts.
Luca comes back with a serious fuoco and has more adjectives to describe seafood salad than Thesaurus.com. He should have called it 1-900 Seafood Salad, the way he talked about it. His dish is stellar, and the partygoers can't stop staring at him and his handsome self.
Cue the Scary Music: Chris, Sarah and Emma are on the bottom. Chris couldn't describe or properly handle his beef. Sarah couldn't make Texas and pork happen. Emma put comestible nukes in the hands of people under the influence.
The culinary elevator stopped a few floors short of the top, and Chris was sent home.
The Moral of the Story: If you are going to compete on Food Network Star, you have to be careful about the promises you make. I really had high hopes for Chris in the earlier episodes. I also was a fan when he was on Cutthroat Kitchen. Chris is smart and delivered a nugget of crafty ingenuity in almost every dish he made. If Chris would have billed himself as the "crafty culinarian," I think he would have gone to the top. Unfortunately, "culinary elevator" was a promise he couldn't always keep.
Threat of the Week: Welcome back, Luca. Whatever happened to you on Star Salvation has given you the power to spit more fire than Mario and Luigi.
More posts from Justin Warner.
Similar Posts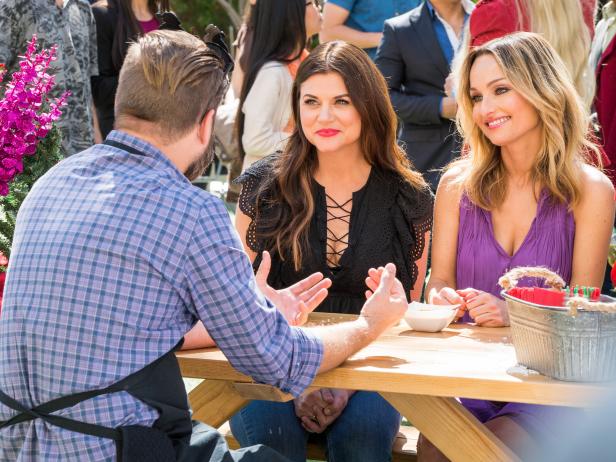 We're looking back on the highs and lows of Episode 6 of Food Network Star, Season 13....