One week ago, eight Food Network Star finalists made their way to Knott's Berry Farm for a live culinary demonstration. Everyone had their fair share of hiccups, but Christopher was the Charles Osborne of the bunch. With Christopher's culinary chops stuck in Star Salvation, the gang awaits another challenge.
Your Very Own Product
Remember last year when Rodney made that pie kit out of a coat hanger and gaffer tape? It looked like a Mason jar and a sumo wrestler mated. That's what I was hoping to see this year. Instead of pitching to supermarket execs, the gang is to make a commercial incorporating their POV. Because absolutely nothing is ever as it seems in Food Network Star, the gang will also shoot their commercials in front of a green screen, with a randomly selected location as their backdrop. Whose product will fly off the shelves? Who's product will be in the bargain bin? Read on, Star fans.
Cook Time
Wanting to take old-fashioned hotel butter to the Périgord level, Chris makes truffle butter in the shape of coins. Brilliant! I'd love to slap those on a dry-aged rib eye or stuff them in a chicken Kiev. By making butter, which is always delicious, Chris knows he will ace at least one portion of the challenge.
Because no product-themed culinary competition ever has enough hot sauce, Culinary Cowboy Lenny creates "Black Mamba Brandin' Iron Hot Sauce." I kinda wonder if Giada intentionally tells him to taste each pepper before he puts it in the sauce, because the milk guzzling that ensues is TV gold. Cowboys drinking milk. Always funny. Great job, Giada.
Never going back to Date Night, TexaSarah's favorite thing about herself is that she's a mother. She wants to make Texified baby food with real Texas flavors like coconuts. Neither Bobby nor Giada says much other than "OMG babies." Little Chef's is a pretty adorable name, and I admit I would buy it just because of that.
Butcher Babe Loreal makes a multipurpose — you guessed it — hot sauce. Interestingly, it also doubles as a meat marinade. What separates her hot sauce from the other thousands on the market is that she pickles her peppers and adds pickled watermelon rind. Giada warns Loreal that unique ingredients can be really good or really confusing, depending on the way they are explained. I am nervous about this watermelon rind.
The hostess of the coastess, Nicole cranks out a tomato-and-onion jam. This is bull's-eye POV material, because New Jersey isn't called the Garden State just because of that Zach Braff movie.
Reuben's hot sauce causes Giada to shudder. He adds agave and keeps it entirely raw. Smart move, as that could be a huge talking point, if he talks about it.
The murder scene on Emma's station is just a product of dealing with beets, and I admire Emma for showcasing them. I got really amped up with the addition of cardamom, easily one of the most underappreciated of spices, and certainly awesome with beets. She's also got a smart tip: Save brine to make salad dressings.
Green Screen: "If you believe in your product, you can sell it anywhere." —Paolo Coelho
Wait, that was Alton Brown who said that. Regardless, the gang gets assigned some very peculiar locations in which to make their commercials. I feel like if the finalists had played more creative card games, like Apples to Apples or SuperFight, they would have had a better chance. It was all about finding the link between the setting and the product — not the setting and the star.
In the comments last week, a few of you asked for my opinion, and in this section, you'll get it.
Nicole is now "Coley," and she has to hawk her tomato jam in the Wild West. She relies on a stretched simile to set the scene. By the third take she has a major case of the crankles, which is when one is cranky to the point of being rankled, or vice versa. It shows. All she had to do was say, "I moved west, and the only thing I cared to bring with me from the Garden State was my Tomato Onion Jam. It would make a boot taste good." The judges dig the jam, with Bob threatening to chug it from the jar.
Having traveled through a green-screen looking glass, Loreal is in a tomato wonderland. She makes a point of not rehearsing, which is a pro move. She has bullet points, but other than that, she wings it, and she completely destroys the challenge. Not much I would have changed except for the massive chunks of peppers the judges found in her marinade/hot sauce.
Lenny sees the Great Wall of China as though it's the elephant on the set. He just doesn't mention it. Well, that's one tactic. Sadly, his pitch is over the top in a bad way. You can't dress as a cowboy and sell something that energetically without it being mentally compared to snake oil. I was waiting for him to say, "Every jar has a prize inside!" If I were in his boots, I'd say, "General Tso invited me to a hot-sauce throwdown …" and go from there. Luckily, his sauce is gen-u-wine, and he gets applause.
Hanging out on a balcony in Paris, Emma wears her best stripes and beret to pitch her pickled beets. The judges think her accent is corny and it's not who she really is, but I'd wager Emma wasn't going for a perfect French accent. I think it was designed to be funny and campy, which it was. If bad French accents were not generally entertaining to us, there would be no Pepe LePew. The judges dig her beets, but I called that.
Suddenly not in Texas anymore, Sarah is on a tropical beach. She has coconuts all around her, and luckily for her, her baby food has coconut milk in it. She really does a fine job relating the beach setting to the baby food, but she doesn't mention why she's made it — because she's raising two foodies of her own. I guess she could have integrated that a little more, but I think Sarah did a kick-ass job. For once on Food Network Star, something tasting like baby food was a good thing. Bravo!
Lucking out, Chris is in good shape, having made buttery treasure and finding it in the desert. He almost nails it, but rather than explaining anything about the product, he just snacks on it and delivers a "Taste the evolution," which sounds like a good pitch for GMOs. He also doesn't sell himself as anything other than a dude who found butter coins. The judges and I dig the heck out of them, though.
Reuben, Reuben. All he had to say was "Moon over Miami!"
Cue the Scary Music (This music is especially scary because the eliminated finalist doesn't get to go to Vegas, or do they? Watch Star Salvation now.): Nobody really aced the challenge, but Loreal's tomato-patch charm gets her safety, and Chris' weird timing is saved by his genius little butter coins.
Emma, Nicole and Reuben are on the bottom. They were all awkward in their own unique ways, but the judges felt that Reuben's timing and timidity were cause for elimination.
The Moral of the Story: In Food Network Star, and in life, there are challenges. You can look at challenges as something that must be overcome, or you can look at them as questions that need to be answered. The former is more blunt, and less thoughtful, and can sometimes create more challenges along the way. If you simply deliver the best answer to the question, then you have figured out the easiest way to overcome the challenge. The question tonight was: What does the moon have to do with hot sauce? The answer was in the movie Moon Over Miami. From my experience on Star, a finalist's first reaction is to fight the challenge. I think in this case, that reaction was Reuben's undoing. Reuben is one of the most-likable characters I've seen on Food Network Star, and I can't wait to visit his amazing cafe/liquor store when I go to South Beach next year. Cuides, hermano.
More posts from Justin Warner.
Similar Posts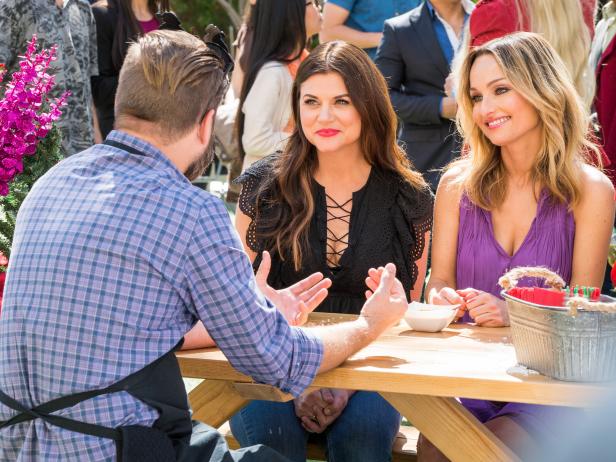 We're looking back on the highs and lows of Episode 6 of Food Network Star, Season 13....