With half of the hopefuls left, the crew returns to the Food Star Kitchen and sees Bobby Flay in chef whites, cranking out what looks like the best food I've seen on Food Network Star all season. I guess that's why he's Bobby Flay and the other six people in the room aren't — yet.
Wonderful, incredible, delicious, sexy: These words don't provide any actual description of what's going on in one's mouth. I adore this challenge.
Rodney, the recovering rocker, has made it quite clear to us that he speaks in the parlance of his former profession. It's not a bad thing, necessarily, but the actual taste of a "boss," a "killer" or "dynamite" isn't very appealing. Poor Rodney got the cartoon music played on him. That happened to me on 24 Hour Restaurant Battle when I compared pancakes to modernist sculpture. I deserved it.
Our friendly neighborhood barbecue guy, Chad, came up short when hitting up his word bank.
Stacey was able to create a mental image of someone who cooks with painstaking care, authenticity and an unending desire to serve. Mo Rocca would be so proud.
Once again, Damaris reels herself in too far and spiels the dish like my doctor does when she lists off all of the maladies that affect a bon vivant like me.
Speaking of clinical conditions, Russell flatlined. Maybe one too many culinary sins were clogging the arteries to his brain.
I couldn't believe that half of the competition has been canned and only two of the remaining six could deliver a palatable presentation. Stacey's story Cryovac-ed the deal just like it did when she made her son in to a potato ball in Episode 1, and I think it's clear as corn syrup that she's mastered communicating to the camera.
Star Challenge
The hopefuls are to cook a dish that will be bid on by the Gastronauts. Google them. I've dealt with them, and they live life like the judges on Iron Chef every day.
Green bean casserole doesn't even register on my "really fascinating" radar, but Damaris made me feel like it was OK for me to like green bean casserole even though I'm supposed to be in to rebellious cuisine.
Nikki has squashed her insecurities. She's no longer apologetic about her veggie-centric POV, and in this challenge, she hawked her wild mushroom pasta as though she already had the gig as the girl who goes gaga for greens.
I have to ask this question: Has anyone ever made french fries with any success on Food Network Star?
The ever-likable Chad made a barbecue brisket version of poutine, which I thought was the most inventive of all of the dishes presented. Unfortunately, when Chad got up to sell, his speech was saddled with "ums" and littered with meaningless catch phrases, including "explode in your mouth." Unless the dish contains pastry rocks or a pyrotechnician, nothing should be exploding in anyone's mouth.
In addition to Russell's curious case of multiple-POV-disorder, the vigor and conviction in Russell that was so present last week had withered. I felt like I was watching someone on C-SPAN attempt a filibuster by reading from Food Lover's Companion. Also: pureed bread.
Over in the vintage kitchen, Stacey's made her Maple Bacon Cheesecake sound like it was a baconized Hope Diamond.
Rodney was pure shtick. I like the guy, I really do, but being an entertainer doesn't mean you have to put on a show; it merely means you have to be a generally entertaining person, which he is already. Apparently, though, his pie was no laughing matter and was the dish most liked by the judges.
Cue the Scary Music
Stacey is clearly the captain of this week's safety patrol, with Nikki serving as first lieutenant. Damaris showed tremendous growth from the first to the second challenge. Rodney fell off — hard, but his pie was a giant berry-laden safety net.
As there must always be two before there is only one, we are left with Russell and Chad. Russell's split-personality POV and weirdo liquefied bread sauce were the sins of his former performances revisiting him. Chad has been constantly constant, and the judges fear he has plateaued. There's been no "a-ha" moment like Russell had last week. What I fear has been happening is that the judges can't see Chad as anyone more than the "friendly barbecue guy."
In what I'm sure will be one of the most hotly debated eliminations of this season, Chad was sent home.
The moral of the story: Communication is key.
Being the a Food Network Star comes with responsibilities. We are ambassadors of the culture of epicureans: We must enthusiastically articulate what's so special about a life driven by the appreciation of food, cooking and hospitality. We must communicate in a way that entertains, enriches and educates the people who are paying not with their wallets, but with the most precious currency: their attention.
Also, really, most of the mistakes I've made in my life were over a failure to communicate. Ask my girlfriend.
Threat of the week: Stacey. As we move closer to the end, I foresee an intense pressure being put on with on-camera presence and POV. She's got no problem staring down that box of glass and metal. Her POV isn't complicated, either: Tell a story from the past to find inspiration, and throw some rims on it.
More posts from Justin Warner.
Similar Posts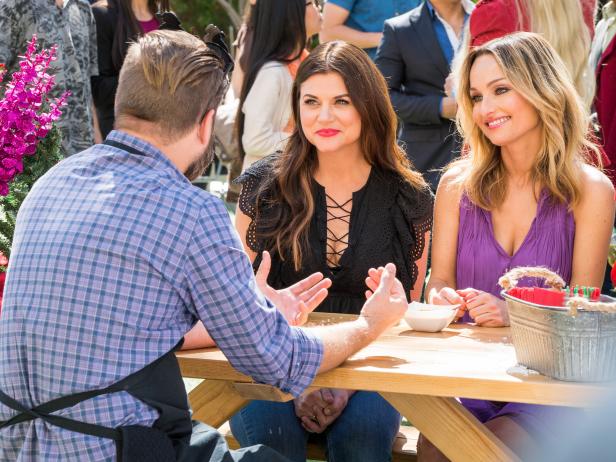 We're looking back on the highs and lows of Episode 6 of Food Network Star, Season 13....