It's an 11-week, live-action job interview. It starts with 12 or so fine foodie folks who compete to be the newest member of the Food Network family. In each episode, one or more of the applicants is shown the exit, and at the end, America will vote to determine who will get the chance of a lifetime: their very own show on Food Network. I survived this process, won my dream job and am living larger than a plate of disco fries on Triple D.
Welcome to the Rebel Recap, where I'll be recapitating the heck out of what went down last night on Food Network Star. It'll be as though you and I are long-time bros: Neither of us remembers how we got home, but here we are on the couch, shooting the breeze. Grab a slice of cold pizza and let me know what you think in the comments.
This season's teamless format should prove to be very interesting. It should encourage a lot more competition out of the gate. Being mentored by all three superstars could be a double-edged sword. If the finalists are able to take the best powers from all three mentors, the end result could be the Captain Planet of Food Network. On the other hand, having to interpret three very different styles of mentoring could lead to confusion and mania. Personally, I'm glad I was with Mr. Brown exclusively. Even if it's just a customer at my restaurant taking a picture of me, I think about what Alton would have to say about my on-camera presence.
Let's start with GAB (Giada, Alton and Bobby) walking in and explaining what's at stake and the fact that someone will be sent packing every time they meet. Chad divulges his fear of Mr. Brown, who "knows just a little bit more about everything than you do." This is entirely true, and I speak from experience.
Pitch tapes: If you can't spit 30 seconds of fire about what you're doing there, then you're probably going spend the next few days thinking about it in the comforts of your own home, with a pint of ice cream, flat champagne and paper towels because you ran out of tissues.
Mentor Challenge Highlights and Lowlights:
Stacey goes first, trips up a bit, but my good homie AB says there isn't anything in the room but Stacey and the box of glass, plastic and metal that just so happens to put her face in the households of millions. I welled up a bit, because he shared similar advice with me my first time on camera.
Damaris has her hands on her hips and starts to do the washing machine as the cameras roll. Bobby asks her to channel her inner wackiness and she has everyone in stitches.
Russell's first attempt looks and sounds like something between an '80s anti-drug PSA and a recruitment video for the legion of culinary doom. Alton wants to learn more about the culinary revolution that Russell is leading, and Russell distills it into seven sins, all of which happen to be really delicious.
Rodney, the pie man, freaking nails it. Case closed with lattice on top.
Viet is now confirmed as Chef Clark Kent
Nikki, who must go to the same dentist as Giada, smiles her way to a bulletproof POV. Giada loves it and I do too. It's so smart. Just chill on the meat sometimes, guys. It's worth a try. I think of bacon as a condiment.
Nikki says what's on the mind of all women about Chad: "You can't help but like the guy." Chad crushed this challenge like it was a ball of aluminum foil in which he wrapped his brisket once it reached an internal temperature of 160 degrees F, which we all know is a technique called the Texas Crutch.
I smell trouble brewing in Lovely-Danushka town, and we're only 18 minutes into the season. GAB says that Lovely needs to articulate what "glamming out the kitchen" is. Personally? I have no idea what she is talking about. Maybe she can show me how to bedazzle my blender? Sequin my sous vide? Put the chiffon in my chiffonade? That's actually a show I would watch.
When it comes time to present their vids and share their grub, GAB shows off their newest piece of gadgetry, the dial of doom, which a focus group can use to signal their enthusiasm for the content (or discontent) on display. I'm stoked to see what happens next with the dial of doom. Here's a secret: The dial of doom is a marvelous tool for interpreting results in real time. If you watched closely, Andres was tanking until he shared his weight-loss fact. Suddenly his rating popped into green and stayed there. This should be a clue to Andres to spit that fact at the get-go and build from there. If I were competing this year, I would analyze the doom dial data and weaponize it. You heard it here first: Whoever first treats the dial of doom as a useful tool (as opposed to a threat) will be the next Food Network Star.
Star Challenge Highlights:
Russell does a "simple potato tasting," which is anything but: It's potatoes three ways. I've said it on my Chopped Rebel Remix blog at least twice: Don't do this! You run the risk of being judged by the worst iteration of your dish. Lo and behold, Giada doesn't like the execution. Poor Russell says he got his "butt kicked."
Stacy gets +90 percent from the focus group and kills her dish with a cute story about how the potato skins on her dish remind her of her son's "wild man hair." This is what it's about: saleswomanship. In saying this, she says "You are eating the most-important nugget of my life." I smell safety.
Viet (aka Chef Clark Kent) steps into the culinary phone booth, rips off his shirt and comes out with a potato soup croquette.
The semi-vegetarian concept that Nikki is pushing is stellar.
Cue the scary music: Danushka reminds us that everything she did in this episode "suhks," so clearly she's not safe. The top performers, Stacey, Chad and Nikki, are safer than a box in a bank. We are left with Russell, Daniela and Danushka.
The judges have mixed feelings about the three, but ultimately Daniela is eliminated. The problem was that she couldn't get out what she said to the rest of the gang during her goodbyes: She was the "Peruvian Princess," a woman who could turn an ordinary potato into something that Bobby Flay would like.
The moral of the story? This is the amuse-bouche. A good chef will offer an amuse-bouche to say to the guest: "Look at me! This is just a tiny nugget of what awaits you in the subsequent courses. See how I made a potato into a curiosity? Look how much I can tell you about me in 30 seconds." It takes tremendous courage to get in front of peers, celebrities and cameras, and every one of these cats proved they could do it. Unfortunately for Daniela, it just wasn't enough. As Daniela said, this isn't the last you'll see of her, and I think that statement is la verdad.
Threat of the Week: Stacey. Running a restaurant is like being pregnant all the time, running a daycare and being a compulsive gambler. She's all this and a mom on top of it, so I would imagine she knows a thing or two about being resourceful, maintaining poise, and crushing any critters that come between her and baby.
P.S. The more folks that are shown the door, the shorter these posts will be. Thanks for making it to the postscript.
More posts from Justin Warner.
Similar Posts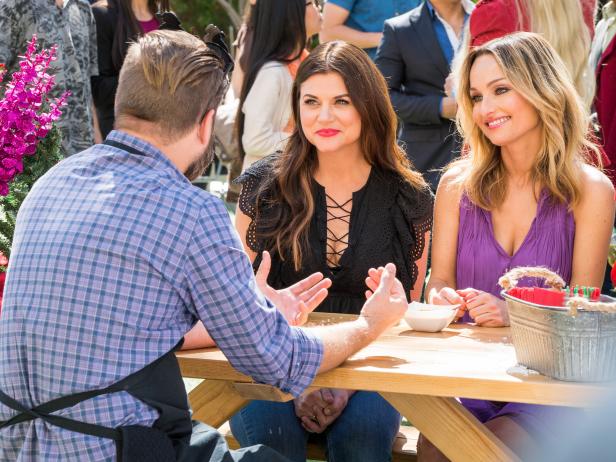 We're looking back on the highs and lows of Episode 6 of Food Network Star, Season 13....