Melissa d'Arabian won Star season 5 and has been loving her Food Network adventure ever since. Her show, Ten Dollar Dinners, premieres its fifth season on July 2. As a Star veteran watching from her couch at home, Melissa shares her insider's take on what went down each week.
I feel a bond to each of the finalists, so I'm offering a little BTDT (been-there-done-that) insight, hoping to give the very advice (wisdom?) that I would have loved my first day on set.
10. Expect to cook. Immediately.
Anytime after the flight attendant tells you to put away your electronic devices is probably fair game. Wear something comfortable (or at least safe) for racing around in a crowded kitchen. Yes, I'm looking at you, Penny. And be practical: With 10 episodes to shoot and three outfits per episode (count them), you've got a logistical challenge on your hands. You cannot afford to allocate space to anything that can't be reasonably worn in the kitchen.
9. 45 is the new 20.
Forty-five minutes sounds like an eternity to cook one dish, right? And it is — at home. Forget what you think you know about time. Forty-five minutes is nothing.
8. One is also the new 20.
Forty-five minutes flies by in the kitchen, but one minute of just you and the camera is an eternity. (Don't feel bad, Juba. Very few people are savvy enough to wing an entire minute on camera.) My tip: Know your opening and closing cold, have three points to make and prepare to drop the third point, going straight to your ending, if needed. And here's the knock-it-out-of-the-park secret: Be clear on how your points are related to one another, and rehearse the transitions from one point to the next. Great presenters are usually smooth transitioners.
7. Food cooks slowly on TV.
It's a well-established cooking competition law, so plan for it. Chris's raw chicken incident had to happen, so let's all learn from it and move on. I can attest to this: I made a potato torte in my season's final episode that I swear took an extra hour.
6. The five-minute rule.
Vic doesn't get his lobster plated in his first challenge. In my season's Esquire magazine challenge, I didn't plate my chicken tagine. (I recently ran into Ryan D'Agostino, the Esquire editor who judged that challenge, and I apologized for the food — two years later. It was that bad.) I followed a "five-minute rule" for the rest of the competition: Whatever is going on, start plating at five minutes. No matter what. I go ballistic watching Chopped at home when the clock is at two minutes and a contestant hasn't set out plates. Five minutes; plate. I beg of you, finalists.
5. Do not make major predictions your first day.
It's just plain old bad luck. It tempts the gods of great television just too much. Right, Howie?
4. To help or not to help?
Jyll helps her team and Howie, and her own dish suffers. After living through my own (less-civilized) kitchen-help fiasco, I will share my best advice on the topic: Do not help unless your dish is already amazing. And don't accept help unless you have no choice. Howie seemed more complacent than truly in the weeds. It's a little like sounding the alarm about your lost keys before spending even five minutes looking for them on your own. My advice? Look for your own keys before asking others to join you.
3. Show us your weaknesses. Judiciously.
Howie announces that he's not a fantastic cook rather casually (almost proudly), as if he were about to sit down to take the LSATs. Perhaps he thought he was being refreshing — even charming. To his credit, Howie seems to understand that great cooking is not the only key to winning Food Network Star. But what he misses is that great cooking is the price of admission to play the game in the first place. If you can't cook, you can't get past any of the judges, and I promise you this: You will never get past Bobby Flay.
2. Don't let the first feedback you get define you.
In the beginning it's tempting to hang onto every tiny word and let it overtake you. Don't. As time goes on, you'll receive more feedback and see that one comment is but a piece of the bigger puzzle. Mary Beth worries she is "mediocre," Alicia is in a tailspin over inquiries about her accent and has a mini-meltdown with Alton, and Justin B. gets in his own head, which turns out to be a bad neighborhood. Personally, I lost an entire night of sleep my first week of shooting because a comment rang in my head. Hear me carefully: DO listen to the feedback. The judges are actually rooting for you, so heed their advice. But incorporate the feedback, self-correct and move on. As Bobby said, "You just have to get over it."
1. Focus on the bones.
Orchid arrives and immediately is intimidated by the chefs she meets, and I feel for her instantly. My BTDT advice: Before you cloud your mind with everyone else's uniqueness (because, yes, they will all have something special and unique too), get clear on who you are and celebrate that; bring that to the table 100 percent. Bob Tuschman tells Susie Jimenez (whom I loved from the second she tripped on her entrance) to look for the "part of life that only you can talk about." The best words of the episode were when Susie Fogelson lamented "finalists running from the thing that is in their bones." Run to what's in your bones, gang; it's where you will win.
See what Melissa's cooking up on Ten Dollar Dinners, check out her Facebook Fan Page and follow her on Twitter (@melissadarabian).
More posts from Melissa d'Arabian.
Similar Posts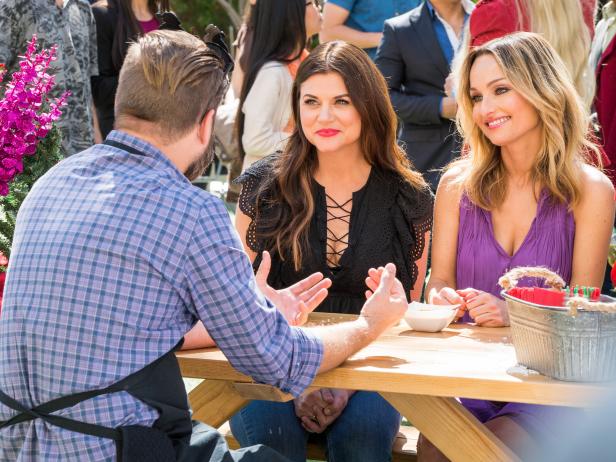 We're looking back on the highs and lows of Episode 6 of Food Network Star, Season 13....