Aarti Sequeira's Ground Lamb Kebabs, Bengali-Spiced Potatoes and Persian Cucumber Raita
The sizzle of the finalists' lunch trucks dishes in the preview for Sunday's Star episode made me hungry for street food, (alas, no Smell-O-Vision) so I cooked up Aarti's street food-inspired winning dish from the last episode while I waited it out for Sunday night. Her take on Jonathan Waxman's favorite dish -- lamb and potatoes -- had the "Obi-Wan Kenobi" of the food world singing her praises, so I figured that the Ground Lamb Kebabs with Pomegranate Glaze, Bengali-Spiced Potatoes and Cucumber Raita would be a sure-fire hit at my dinner table.
The cucumber raita was simple, crisp and refreshing with just five ingredients: cucumber, mint, Greek yogurt, salt and pepper. Aarti used Persian cucumbers, which are small and seedless, but I used some small cucumbers I had on hand. The salad was the perfect foil for the spicy potatoes and kebabs.
Aarti's Cucumber Raita
Aarti packed lots of flavor into the lamb kebabs by mixing fresh parsley and mint, chopped shallot, lemon zest and garlic into the ground lamb.  She also used a surprise ingredient: baking soda.  I had never used baking soda in meat, but adding it tenderized the kebabs and created a smooth, silky texture.
Aarti impressed Bobby by making her own pomegranate molasses for the kebab glaze, but Bobby Flay wasn't in my kitchen, so I used some I had in the cabinet.  I found it at a Middle Eastern market and (when I'm not glazing lamb kebobs) love to use it as a sweet-tart topping  for Greek yogurt.
The potatoes were the sleeper hit of the recipe.  Toasting the spices in oil brings out their flavor and and gives off an incredible aroma -- when I added the spices, my boyfriend wandered into the kitchen to see what smelled so good. (Aarti used a Bengali five-spice blend, but the technique would work with your favorite Indian spice blend.) Sauteing the onions in the spices adds even more flavor, and cooking the mashed potatoes in a single layer gives the potatoes a great mix of crunchy/creamy textures.  I'll definitely be making these again!
My finished dish didn't look quite as nice as Aarti's, but it was certainly an impressive weeknight meal and a great change from my usual fare. Here's what my finished plate looked like:
The Finished Lamb Kebabs
Whose food-truck fare do you think we'll be cooking up next week? Watch the next episode of The Next Food Network Star to see who's cooking up winners...and who's going home.
More posts from Liz Gray.
Similar Posts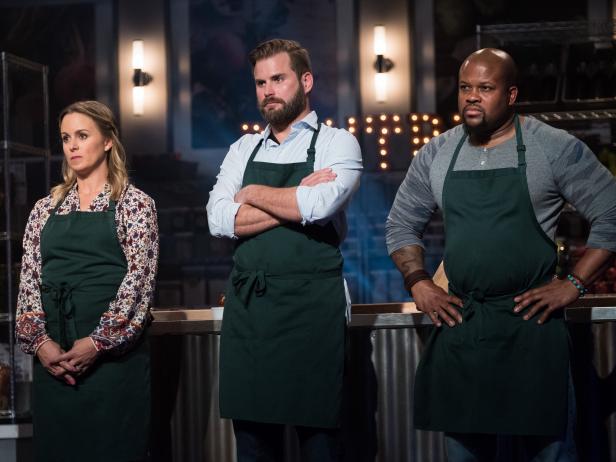 Hear from David Rose, who was sent home from Food Network Star, Season 13 in Episode 7....