I'm going to miss Dzintra. I must admit, I cringed with the rest of you when she shushed Aria – but, come on, you couldn't take your eyes off this finalist. Her unpredictability was fascinating. She was a pistol and the show won't be the same without her theatrics. I've written so much in previous blog posts about Ms. Dzenis, that now, I'm simply going to let Dzintra leave and stop talking about her. She has moved on and so must I. Farewell, Dzintra.
Brad (aka Justin Timberlake's Lookalike) took his hat off in a few scenes this week and it totally threw me for a loop. I almost didn't recognize the guy. If Aarti stops wearing her flower I'm really going to be in trouble. I'm certain both Brad and Aarti wear these items to help them stand out from the crowd. I like these little added touches and think they shouldn't be filmed without them. You know how restaurant waiters have a pencil stuck behind their ear? I'd like to see DAS carry a utensil behind his. Perhaps a spoon? Yes, that should be his thing.
Herb. I dig him. He's an Atlanta boy and so am I. If for no other reason, I have to cheer for one of my own. However, if I could speak to him before Episode 4, I would offer my brother this advice, "Be authentic." Herb's enthusiasm, his smile and often times his whole demeanor comes across as forced to me. Be yourself, Herb. We Georgia boys have enough genuine personality – we don't have to be fake.
I did not care for how Paul treated Serena in the team challenge. I found him to be obnoxious, overbearing and a bit sexist with his comments. He needs to dial that mess down. He has a comedic, stand up background and maybe his shtick is funny in one of those venues? But, in this format, he's coming off as a big jerk. And, I like Serena too much to see her treated like this. Stop it, Paul.
Tom. I think he may be a sleeping giant here. He seems like that kid who sits in the back of the classroom all quiet and elusive, and then he graduates and invents something the world can't live without. Sure, his hair makes me nervous, but like Aarti's flower, Brad's hat and DAS's spoon, it's his thing. Don't get a trim, Tom. I'll get used to it with time.
Clearly her teammate didn't want to hear anything she had to say (first paragraph), but Aria's voice comforts me. She has been told that she speaks to people like they are kindergartners (and she really does), but there is something about this cook that draws me in. I would so watch a show starring Aria. Perhaps more than any of the other finalists, I find Aria very easy to relate to.
More posts from Grant Dudley.
Similar Posts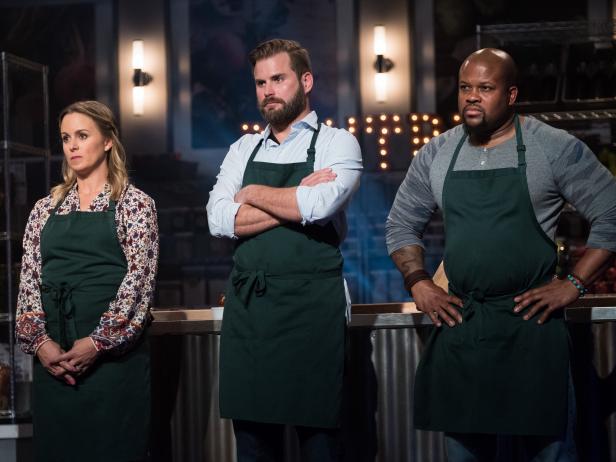 Hear from David Rose, who was sent home from Food Network Star, Season 13 in Episode 7....