This trio of healthy Brussels sprouts recipes is delicious enough to convert even those who feel dubious about this vitamin C-packed cruciferous veggie. Here, the leafy sprouts get their moment in the spotlight first as the star ingredient in a delicately crunchy raw salad, then tossed into a peppery pasta carbonara and finally topped onto a shiitake-sesame rice bowl and drizzled with a smoky tahini dressing.
Brussels Sprouts Carbonara (pictured above)
Serves 4
Salt
8 ounces quinoa spaghetti
4 strips bacon, cut into 1/2-inch pieces
1 clove garlic, smashed
8 ounces shredded Brussels sprouts
2 large eggs, at room temperature
Freshly ground black pepper
1/4 cup pecorino, optional
Cook the pasta in a large pot of boiling salted water until al dente.
Meanwhile, cook the bacon in a large skillet over medium-high heat until crisp; drain, reserving some of the bacon fat. Using the same skillet, cook the garlic and Brussels sprouts, stirring occasionally, until golden, about 5 minutes.
In a large bowl, whisk together the eggs and season with plenty of pepper. Add the drained pasta, bacon, Brussels sprouts and some of the reserved bacon fat, if using; toss to combine. Serve with the cheese, if using.
Per serving: Calories 285.5; Fat 6.3 g (Saturated 1.8 g); Cholesterol 98 mg; Sodium 190 mg; Carbohydrate 48.2 g; Fiber 4.8 g; Sugars 1.6 g; Protein 10.1 g
Sesame Rice with Warm Brussels Sprout–Shiitake Slaw and Smoky Tahini Dressing
Serves 4
For the Smoky Tahini Dressing:
1/2 cup tahini
2 tablespoons fresh lemon juice
1 clove garlic
3/4 teaspoon ground smoked paprika
1/2 teaspoon ground cumin
1/2 teaspoon salt
1/2 cup cold water
For the Sesame Rice:
1 cup short-grain brown rice
1/2 teaspoon salt
1 1/2 teaspoons toasted sesame oil
2 teaspoons sesame seeds
For the Warm Brussels Sprout–Shiitake Slaw:
2 tablespoons olive oil
One 5-ounce container sliced shiitake mushrooms
One 10-ounce container shredded Brussels sprouts
1 Medjool date, finely chopped
Salt
Make the Smoky Tahini Dressing: In a blender, blend together the tahini, lemon juice, garlic, paprika, cumin, salt and water until creamy.
Make the Sesame Rice: Bring a medium pot of water to a boil, add the rice and salt, and reduce the heat to medium-low. Simmer, uncovered, until al dente, about 15 minutes; drain. Stir in the sesame oil and sesame seeds.
Make the Warm Brussels Sprout–Shiitake Slaw: Meanwhile, in a large skillet, heat 1 tablespoon of the olive oil over medium-high heat. Add the mushrooms and cook, stirring occasionally, until softened, about 5 minutes. Add the remaining 1 tablespoon olive oil, Brussels sprouts and the date; cook, stirring occasionally, until tender and slightly charred, about 5 minutes. Season to taste with salt. Divide the rice among 4 serving bowls, and top each with some of the warm Brussels sprouts–slaw and tahini dressing.
Per serving: Calories 500; Fat 25 g (Saturated 3.5 g); Cholesterol 29.9 mg; Sodium 660 mg; Carbohydrate 61 g; Fiber 11 g; Sugars 8 g; Protein 17 g
Brussels Sprouts, Walnut & Gorgonzola Salad with Cranberry Vinaigrette
Serves 6
1/4 cup white wine vinegar
2 tablespoons unsweetened cranberry juice
3 tablespoons olive oil
Salt and pepper
8 ounces shredded Brussels sprouts
1 bunch Tuscan kale, stems removed and thinly sliced crosswise
1/4 cup dried cranberries, chopped
1/2 cup walnuts, chopped and toasted
1/4 cup crumbled Gorgonzola
In a small bowl, whisk together the vinegar and cranberry juice. Whisking constantly, slowly stream in the olive oil; season with salt and pepper.
Place the Brussels sprouts, kale, cranberries and walnuts in a large bowl and toss with the vinaigrette; massage with your hands until coated and beginning to wilt; season with salt and pepper and top with the Gorgonzola.

Per serving: Calories 238.7; Fat 21.4 g (Saturated 3.2 g); Cholesterol 5 mg; Sodium 86.3 mg; Carbohydrate 9.8 g; Fiber 3.3 g; Sugars 3.4 g; Protein 5.8 g
Silvana Nardone is the author of Silvana's Gluten-Free and Dairy-Free Kitchen: Timeless Favorites Transformed.
More posts from Silvana Nardone.
Similar Posts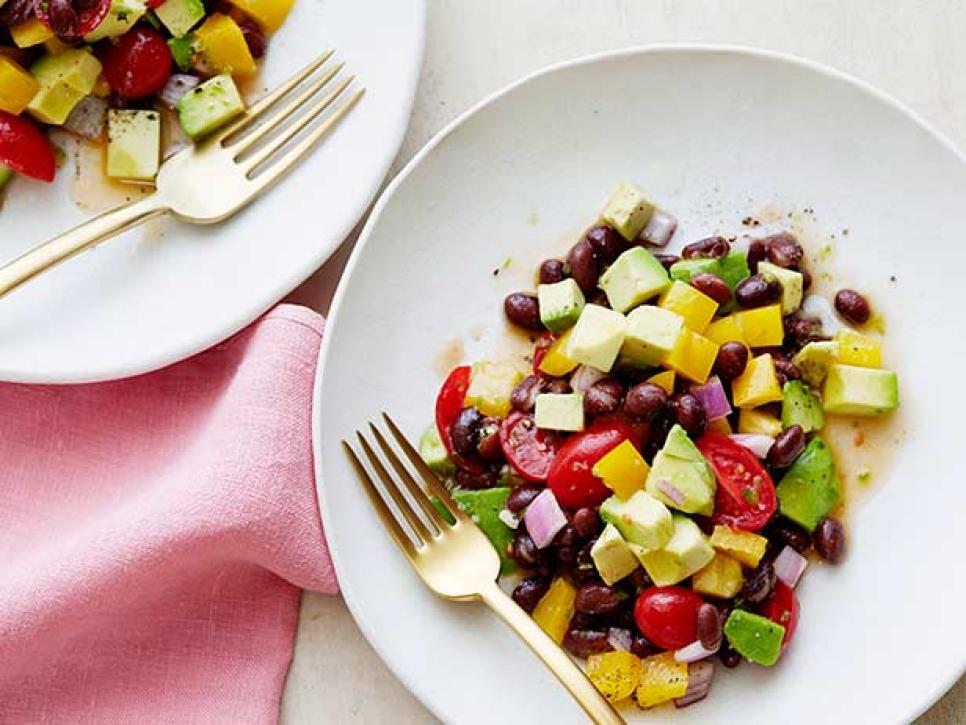 A registered dietitian highlights some of her favorite healthy recipes from Food Networks biggest stars....