In response to the rise in allergies and in demand for nondairy cheeses, numerous vegan cheeses are now widely available. Vegan cheeses can be made from a variety of ingredients, like soy, tapioca, rice and almonds. Find out if these vegan cheeses measure up in flavor and nutrition.
The Criteria
We tried out cheddar-flavored vegan cheeses from various companies. Each cheese was rated on a scale of 1 to 5 (5 being highest). The ratings are based on taste, mouth feel, cost, nutrition (specifically calories, fat, sodium and calcium) and ingredients.
Daiya Cheddar Style Slices
Rating: 3.0
Cost: 64 cents per ounce
Per serving (1 slice, 20 g): Calories 60; Fat 4.5 g (Saturated 2 g); Sodium 115 mg; Protein 1 g; Calcium: 0% DV
This cheese is free of lactose, casein, gluten, soy and cholesterol. The flavor doesn't really resemble that of cheddar, but the mouth feel is nice. Like most other vegan cheese brands, it doesn't contain any added nutrients, like calcium. It does, however, contain carrageenan, which the Center for Science in the Public Interest lists as an ingredient to be cautious of, as studies have linked it to certain forms of intestinal cancer and ulcerations in animals.
Go Veggie Cheddar Style Singles
Rating: 4.5
Cost: 63 cents per ounce
Per serving (1 slice, 17 g): Calories 40; Fat 3 g (Saturated 0 g); Sodium 150 mg; Protein 3 g; Calcium 20% DV
This cheese promotes itself as being lactose- and soy-free, but it does contain casein, which is a milk protein (so it is not dairy-free or vegan). The base of the cheese is made of rice, and it has similar characteristics as popular dairy-filled cheese slices. This cheese is the only one of the bunch that is fortified with a variety of vitamins and minerals, including calcium; vitamins E, A, C and B12; iron and folic acid. It also contains carrageenan, which is tough to replace in these types of cheeses.
Lisanatti Almond Cheddar Style Cheese
Rating: 4.5
Cost: 62 cents per ounce
Per serving (1 ounce, 28 g): Calories 50; Fat 4 g (Saturated 0 g); Sodium 210 mg; Protein 6 g; Calcium 20% DV
This almond-based cheese contains no cholesterol, GMOs, lactose, saturated fats or gluten. It has much more protein compared with the other vegan cheeses. It also contains 20 percent of the recommended daily amount of calcium, some which probably comes from the almond and some through fortification. It does contain casein, a milk protein, so those with a milk allergy should not consume it. The flavor, which is robust with a little sweetness, resembles that of cheese and is quite pleasant. This cheese contains recognizable ingredients and has fewer ingredients than many of the other brands.
Tofutti All American
Rating: 3.5
Cost: 46 cents per ounce
Per serving (1 slice, 19 g): Calories 80; Fat 6 g (Saturated 3 g); Sodium 290 mg; Protein 2 g; Calcium: 0% DV
This is another soy-based cheese that contains no dairy, cholesterol or gluten. It is also certified as kosher. The mouth feel closely resembles that of dairy-filled cheese slices, and the flavor is neutral. The ingredient list does include carrageenan, and the sodium is also the highest of the bunch. There are no added vitamins or minerals in this cheese, either. The cost, however, is the lowest of all the cheeses reviewed here.
Follow Your Heart Cheddar Vegan Gourmet
Rating: 2.0
Cost: 55 cents per ounce
Per serving (1 ounce, 28 g): Calories 70; Fat 7 g (Saturated 0 g); Sodium 170 mg; Protein 1 g; Calcium 0% DV
This vegan cheese is certified kosher, Non-GMO Project Verified, and dairy- and gluten-free. It is made from soy and chicory root, and also contains carrageenan. The mouth feel resembles that of tofu taken from a package, very moist, and the smell is unpleasant. The cheese crumbled easily when the package was gently pressed. It also contains more fat than the other brands, from canola oil, and contains no added vitamins or minerals.
Toby Amidor, MS, RD, CDN, is a registered dietitian and consultant who specializes in food safety and culinary nutrition. She is the author of The Greek Yogurt Kitchen: More Than 130 Delicious, Healthy Recipes for Every Meal of the Day.
More posts from Toby Amidor.
Similar Posts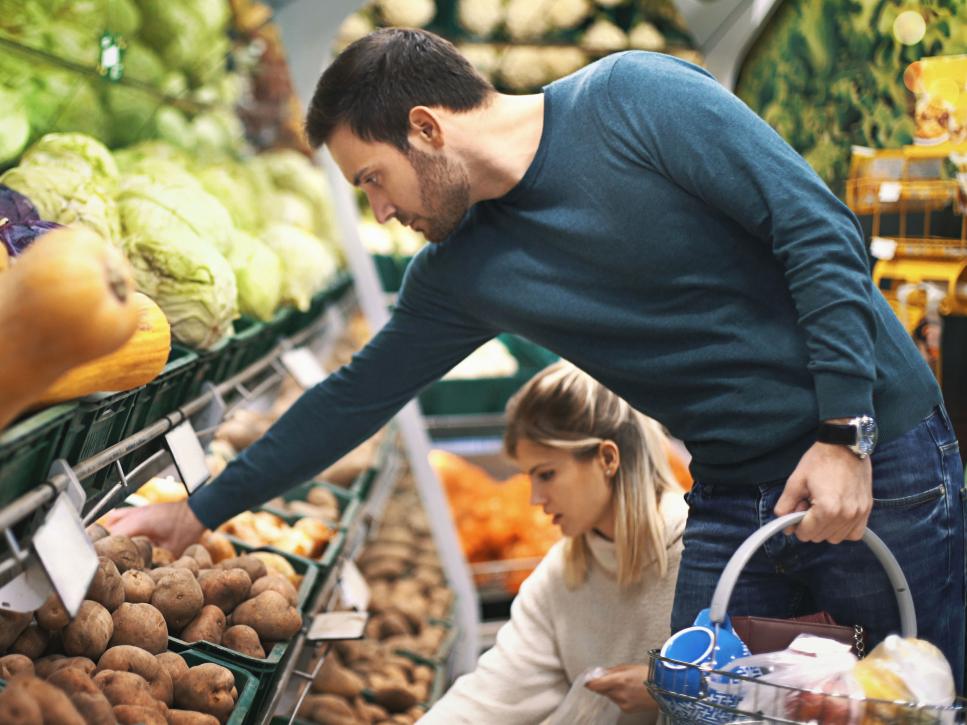 Tricks to avoid overspending at the supermarket....