Store brands used to just be for die-hard bargain shoppers, but the demand for high-quality ones has recently spiked. In response, many large store chains have responded by delivering some excellent products at equally favorable prices. Here are some of the most-popular store brands and a few of their most-impressive products.
Wegmans
If you live near one, you go there as much as possible. At Wegmans you'll find an extensive line of products marked "Food You Feel Good About." This line has been around for over a decade, featuring foods free of trans fats, artificial colors and flavors, and high-fructose corn syrup. Meats, eggs and dairy are purveyed from animals not given antibiotics or hormones.
Stop and Shop – Nature's Promise
From produce to protein bars, shoppers will find thousands of these organic and "free from" store-brand items throughout the store. Shoppers can find especially big savings on meats, produce and snack foods.
Target – Simply Balanced
Next time you visit this massively popular retail chain, check out this line of honey, nut butters, cereal, rice, pasta, salsa, meat, eggs and more. Many items are organic or Non-GMO Project Verified.
Whole Foods — 365 Everyday Value
Hit up this popular market for great selection and deals on foods including cooking oils, baking essentials and frozen foods. This market also has a very user-friendly system for seeking out sustainable seafood at the fish counter.
ALDI – SimplyNature
Ninety percent of the foods and beverages sold at this chain are exclusive store brands. All of these affordable foods are free of added MSG, certified synthetic colors and partially hydrogenated oils. The SimplyNature line of natural and organic foods features pantry staples like chicken broth, quinoa, and boxed mac and cheese, as well as fresh produce, dairy and frozen foods.
Trader Joe's
The entire store is a name brand, offering products with cleaner ingredient lists than their traditional name-brand counterparts. Gourmet potato chips, decadent hummus, fair-trade coffee, and frozen organic riced cauliflower and other seasonal goodies are just a few of the trending featured items at this beloved grocer.
Costco — Kirkland Signature
Choose this big-box chain for bulk items like nuts and paper towels. Under this label shoppers can also find a respectable selection of dietary supplements with USP certification.
The Fresh Market
At this upscale grocery store with a gourmet twist, patrons can find an exciting selection of chocolates, nuts, and dried fruit and other munchies, sold from bins.
Dana Angelo White, MS, RD, ATC, is a registered dietitian, certified athletic trainer and owner of Dana White Nutrition, Inc., which specializes in culinary and sports nutrition.
More posts from Dana Angelo White.
Similar Posts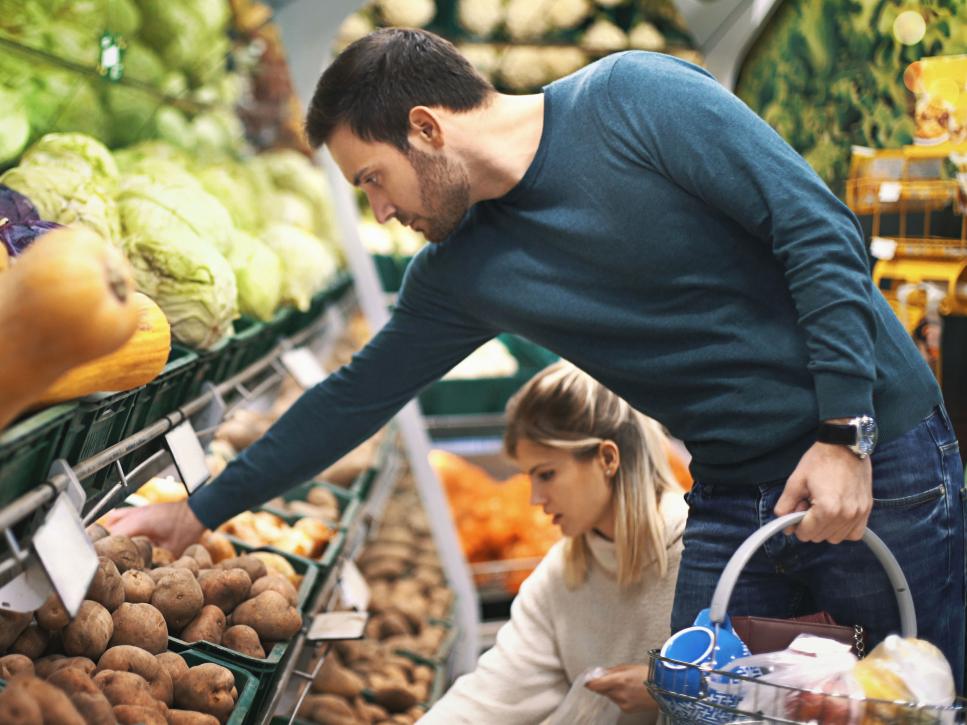 Tricks to avoid overspending at the supermarket....