There is perhaps no other food that inspires the same degree of fanaticism and controversy as bacon. From a near-cultlike following that's led to the creation of bacon-themed apparel to the less-than-glowing WHO report from late last year warning that those who eat diets high in bacon and other processed meats might be elevating their cancer risk, it's safe to say the crowd is split 50-50 between blind devotion and fearful skepticism. Where does that leave us when we're trying to clean up our eating, but we also really want a comforting slice of bacon crumbled into our salad or sandwich?
Let's work with the facts: Bacon is delicious, and while research has made a pretty strong connection between daily processed meat consumption and the possibility for illness down the road, dietitians have said that occasional bacon consumption is perfectly fine, especially when you buy "uncured" bacon.
Rather than using bacon as the centerpiece at mealtimes, we should be thinking of it as a garnish or topping — a small flavoring component, like an herb or spice. Careful with "topping," though. We're all intrigued by the notion of a bacon-lattice apple pie, but unless it's Thanksgiving, it's better to stick to the "in moderation" mantra.
Need a few examples? Try using bacon as …
A warm blanket for bite-sized appetizers.
Aarti Sequeira's oven-baked Bacon-Apple-Jalapeno Pop 'Ems (pictured at top) are a welcome change from the greasy fried poppers you'll find on most restaurant menus. Fill the halved peppers with a low-fat mixture of light cream cheese, scallions and apples. The calories you save with the low-fat filling give you some leeway to wrap each bite with a single slice of bacon.
A crispy salad topper.
Who needs croutons when you can top a salad with crisp bacon instead? Sweet, rich figs are great companions for bitter greens, bacon and black pepper in this Fig, Bacon and Frisee Salad, which has just 255 calories per serving.
A meaty garnish for open-faced sandwiches.
These crunchy Bacon-Tomato-Cheese Toasts transform weeknight dinners into sophisticated soirees. Simply top Texas toast with a mixture of cheddar, part-skim mozzarella, mayo and scallions, then add crumbled bacon and tomato, and bake until golden brown. The calories you'll save by nixing the top slice of bread make room for the bacon.
A way to fill the bread void.
These Wedge Salad Burgers lack bread altogether. But whatever satisfaction you're missing from a soft burger bun can be made up for with savory bacon. Use any bacon you like, but maple-flavored bacon works nicely with the sweet red onion.
A savory pasta mix-in.
With just 377 calories per serving, Food Network Kitchen's BLT Pasta Skillet incorporates the central components of a BLT — bacon, leafy greens and tomato in the form of chunky red sauce. Whole-wheat pasta adds wholesome flavor, as well as extra fiber and protein.
For more ways to improve your meals with bacon, check out these recipes from our friends:
The Lemon Bowl: Roasted Green Beans with Bacon
Creative Culinary: Bacon, Potato and Leek Soup with Roasted Garlic
TasteBook: Smokey Caramelized Onion, Coffee & Bacon Jam
Napa Farmhouse 1885: Oven Baked Bacon (and a Bacon Recipe Roundup)
Taste with the Eyes: Hawaiian Wedding Shower, Bacon Wrapped Pineapple Appetizer
The Mom 100: The Ultimate BLT Sandwich
Dishin & Dishes: Bacon Chipotle Caramel Crack
FN Dish: 6 Ways to Make Over-the-Top Foods More Over the Top … with Bacon
More posts from Emily Lee.
Similar Posts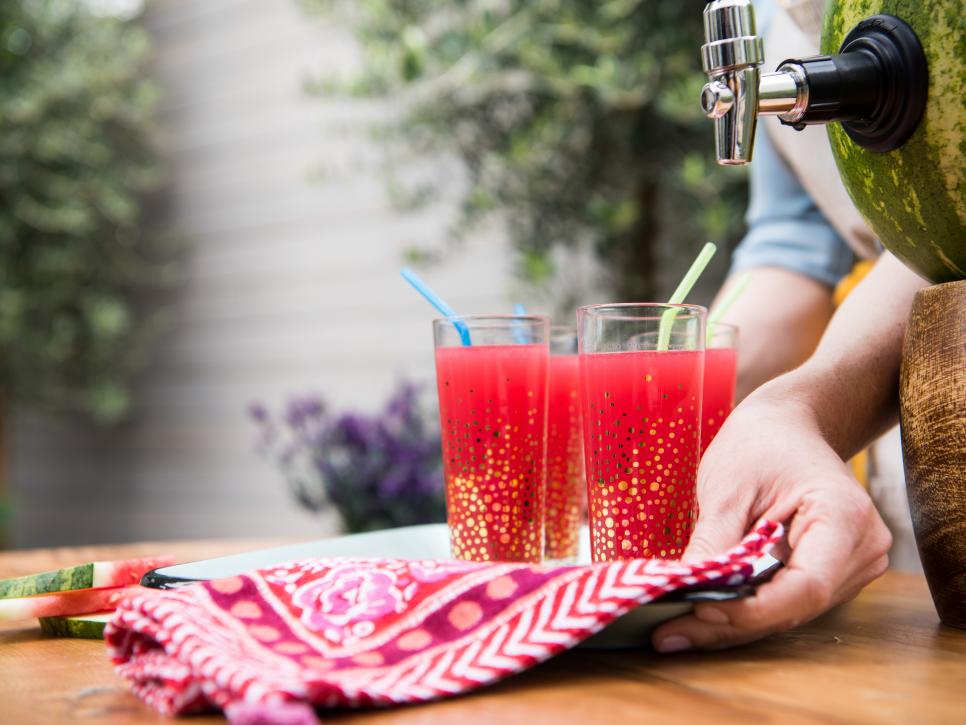 Tips and ideas for enjoying watermelon....