Salty plus sweet has been on trend for a while, and nowhere is its popularity more apparent than in the explosion of salted caramel-flavored foods. So popular is the flavor that even healthy foods are getting in on the action. Here's a roundup of our latest salted caramel sightings in the healthy-food aisle:
Gluten-Free Pita Chips (pictured at top)
Toufayan's new line of crunchy pita chips is a welcome snack for anyone steering clear of gluten. Salted caramel is one of three flavors they've launched (sea salt and lime are the others). Popcorn-based Popchips now come in a salted caramel flavor that reminds us of kettle corn. (While we can't in good conscience add this to our "healthy" list, it's worth noting that Lay's is making salted caramel potato chips. Salted caramel potato chips! It's real.
Kale Chips
Sensing that the caramel madness might not end there, on a whim we sought out salted caramel kale chips. We found them (Kandy Kale, by Alive & Radiant), although for some reason they've been discontinued.
Greek Yogurt
It makes sense that the most-popular style of yogurt (Greek) would take on this trendy flavor. We've spotted salted caramel Greek yogurt from Stonyfield and Chobani. Lifeway is also making a salted caramel kefir.

Regular Yogurt
Not to be left out of what's on trend, Noosa yoghurt isn't Greek but it is featuring a new salted caramel flavor (available in January).
Tea and Coffee
Not even tea or coffee is exempt from the salted caramel treatment. If you like the flavor of salted caramel, without the extra grams of sugar that often entails, try one of these flavored (not sweetened) beverages: Twinings Salted Caramel green tea, Bigelow Salted Caramel black tea, or salted caramel-flavored coffee beans.
Energy Bars
If you like bars and you like salted caramel, you're in luck. There's no shortage of bars sporting the flavor this season: Luna and Clif are among the adopters.
Almonds
Step aside, honey-roasted peanuts; hello, salted caramel-flavored almonds. Brought to you by Blue Diamond, these sweetened nuts deliver less than a teaspoon of sugar per ounce — not bad.
Peanut Butter
It's been a hotly contested product. Adored by some, loathed by others (and not really given our seal of approval, since it's not our preferred "natural" peanut butter), Skippy's salted caramel peanut butter is in season. Supplies are limited and will be on shelves only through the end of the year.
Sunflower Seeds
Are you sensing a trend? Salted caramel pairs with anything snacky, especially nuts and seeds, including Spitz sunflower seeds.
Granola Bars
Kind and Nature Valley are two brands currently selling salted caramel granola bars.
Energy Gel
Training for a marathon, but really need a shot of salted caramel? GU has you covered.
Frozen Desserts
So Delicious's cashew milk-based, salted caramel cluster frozen dessert is one to try. Skinny Cow is taking a turn with salted caramel frozen Greek yogurt bars, while Dannon's Oikos brand is also featuring salted caramel frozen yogurt.
Kerri-Ann is a registered dietitian who writes on food and health trends. Find more of her work at kerriannjennings.com or follow her on Twitter @kerriannrd or Facebook.
More posts from Kerri-Ann Jennings, M.S., R.D..
Similar Posts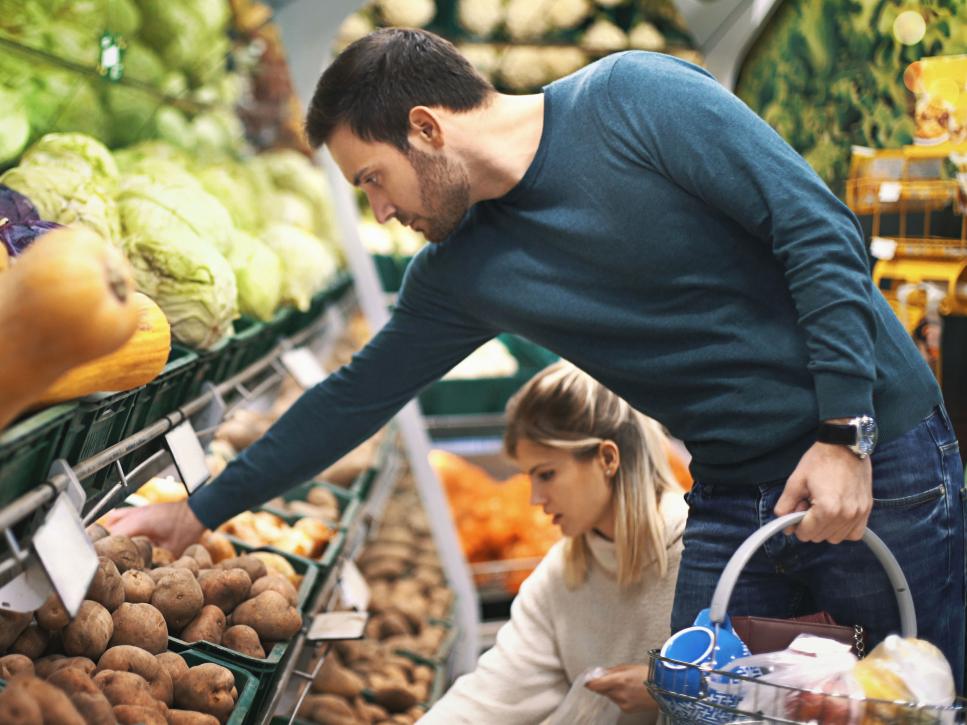 Tricks to avoid overspending at the supermarket....