Plump and juicy tomatoes aren't just a summertime seduction, they've got nutrition credentials as well. They're low and calories and high in vital nutrients, including choline, fiber and folic acid. They also feature cell-protecting antioxidants lycopene, vitamins A and C, and lutein. (Interestingly, a 2013 study found that organic tomatoes contain more antioxidants than their conventionally grown counterparts.)  But whichever type you buy — and however you prepare tomatoes — just remember not to refrigerate them.
Spicy Green Tomato-Avocado Salad (above, from Food Network Magazine)
Green tomatoes are firmer and less sweet than their red equivalents and downright delish. Pair wedges with heart-healthy avocado and a handful of greens, then add a kick from fresh jalapeno.
Cherry Tomatoes Stuffed with Chicken Apple Salad 
This finger-food rendition puts the spotlight on cherry tomatoes and stuffs them with an apple-studded chicken salad.


Tomato and Watermelon Gazpacho
Tomatoes and watermelon team up for a double dose of lycopene in this crisp and refreshing soup.


Tomato Peach Salad with Basil
It may seems like an odd combo but don't let that deter you from trying the super-simple, vitamin-C-rich combination of fresh peaches and tomatoes.


Zucchini "Fettuccine" with Tomato Sauce
Make a fresh raw sauce with tomatoes and herbs and toss with ribbons of zucchini. Bonus: Not exposing the vegetables to heat ensures that all of the nutrients will be retained.


Halibut with Pepitas Capers, Cherry Tomatoes and Basil
True, this tomato-topped fish dish is gorgeous, but it's not just eye candy. Protein and healthy fats are all in the picture.

Dana Angelo White, MS, RD, ATC, is a registered dietitian, certified athletic trainer and owner of Dana White Nutrition, Inc., which specializes in culinary and sports nutrition.
More posts from Dana Angelo White.
Similar Posts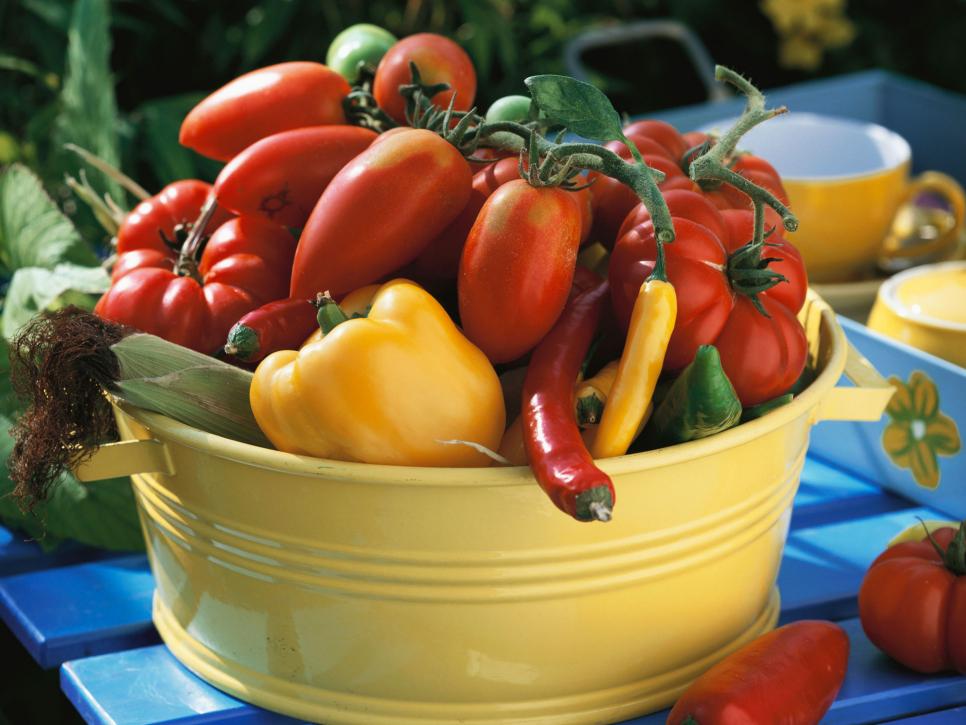 Check out these fresh ways to use an abundance of summer produce....