When Doug Crowell opened Buttermilk Channel in Brooklyn in 2008, the crowds were lured by chef Ryan Angulo's hearty Americana fare: buttermilk fried chicken and cheddar waffles with savoy cabbage slaw, duck meatloaf with corn pudding and blackberry gastrique and St. Louis ribs with new potato salad and mustard glaze.
But Crowell and his chef knew their audience included almost as many vegivores as carnivores. Instead of cobbling together an array of vegetable sides to satisfy these guests, they created a separate vegetarian menu that included a house-made mushroom-barley burger, a warm mozzarella and romaine salad with a soft poached egg and roasted cauliflower, grilled flatbread with snap peas and ricotta, and locally made Caputo's linguine with summer squash, tomatoes and basil. "There is such demand here for vegetarian dishes and recipes that are just a little lighter," Angulo says. "So many people are eating that way. They don't want steak frites every night. We wanted to give them a menu that included as much variety and thoughtfulness as the regular menu."
When Angulo and Crowell opened their second restaurant, a stylish Paris-meets-Brooklyn bistro called French Louie last winter, they were also committed to serving dishes that would dazzle their vegetarian guests, not depress them. Angulo's menu includes two beauties: a meaty roasted king mushroom with gremolata, fennel soubise and sunchokes, and Le Grand Socca, an oversized crisp chickpea crepe (the socca) topped with a feast of flavors: lemony yogurt, an heirloom bean salad, charred pole beans tossed with pickled onion, freekah, mung beans, plump olives with garlic and orange zest and lightly dressed greens with lemon and olive oil. The socca acts as a kind of edible plate to be torn off into pieces and piled high with its assorted toppings.
"We had no idea if it would stay on the menu. We thought, let's see if people like it," Angulo says. "Now we can have a table of four and every single guest orders it. Clearly it will be on the menu for a long time, we will just change it up seasonally throughout the year."
When making socca at home, Angulo says to make sure the pan is super-hot, almost to the point of smoking. And if you're not confident in your crepe-flipping skills, tuck the pan under the broiler to cook the top half. Once it's crisp and golden, take it out. Serve the socca with just a squeeze of lemon and sprinkle of sea salt, or you can top it with a dollop of strained yogurt, a fresh herb salad with chopped tomato and cucumber — or whatever strikes your fancy.
Chef Ryan Angulo
Chickpea Socca
Makes about 7
This chickpea-flour crepe is amenable to many Mediterranean- or Middle Eastern–inspired toppings, including a simple yogurt sauce: Try mixing Greek yogurt with lemon zest and a touch of juice (shown above) or, for something with a little spice to it, a bit of harissa.
1 cup chickpea flour
1¼ cups water
1/8 teaspoon ground cumin
1 teaspoon salt
1½ tablespoons olive oil
Cooking oil (canola or grapeseed)
Extra olive oil and sea salt to finish
Desired toppings (e.g., Greek yogurt with lemon zest and juice; Greek yogurt mixed with harissa; tzatziki; hummus or olives)
Mix the flour, water, cumin and salt together until smooth. Whisk in olive oil. Let sit for 2 hours at room temperature or overnight in the refrigerator. A couple of hours before using, let come to room temperature.
Preheat broiler to high. In a 9-inch cast-iron pan on top of the stove, heat a small layer of oil until smoking. Add socca batter until a thin pancake forms. Cook until the edges just start to brown, and then place pan in the oven under the broiler. Broil until the batter looks cooked and starts to slightly blister.
Flip socca onto a cutting board. Sprinkle with sea salt and drizzle with olive oil. Serve with toppings and cut into wedges.
Andrea Strong is a freelance writer whose work often appears in Edible Brooklyn and Edible Manhattan. She's probably best known as the creator of The Strong Buzz, her food blog about New York City restaurants. She lives in Brooklyn with her two kids, her husband and her big appetite.
Photo by Stephen Johnson
Portrait by Dan Kreiger 
More posts from Andrea Strong.
Similar Posts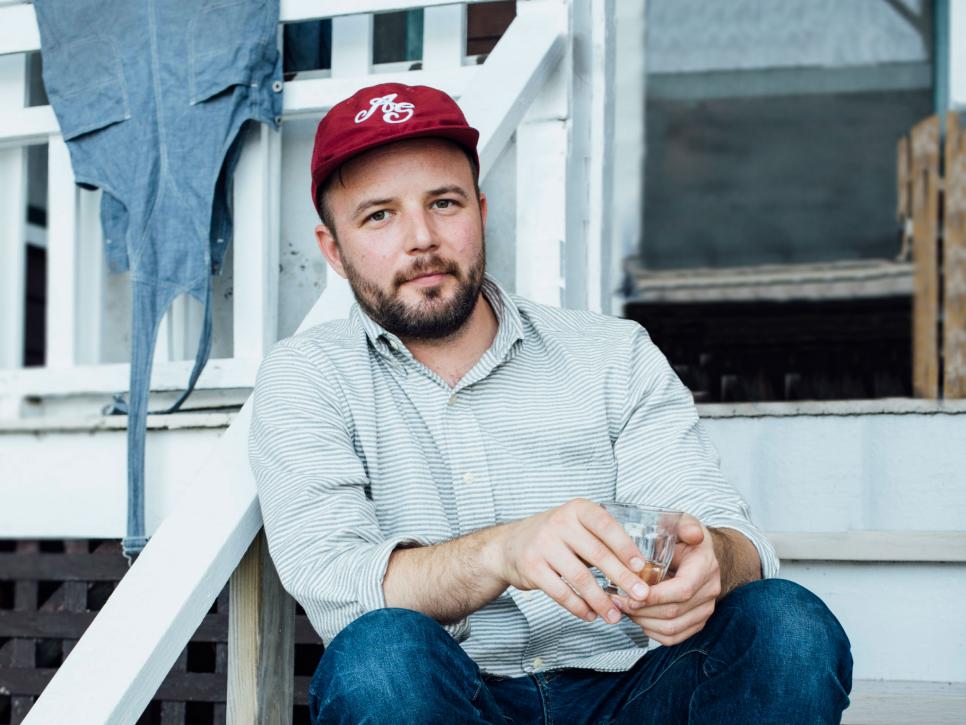 A Q&A with Joshua McFadden, author of Six Seasons: A New Way with Vegetables....