In this week's news: Rappers delight in healthy eating; Alice Waters predicts a farmers markets bonanza; and scientists do the important work of building a healthier hot dog.
That's Doug E. Fresh — As In, Fresh Salad
Recently, the Future Leaders Institute charter school in New York City's Harlem neighborhood hosted a rap performance by Adrian Harris, a member of the pioneering hip-hop group the Cold Crush Brothers. For those familiar with the group's work, it might be surprising to hear that the artist is focusing his lyrics these days on fruits, vegetables and how to stay healthy. It wasn't an isolated event. Along with hip-hop artists like Doug E. Fresh, Chuck D and DMC , Harris is part of a movement developed by Hip Hop Public Health that has musicians working with doctors and nutritionists. With songs, videos and games, the artists and health care professionals encourage audience members to become "hip hop public health ambassadors" to their families. Interesting bonus: Some genre purists have heralded the initiative as a chance for hip-hop to return to its roots as a medium for talking about issues of local and social concern.
Alice's (Sustainable) Wonderland
Earlier this week, culinary and sustainability visionary Alice Waters did a little crystal-balling for the Wall Street Journal: At least one farmers market in every town is what the Chez Panisse founder foresees in the not-too-distant-future — and with that, a revitalization of many urban areas. These can, she believes, support a resurgence of mom-and-pop restaurants run by people who are wary of the risks and responsibilities of franchising. Those stores' demand for a breadth of local goods, in turn, will bring greater product variety to the farmers markets and will also encourage farmers to be innovative in how and what they grow. Over time, Waters hopes, the success of this model will inspire government to reallocate their subsidies to farms rather than factories. Local food, too, will make it to schools, where children can help grow the healthy food they eat — raising a whole generation of organic, sustainable food health ambassadors to complement their hip-hop health peers.
Scientists Get Frank
From Memorial Day to Labor Day, it's hard to resist the summer rituals of flags flying, music blasting … and saturated fat and preservatives pumping through our veins. Ostensibly loving the tradition but less than fond of the health outcomes, some Spanish researchers recently tinkered with one of the key objects of this national pastime — the hot dog — to see if they could keep the taste and cut the fat. According to their new study in the Journal of Agricultural and Food Chemistry, they may be on to something. By using heart-healthy olive oil instead of pork fat in the wieners, they were able to reduce calories by 36 percent, while raising the number of healthy fats in the product. The all-important texture remained much the same, as the oil seemed especially good at helping the hot dogs stay moist. Though not yet for sale, these Mediterranean-style weiners already have a decidedly worldly feeling about them. And what better excuse to swap a beer for a Chianti.
Sara Reistad-Long writes about science, wellness and lifestyle. She is the co-author of The Big New York Sandwich Book and can be followed on Twitter: @sarareistadlong
More posts from Sara Reistad-Long.
Similar Posts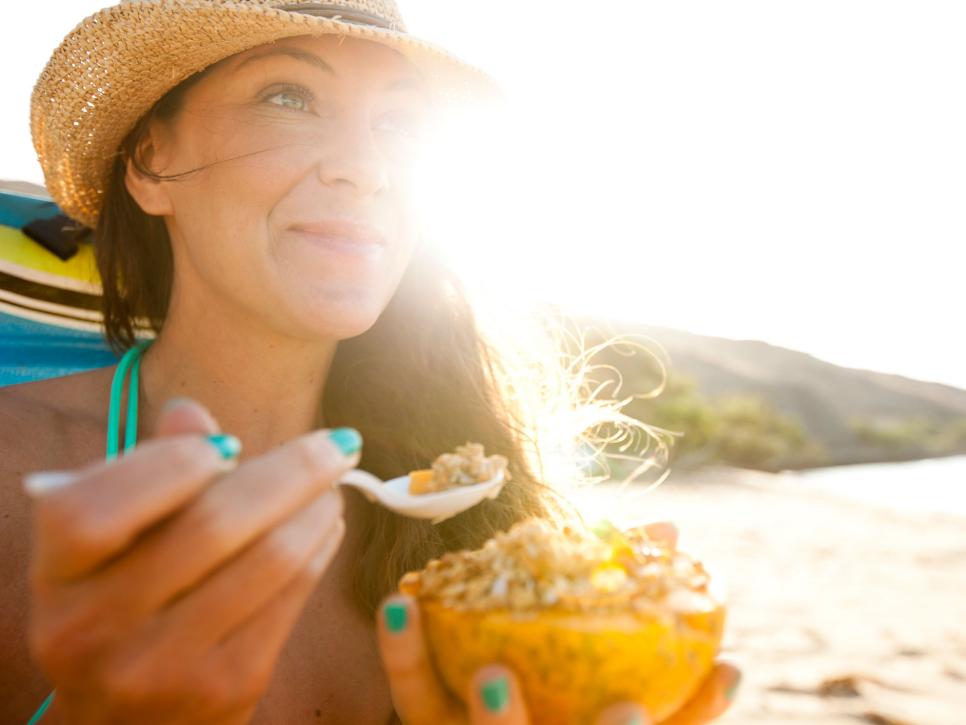 Are you overeating thanks to a deceptive "health halo?"...