In this week's news: Mondays get even more meatless; the world learns what happens when a household bans sugar (hint: a book deal); and coupon-clipping takes a healthier turn.
Hitting the Beach — and the Tofu
Why book Canyon Ranch when you can visit Grandma in Boca? Earlier this week, the Florida city announced that it was joining Meatless Mondays — a national movement that advocates exactly what the name suggests. The logic is this: Research suggests that when you eliminate a day's worth of meat, you're cutting 15 percent of saturated fat intake. That, in turn, may decrease your risk of obesity, heart disease, stroke and cancer. Twenty percent of Boca Raton's residents are 65 or older, and with role models like Bill Clinton, whose health swami — Mark Hyman — was featured in the New York Times earlier this week, it might not be a surprise that the trend caught on.
Success, Yes, Just Don't Call It Sweet
Elsewhere on the Web, you might be seeing more about a new book, Year of No Sugar. Author Eve Schaub and her family spent a year avoiding the white stuff. At year's end, not only did they report fewer colds and better digestion, but also their Gonzo journalism taught them just how tough it is to cut sugar out. Even if you're not baking with it, sugar's got a tricky way of lurking in unexpected places. The Schaub family was inspired by a 2009 video that launched much of the no-sugar conversation, Dr. Robert Lustig's "Sugar: The Bitter Truth," which has racked up more than 4.5 million clicks. Earlier this week, more than 10,000 people pledged to join Schaub for a "Day of No Sugar." Maybe they should connect with the folks in Boca.
Buy One Kale, Get One Free? 
Sobering stats from coupon pages: When researchers looked at 1,056 supermarket coupons, they found that the largest share — 25 percent — were for processed snack foods, candies and desserts. Just three percent could be applied to vegetables, even less — one percent — to unprocessed meats, and the tiniest shred of what was left to canned (not whole) fruit. In light of such information, the marketing company Linkwell Health decided to see what would happen if those odds were flipped. Accordingly, they sent healthy food coupons to 24,000 people with chronic health problems such as Type 2 diabetes.The result was a 4.5 percent spike in healthful food purchases. The experiment isn't a one-off, either. When San Diego County gave people enrolled in food assistance programs $20 to spend on produce at farmers markets, the consumers changed their habits for the better.
Keeping the Whole in Whole Wheat
By now, everyone's been told that whole-grain bread is better than its refined sibling. One big reason: Because whole grains are digested more slowly, they help keep our blood sugar stable. Science bears that out, finding that people who eat whole-grain bread tend to have lower rates of heart disease and Type 2 diabetes than do white bread consumers. But recently, nutrition experts have begun suggesting there's more to the story. When wheat is milled, it's separated into three main components. In white flour, the starchy endosperm is kept, while the germ and bran are discarded. To qualify as whole wheat, a bread needs to have some or all of the bran and wheat germ added back — or simply not ground up and removed in the first place. When pieces of the whole grain stay, well, whole, the benefits appear to be greater than when those components are merely reassembled.
Sara Reistad-Long writes about science, wellness and lifestyle. She is the co-author of The Big New York Sandwich Book and can be followed on Twitter: @sarareistadlong
More posts from Sara Reistad-Long.
Similar Posts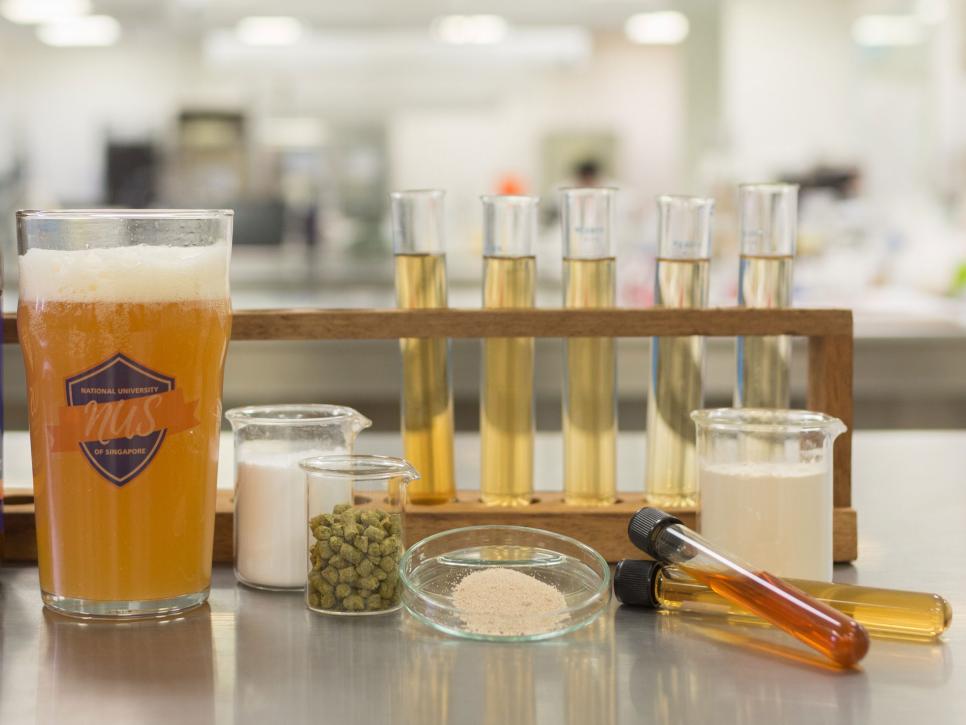 A research team at the National University of Singapore has created a probiotic sour beer....