In this week's news: Michelle Obama stumps for kale and more, while the dairy industry shelves its Got Milk campaign; obesity rates for young kids nosedive; and researchers show why Tetris might be good for your waistline.
Kale in the Green Room
Kale — the nation's perpetually trendy produce item — took its vegetal celebrity to a whole new level last week, getting the late-night spotlight on the new Tonight Show. If First Lady Michelle Obama doing her best 'tween impression and offering kale chips to a wigs-wearing Jimmy Fallon and Will Ferrell sounds like fun (and it kinda is), then this is for you.
Detoxing Schools from Junk Food Ads
Not that facts like kale's surprisingly high Omega-3 fatty acid levels aren't worth national bandwidth, but it's likely the First Lady's appearance may have been setting the stage for another interesting piece of news: Tuesday, the White House and US Department of Agriculture proposed new school wellness guidelines aimed at cracking down on the marketing of junk food to school children. According to researchers, the problem ain't no small potatoes: Nearly two-thirds of elementary school kids get coupons for fast food in schools, a JAMA study showed last month. "The idea here is simple: Our classrooms should be healthy places where kids aren't bombarded with ads for junk food," Michelle Obama said.
Early Childhood Obesity Drops 43%
If there was any doubt about why the government is so invested in hitting childhood obesity hard, consider this: Study after study has not only linked chronic disease to obesity but has also shown that the earlier in life an individual struggles with weight, the more likely the problem is to be lasting. This week, federal health authorities reported that over the past decade, obesity rates among 2- to 5-year-olds actually dropped. Not only was it the first broad decline, but the number was also impressive: 43 percent. When asked what was behind the fall, authorities credited a trend toward buying lower calorie food and changes in the special supplemental nutrition program for women, infants and children.
Got Milk? Not Anymore.
Say goodbye to those milk mustache ads. After 20 years, the dairy industry is dropping the iconic campaign. Between 1975 and 2012, milk sales dropped 25 percent, according to the US Department of Agriculture. Meanwhile, sales of soy, almond and rice milk — all dairy-free alternatives — have grown by about 10.9 percent annually since 1999. To counter this trend, the new campaign is moving from healthy bones to stronger bodies and positioning milk as an energy booster. The new tagline? Milk Life.
Playing to Slim It
And you thought Tetris was just for fun. Researchers from Plymouth University have published findings that lend credence to a long-held belief that cravings lean heavily on visual imagery. Publishing in the journal Appetite, the team had volunteers rate their cravings while sitting in front of a Tetris screen, but only some of the participants were allowed to actually play the game. Sure enough, those who played experienced reduced cravings by 24 percent.
Sriracha Addiction, Explained
It's an age-old question: If spicy things burn our mouths much, why do we keep eating them? This week, the American Chemical Society went multimedia to provide the answer. According to the slick new video, capsaicin and dihydrocapsaicin — two chemicals inherent to hot foods — can trick our external sensory receptors to feel like they've come into contact with something hot, like boiled water. They achieve this by binding to a receptor that also reacts to heat. That's the pain part. But then there's the pleasure bit: To help us cope with those uncomfortable sensations, our nervous system counters with endorphins that act a little like morphine. (The menthol in minty things, incidentally, works in the opposite way, binding cooling receptors.)
Sara Reistad-Long writes about science, wellness and lifestyle. She is the co-author of The Big New York Sandwich Book and can be followed on Twitter: @sarareistadlong
More posts from Sara Reistad-Long.
Similar Posts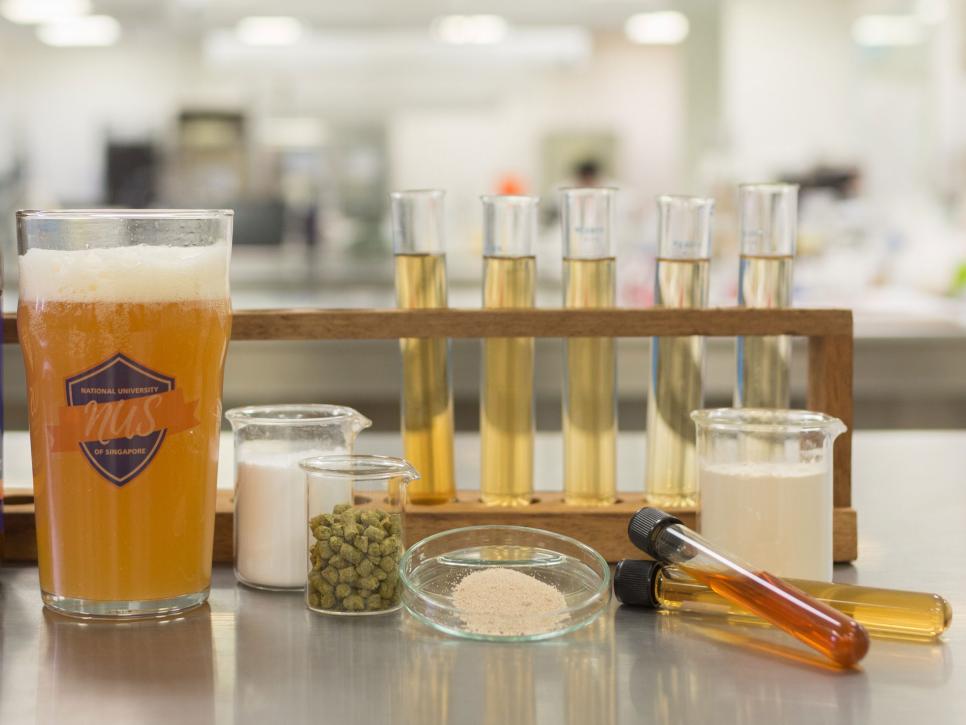 A research team at the National University of Singapore has created a probiotic sour beer....