It happens every year: Just as we've finally started to recover from the holidays, along comes the Super Bowl — or more specifically, Super Bowl parties, with their vats of chili, trays full of chickens wings and platters of bacon-entwined cheese balls. Between the onslaught of food and the hours spent sitting in front of the TV, it's no wonder that the biggest game of the year can also be its biggest caloric blow-out. But don't despair, healthy eaters! The Super Bowl need not be synonymous with a raw-vegetable bowl. The following dip recipes offer lighter but still eminently satisfying alternatives to the usual game-day fare. The only thing here that will weigh you down is the burden of expectation for your team to win.
Six-Layer Dip (above, from Food Network Magazine) Typically the dip equivalent of a build-your-own-sundae bar, the six-layer dip has a (deserved) reputation as the place that wholesome eating goes to die. But thanks to the substitutions of low-fat cheese and nonfat yogurt for sour cream, this version, which is built on a foundation of avocados, lettuce and kidney beans, is practically goodness in a bowl — only a lot more fun.
Kale and Artichoke Dip Kale, it seems, can do no wrong. Especially when it's blended with chopped-up artichokes and reduced-fat cream cheese, then served hot for maximum satisfaction.
Five-Layer Mexican Dip Mexican-inspired dips are usually a festival of sour cream and cheddar, with some refried beans thrown in for good measure. Not so this one, which jettisons the refried beans in favor of canned black beans and loses the sour cream entirely. Thanks to fresh cilantro, chipotle peppers and a hit of cumin, this is a vibrant, spicy concoction whose five layers add up to way more than the sum of its parts.
White Bean and Roasted Eggplant Hummus Having gone from an exotic to all-but-ubiquitous presence on supermarket shelves, hummus gets its groove back here, thanks to the luscious, smoky addition of roasted eggplant and a vibrant dose of fresh parsley. Serve it with cucumber "chips" if you want to be extra-virtuous.
Green Goddess Dip Traditionally loaded down with sour cream and/or mayonnaise, this rendition of the avocado-based dip omits the sour cream in favor of buttermilk for a lighter, tangy — and delicious — upgrade.
Pear and Pistachio Guacamole One of the many great things about guacamole is its function as a blank palette for culinary creativity. Here, pears and pistachios make unexpected but superb partners to the avocado, lending the guac crunch and ramping up the dose of heart-healthy "good" fat.
Roasted Red Pepper and Walnut Dip A riff on the traditional Middle Eastern dip muhammara, this one is a must-try for lovers of both walnuts and pomegranate juice, whose sweetness balances the heat of the cayenne pepper.
Hot Crab Dip "Hot crab dip:" Perhaps no three words in the English language are quite as beautiful when placed next to each other — or more evocative of a caloric black hole. That's one reason why we love this version so much: By subbing in reduced-fat cream cheese and sour cream, it makes the crab, hot sauce, and spices the rightful stars of the show.
More posts from Rebecca Flint Marx.
Similar Posts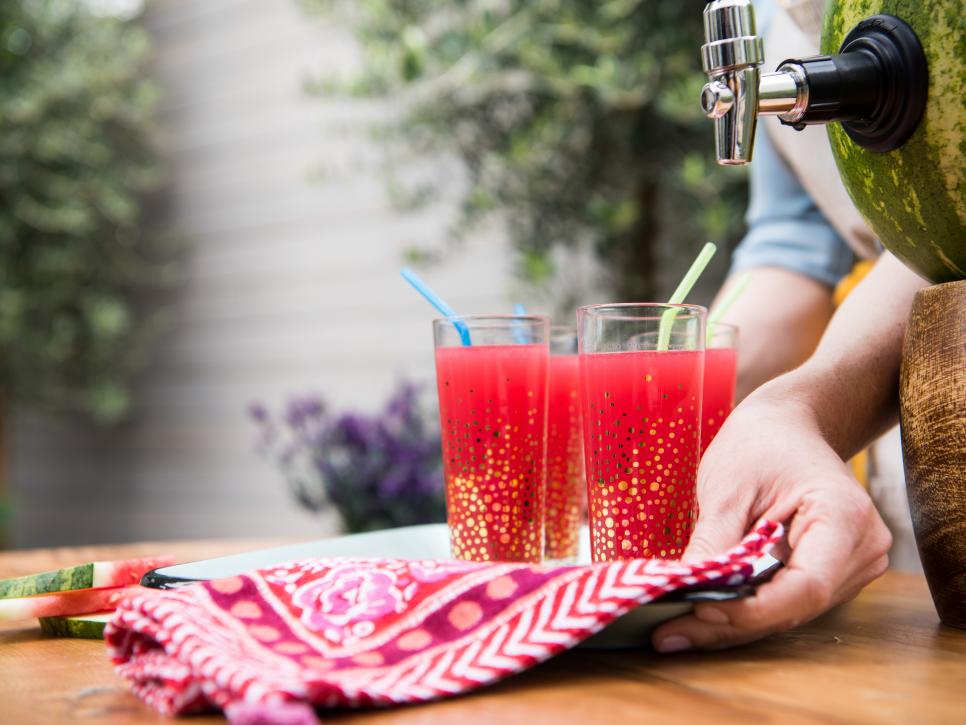 Tips and ideas for enjoying watermelon....