The hustle and bustle of everyday life may have you skimping on lunch. But having a set plan can help bring order to the most hectic of schedules. Here is one week of delicious lunches.
Day 1: Hummus and Veggie Sandwich
Start your week with a Meatless Monday sandwich that can be tossed together in 5 minutes.
Recipe: The Easiest Veggie Sandwich
Day 2: Frittata
Salads and sandwiches aren't your only choice when it comes to bagged lunches. Get creative by packing a slice of quiche or frittata. Pair with a side salad and fruit for a perfectly satisfying meal that your co-workers will be drooling over.
Recipe: Broccoli and Cheddar Frittata
Day 3: Grilled Chicken Salad
Get over the mid-week slump with a refreshing salad. Cut prep time by cooking proteins (like chicken and beef) the night before or using leftovers. If you're taking the salad to work, pack the dressing on the side and stir right before digging in.
Recipe: Friday's Special Grilled Chicken Salad with Honey-Orange Dressing
Day 4: Roast Beef Sandwich
Roast beef can absolutely be a healthy choice. Dig into Ellie's recipe, which uses a combo of Greek yogurt, horseradish and a touch of mayo to cut down on fat without skimping on flavor.
Recipe: Roast Beef Sandwich with Watercress and Horseradish Mayonnaise
Day 5: Vegetarian Burrito
Celebrate Friday with these scrumptious veggie burritos. Make a batch on the weekend and freeze them, so you can grab-and-go for work. Reheat in the microwave for 4 to 5 minutes before eating.
Recipe: Make-It-Don't-Buy-It Frozen Vegetarian Burritos
Day 6: Tomato Soup and Grilled Cheese
Saturdays are a great day for comfort food. Dig into a warm bowl of tomato soup, and then enjoy an ooey-gooey grilled cheese sandwich – all for around 400 calories.
Recipe: Fresh Tomato Soup with Grilled Cheese (above, from Food Network Magazine)
Day 7: Chicken Quesadillas
Quesadillas provide an easy way to use leftover meats, cheese and veggies. For extra-filling fiber, use whole-grain tortillas.
Recipe: Easy Chicken-Mushroom Quesadillas
Toby Amidor, MS, RD, CDN, is a registered dietitian and consultant who specializes in food safety and culinary nutrition. See Toby's full bio »
More posts from Toby Amidor.
Similar Posts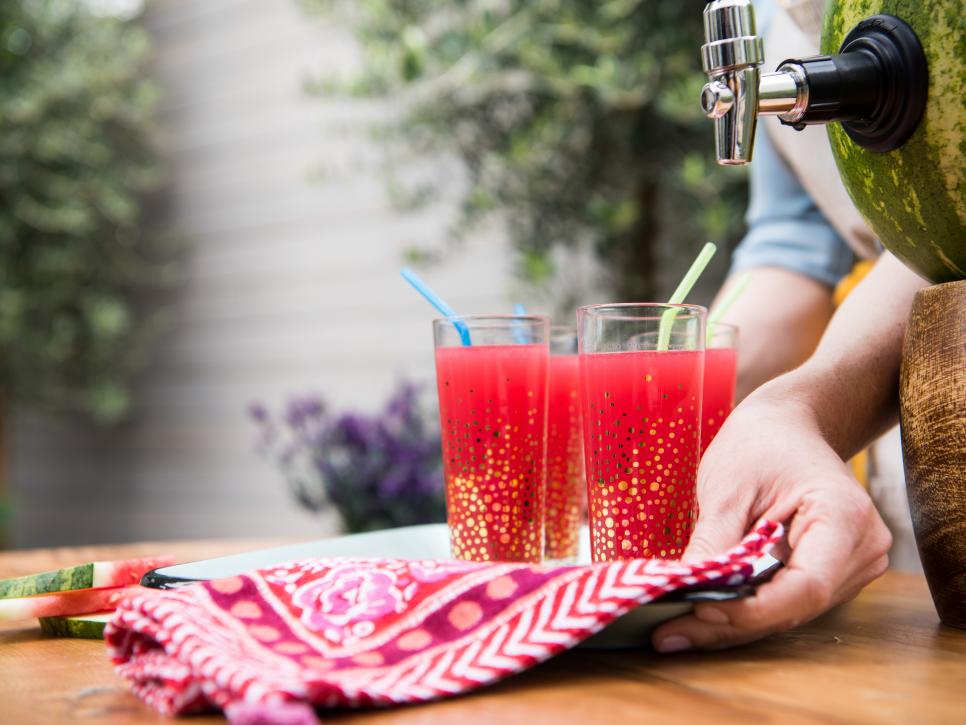 Tips and ideas for enjoying watermelon....