Your freezer was created to preserve food for long periods of time. But filling it with junk can sabotage any healthy eating plan. Here are five items worth purchasing, and five you're better off passing up.
Stock Up On:
Edamame
Instead of grabbing a bag of chips, take 5 minutes to boil edamame in its shell. For a weeknight protein booster, toss shelled edamame into a stir-fry, rice dish, chili or salad.
Frozen Fish
If you can't get fresh fish, frozen varieties can be a midweek savior. Buy plain fish that's unflavored, not breaded and fried. Trader Joe's has a nice selection of fish in their frozen section. To maintain freshness, safety and quality, be sure to defrost it properly.
Frozen Vegetables
Plain veggies (without sauces or butter) like broccoli, string beans, and carrots are an easy addition to soups, stews, chilis and stir-fries. Steam them as is for a quick and simple weeknight side.
Frozen Fruit
Use frozen fruit in smoothies, oatmeal, muffins, sauces or syrups.  Strawberries, blueberries, mango, pineapple, and peaches are easily available at the market. But be sure to read the label: Always choose frozen fruit without added sugar.
Bread
Stash a bakery-fresh loaf or an extra loaf of whole-grain sandwich bread in the freezer. When ready to use, pop it in the toaster and enjoy. Check out how popular brands fared in this taste test.
Avoid:
Prepared Hors D'oeuvres
Mozzarella sticks, pigs in a blanket, and mini quiches are just some of the mini appetizers lining the frozen food section. Filled with preservatives, sodium, and saturated fat–along with a laundry list of unpronounceable ingredients–these foods are ones you're better off skipping.
Vegetables in Sauce
Although cooked veggies only have 25 calories per ½ cup, cheesy and buttery sauces can double those calories in a flash. You're better off buying plain veggies and dressing them up using herbs, spices or a touch of heart-healthy olive oil.
Frozen Whipped Topping
With hydrogenated fat listed as the second ingredient, high-fructose corn syrup as the third and a bucketful of thickeners, additives and colors up next, this frozen topping is a definite one to skip.
Pot Pies
The list of ingredients on most of the pot pies reads like a law school text book—endless, with lots of tough-to-understand words. Glance at the nutrition facts and you'll find each serving brimming with sodium, saturated fat and cholesterol—three nutrients you want to keep to a minimum. Your healthiest bet is to cook your own lighter version–here are tips on how.
Pancakes
These babies can be whipped up so quickly, there's no need to pour your hard-earned money into the premade frozen kind. Plus, when you make your own, it's easy to swap in lower calorie ingredients and add fruit to the batter.
TELL US: Which frozen foods do you keep on hand? Which do you avoid?
Toby Amidor, MS, RD, CDN, is a registered dietitian and consultant who specializes in food safety and culinary nutrition. See Toby's full bio »
More posts from Toby Amidor.
Similar Posts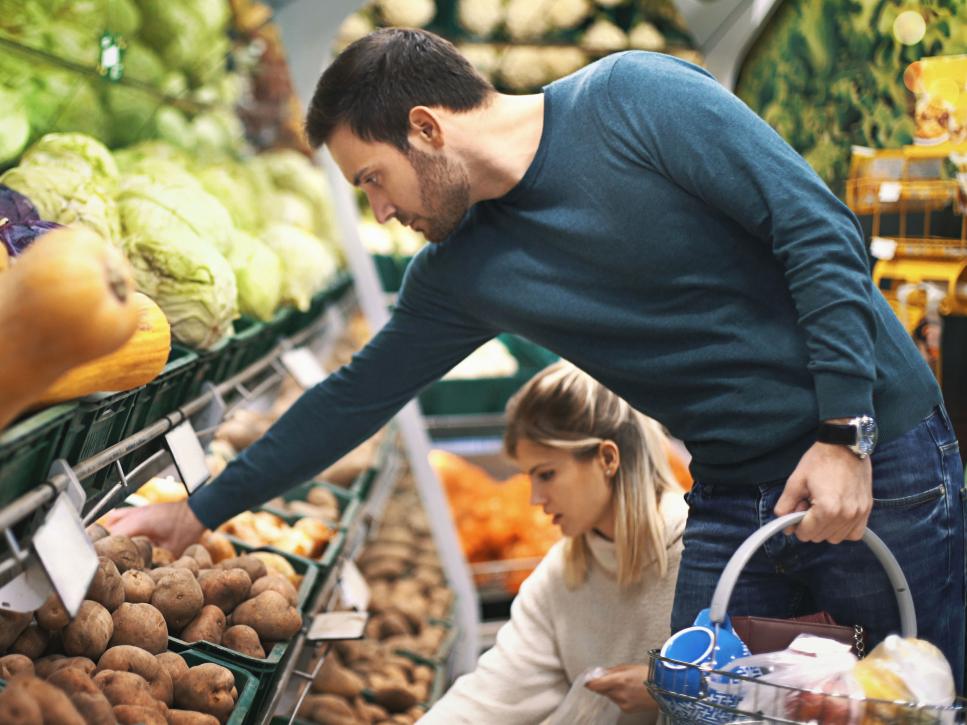 Tricks to avoid overspending at the supermarket....