Getting a little tired of sandwiches day after day? Wrap up lunch three tasty ways.
Tuna & Apple Salad
The sweet crunch of apples and tang of Greek yogurt liven up canned tuna–plus get a boost of those all-important omega-3 fats.
3 ounces water-packed canned tuna, drained
1 tablespoon nonfat plain Greek yogurt
1 ½ teaspoons mayonnaise
¼ cup finely chopped celery
½ small apple, chopped
1 6-inch whole wheat flour tortilla
In a small bowl, combine tuna, yogurt, mayonnaise, celery and apple; mix well. Place tuna mixture in center of tortilla, roll up and enjoy.
Calories: 325; Total Fat:  12 grams; Saturated Fat:  2 grams; Total Carbohydrate: 32 grams; Sugars: 9 grams; Protein:  26 grams; Sodium: 814 milligrams; Cholesterol:  40 milligrams; Fiber:  6 gram
Spicy Turkey Pita
Lean protein, veggies, hummus and chili sauce! This is an instant lunchtime favorite.
1, 6-inch pita bread
1 tablespoon hummus
1 sliced low fat Swiss cheese
2 ounces deli sliced low sodium turkey or 3 ounces of grilled chicken breast
Baby spinach leaves
1 medium carrot, julienned
Sriracha to taste
Spread hummus on pita bread; top with Swiss, turkey or chicken, spinach, carrot and Sriracha to taste. Fold in half and enjoy.
Calories: 315; Total Fat: 6 grams; Saturated Fat: 1 gram; Total Carbohydrate:  39 grams; Sugars: 6 grams; Protein:  29 grams; Sodium: 936 milligrams; Cholesterol: 45  milligrams; Fiber: 9 grams
Grilled Veggie Pinwheels
Sometimes all you need is a change of scenery to make lunch exciting. Slicing a wrap into pinwheels makes it a kid-friendly finger food.
3 tablespoons whipped cream cheese
1 tablespoon fresh chopped herbs (basil, tarragon and chives)
Freshly squeezed lemon juice.
1 6-inch flour tortilla
1 cup grilled vegetables (eggplant, peppers, onion and zucchini)
Combine cream cheese and herbs; season with lemon juice to taste, mix well. Spread cream cheese mixture evenly on tortilla; top with grilled vegetables and roll up. Cut roll into 5 pieces.
Calories: 235; Total Fat: 14 grams; Saturated Fat: 6 grams; Total Carbohydrate: 25 grams
Sugars: 5 grams; Protein:  6 grams; Sodium:  750 milligrams; Cholesterol: 30 milligrams
Fiber: 3 grams
Dana Angelo White, MS, RD, ATC, is a registered dietitian, certified athletic trainer and owner of Dana White Nutrition, Inc., which specializes in culinary and sports nutrition. See Dana's full bio »

More posts from Dana Angelo White.
Similar Posts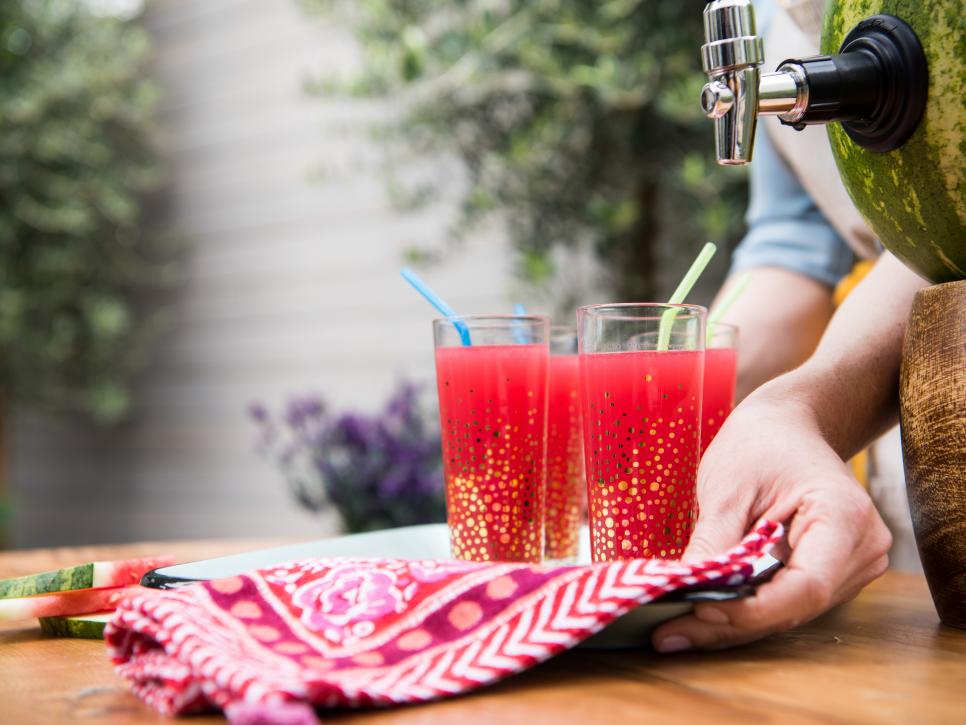 Tips and ideas for enjoying watermelon....