Beyond the usual fruits, juices or milk, a variety of ingredients can be blended into a smoothie. At breakfast, I try and surprise my kids with new smoothie flavors and play the "guess what's in it" game. We end up having fun each time.
Here are nine additions worth giving a try.
#1: Oats
Made without using a blender, this smoothie combines cooked old-fashioned oats with milk, sugar and vanilla extract. It's one technique you can use when adding oatmeal to your smoothie.
Recipe: Old Fashioned Avena Oatmeal Breakfast Smoothie
#2: Spinach
In Melissa D'Arabian's Green Morning Smoothie, uncooked oats are blended with vanilla almond milk to rehydrate them. The peaches and bananas add sweetness, while nutrient-packed spinach adds the gorgeous green hue.
Recipe: Green Morning Smoothie (above)
#3: Flaxseed
With fiber, protein and omega-3 fat, what more can you ask from a smoothie add-in? Guy combines these tiny seeds with bananas, pineapple, kefir, yogurt, and kale for a smoothie that'll definitely rock your morning!
Recipe: Guy's Rockin' Smoothie
#4: Cottage Cheese
This underappreciated dairy food is a delicious way to add body and well-balanced nutrients into a smoothie. Cottage cheese provides satisfying protein and helps meet the recommended three servings of dairy. Forgo nonfat varieties and choose low-fat instead, which will add creaminess without going overboard.
Recipe: Peachy Keen Smoothies
#5: Avocado
This fruit (yes, fruit!) adds a smooth and creamy texture to smoothies. It's also a delicious way to add healthy unsaturated fat and the antioxidant lutein, shown to help keep eyes healthy.
Recipe: Go Green Shake
#6: Fresh Ginger
Fresh ginger adds a distinct peppery flavor to smoothies and balances out the sweet flavor of fresh fruit.
Recipe: Jump Start Smoothie
#7: Green Tea
Smoothies are another way to take in the powerful antioxidants found in green tea. Be sure to seep the tea bag for the recommended amount of time (and not longer) or you'll end up with an overly bitter flavor–a tip I picked up on a visit to Palais des Thes, in New York City.
Recipes: Lowfat Green Tea Honey and Nutmeg Smoothies and Green Tea Smoothie
#8: Cucumbers
If you love those refreshing spa cucumber drinks, then this smoothie is for you. Cucumbers mesh well with lemons or limes. Remember to remove the cucumber seeds or choose a seedless variety (like hothouse or Persian).
Recipe: Spa Cucumber Smoothie
#9: Peanut Butter
Not just for PB&J sandwiches, peanut butter adds creaminess, protein and healthy fat to smoothies. Forgo the reduced-fat peanut butter, which tends to be loaded with sugar and additives. Instead, choose natural peanut butter made from only peanuts and salt.
Recipe: Peanut Butter Split Smoothie
TELL US: What's your favorite surprising ingredient to add to smoothies?
Toby Amidor, MS, RD, CDN, is a registered dietitian and consultant who specializes in food safety and culinary nutrition. See Toby's full bio »
More posts from Toby Amidor.
Similar Posts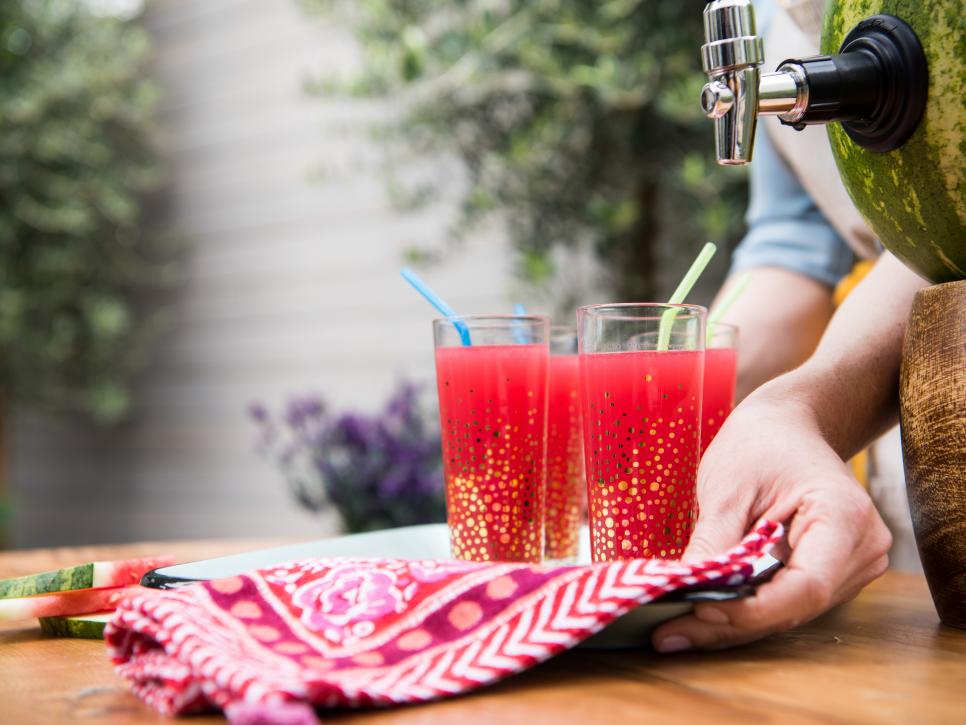 Tips and ideas for enjoying watermelon....