Don't waste your money on secret potions and potentially dangerous supplements to lose weight. Instead, include these real foods in your diet to help trim your waistline.
#1: Popcorn
Did you know popcorn is a whole grain? One cup of air-popped popcorn has between 30 to 55 calories and 5% of your recommended daily dose of hunger shielding fiber. Snack on 2 cups with a sprinkle of Parmesan cheese or 1 tablespoon of whipped butter with ¼ teaspoon sea salt. You can also make your own in the microwave in a flash.
Recipe: Chocolate-Orange Brown Butter Flavored Popcorn
#2: Greek Yogurt
With more protein than traditional yogurt per ounce, nonfat plain Greek yogurt can fill you up so you'll be less likely to mindlessly snack. Not sure which brand to choose? Check how popular brands fared in Dana's taste test.
Recipe: Fruit Salad with Limoncello and Greek Yogurt
#3: Shrimp
These crustaceans pack a protein punch for very few calories. One ounce (4 large shrimp) has 30 calories, 6 grams of protein and has minimal fat.  Shrimp is also a good source of vitamin D and selenium and even contains several energy-boosting B-vitamins. If you're allergic to shellfish or just don't care for shrimp, choose skinless, boneless chicken breast which has 46 calories, 9 grams of protein and 1 gram of fat per ounce.
Recipe: Robin's Coconut Shrimp
#4: Quinoa
This whole grain is packed with both hunger fighting fiber AND protein—a winning combination for weight loss. One cup of cooked quinoa has 223 calories, 5 grams of fat and 8 grams of protein. It's also packed with nutrients like B-vitamins, potassium, zinc, iron and selenium. Add it to soups, stews, chili – anywhere you'd use rice.
Recipe: Quinoa Pilaf in Lettuce Cups
#5: Pears
A medium pear has 100 calories and is an excellent source of hunger-satisfying fiber. One of my favorite waistline-friendly snacks is 1 sliced pear with 1 ounce of low-fat cheddar cheese. The combo of fat, protein and fiber help stave off hunger and keep you satisfied longer.
Recipe: Pear Chutney
#6: Sweet Potatoes
One medium sweet potato has 105 calories, 4 grams of fiber and 2 grams of protein. Sweet potatoes are not only filling, they're also packed with 400% of your daily recommended amount of the antioxidant vitamin A. Make a sweet potato mash, add chunks to chili or stews or roast with a touch of cinnamon.
Recipe: Curried Sweet Potato Puree
#7: Peanut Butter
Look for natural peanut butter made from only nuts and salt. It contains a nice amount of both healthy fats and protein. One tablespoon has about 90 to 100 calories, so portion it out carefully. Use one tablespoon as a snack to dip with apples or celery and 2 tablespoons for your PB&J sandwich at lunch.
Recipe: Alton's Peanut Butter Protein Bars
TELL US: Which secret weapon food will you be munching on?
More posts from Toby Amidor.
Similar Posts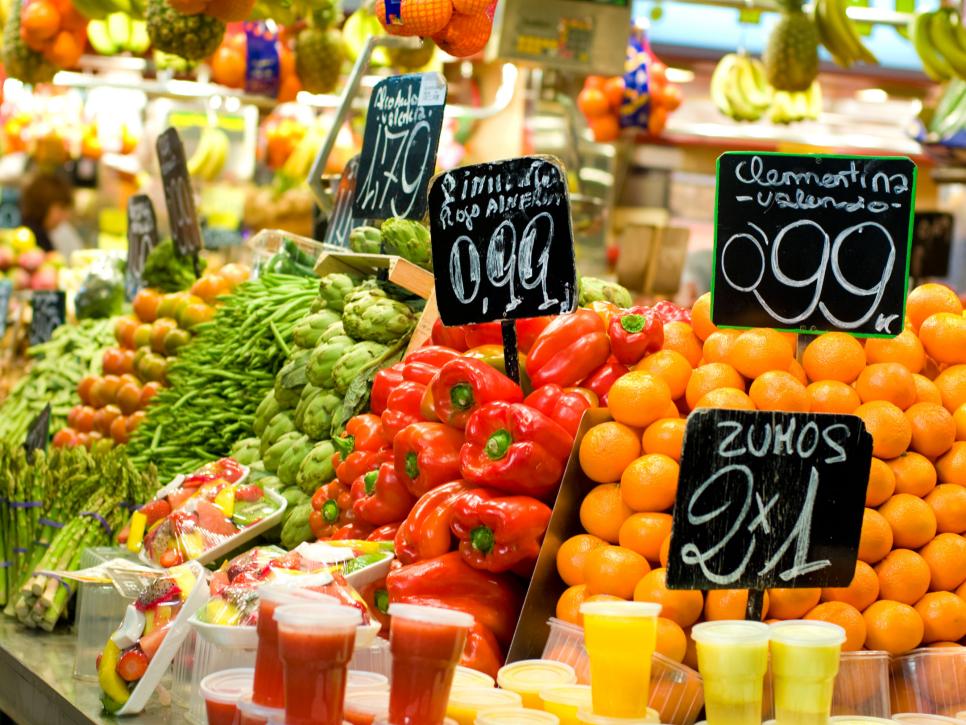 Stave off vacation weight gain with these easy, nutritionist-approved tips. ...