Even though it would make life easier at times, I only enjoy homemade versions of certain kitchen basics. I've tried brands of store-bought applesauce and chicken stock but I'm never pleased. I've come to the conclusion that it's just better (and often healthier) to make them from scratch. I posed this same issue — what ingredients MUST you have homemade — to registered dietitians (RDs) across the country and got an overwhelming number of responses. A HUGE thanks to all the RDs that weighed in on this hot topic.

Homemade Must Have #1: Salad Dressing
This was far and away the biggest pet peeve among nutrition pros – nobody cares for all the extra sugar, salt and other processed ingredients swimming in bottled salad dressings.
Janet Helm, MS, RD, blogger at Nutrition Unplugged, author of The Food Lover's Healthy Habits Cookbook speaks for many of us when she says:
"I just can't bring myself to buy any bottled salad dressings. It's just so easy to make your own vinaigrette, which will always taste better and fresher. Plus, you can control the ingredients when you make your own."
Barbara Boyce, DHSc, RD, LDN gives her homemade dressing a kick:
"My favorite is a jalapeno ranch dressing with a lot less fat and salt than store-bought. My husband and I like ranch dressing with a zip to it, so I add jalapeno peppers to the mix."
Christine M. Palumbo, MBA, RD adjunct faculty member at Benedictine University opts for the simplest of dressings:
"I can't stand 99% of the commercial bottled dressings or those served in restaurants. They tend to be sweetened and have a cloying "chemical" taste. No, thank you. My homemade saves money and tastes better. It's a simple blend of extra virgin olive oil, red wine vinegar, salt, freshly ground black pepper, and dried oregano."
Homemade Must Have #2: Marinara Sauce
Pass on pricey gourmet brands of tomato sauce loaded with sugar – RDs vote to make their own tomato "gravy."
Marina Stauffer RD, CDN points out the high price of many so-called gourmet sauces:
"It's very difficult to find a good tasting one for less than $12/jar. Make your own and freeze or jar! Make your grandma proud."
Culinary Nutritionist Cynthia Ann Chandler, MS, RD likes to plan ahead:
"I can make (sauce) on a weekend and use for a number of meals during the week or freeze … Keep a few cans of quality tomatoes on hand, onions, garlic, and herbs and you are good to go."
Homemade Must Have #3: Snack Foods
Instead of spending a pretty penny on packaged snack foods, the nutrition crowd opts for healthier snacks. Registered dietitian Judy Barbe makes her own granola:
"I like to control the spices, the variety and amount of mix-ins, and the 'toastiness' factor. Is much more cost effective too."
Jill Weisenberger, MS, RD, CDE, author of Diabetes Weight Loss – Week by Week uses my favorite secret for a quick and healthy snack:
"I make my own microwave popcorn with three tablespoons of unpopped kernels in a brown paper lunch bag. I can season it any way I want to. It's super cheap, and there's little paper waste compared to the store options. No chemicals either!"
Deanna Segrave-Daly, RD offered up some fabulous ways to flavor up popcorn including: grated asiago cheese + smoked paprika, dried cherries + pistachios, chocolate chips + roasted peanuts, and pretzels + wasabi peas.
Homemade Must Have #4: Going Nuts
While plain nuts make for a healthy snack, fancy nut-containing foods are all the rage.
Nut milks are a must for Rachel Begun, registered dietitian and spokesperson for the Academy of Nutrition and Dietetics:
"Particularly, almond, cashew and Brazil nut milks. With a high-power blender, they are much easier to make than most people realize and you can tailor to your specific tastes."
Melinda Boyd, MPH, MHR, RD, Author of Train Your Brain to Get Thin, makes her own peanut butter:
"It tastes so much better when homemade; I always keep peanuts in my pantry so when I get a craving I can just make it in minutes."
Jill Weisenberger (mentioned above)  also opts for homemade trail mix:
"Each person in the family can have their own personalized mixture. I want chocolate chips and all types of nuts in mine. My daughter likes pretzels in hers and only a few types of nuts in hers."
Other Must-Haves
This conversation went far beyond crunchy snacks and dressings. Here are a few more of healthful and easy-to-make ideas.
Chili: Lori Carlson, MS, RD, LDN adds plenty of nutrients to her homemade chili.
"I personally like using low-sodium V8 juice because the mixture of veggies gives good body to the finished product. Adding 1/2-1 cup of canned pumpkin can also improve the consistency and adds more fiber without changing the overall flavor."
Muffins: Meal Makeover Mom, Liz Weiss, MS, RD co-author, No Whine with Dinner makes muffins for her kids all the time.
""If you buy store-bought muffins or grab them at your local coffee shop, you often end up with lots of white flour and sugar and not much more. I always make muffins from scratch. My family's two favorite recipes are The Meal Makeover Moms' Banana Chocolate Chip Muffins and Pumpkin Chocolate Chip Muffins"
Whipped Cream: Jessica Fishman Levinson, MS, RD, CDN, founder of Nutritioulicious opts for fresh whipped cream.
"If you're going to indulge in this topping, you might as well make it the real deal and make it fresh!"
Lemonade: Molly Morgan, RD, CDN, CSSD, author of The Skinny Rules mixes up batches of fresh lemonade.
"1 cup lemon juice, 1/4 cup agave syrup, 2 quarts of water… Mix to combine & chill to serve. This has about 1/4 of the sugar of 'regular' lemonade."
Oatmeal: Food Writer, Katie Sullivan Morford, MS, RD starts her morning with DIY Microwave Oatmeal:
"Rather than buy those little packets of oatmeal, which sometimes have artificial ingredients and too much sugar, I make my own mix using rolled oats, cinnamon, dried cranberries or raisins, chopped nuts and just a touch of brown sugar. I combine the ingredients and store it in a jar on the counter, scooping out 1/3-cup portions as needed."
Pancake Mix: Last, but certainly not least, Pam Aughe, RD, Food Editor at edibleWOW Magazine shares her recipe for a perfect homemade breakfast (recipe below).
"My homemade must have is pancake mix. It's lower in sodium and higher in fiber. And a great way to get better nutrition into my boys- especially the one who eats his weight in pancakes!"
Whole Wheat Pancakes
1 cup whole wheat flour
1 cup all-purpose flour
3 tablespoons sugar
2 tablespoons ground flax seeds
2 teaspoons baking powder
1 teaspoon baking soda
1/4 teaspoon salt
Combine all ingredients in a large bowl; whisk to blend. Store in airtight container in refrigerator (easily doubles). To prepare, combine 2 cups low-fat buttermilk, 2 large eggs, and 1 1/2 tablespoon canola oil. Add pancake mix and whisk until just combined. Place 1/4 cup pancake batter on hot griddle per pancake. Yield about 20 pancakes.
Tell Us: What's your homemade must-have?
More posts from Dana Angelo White.
Similar Posts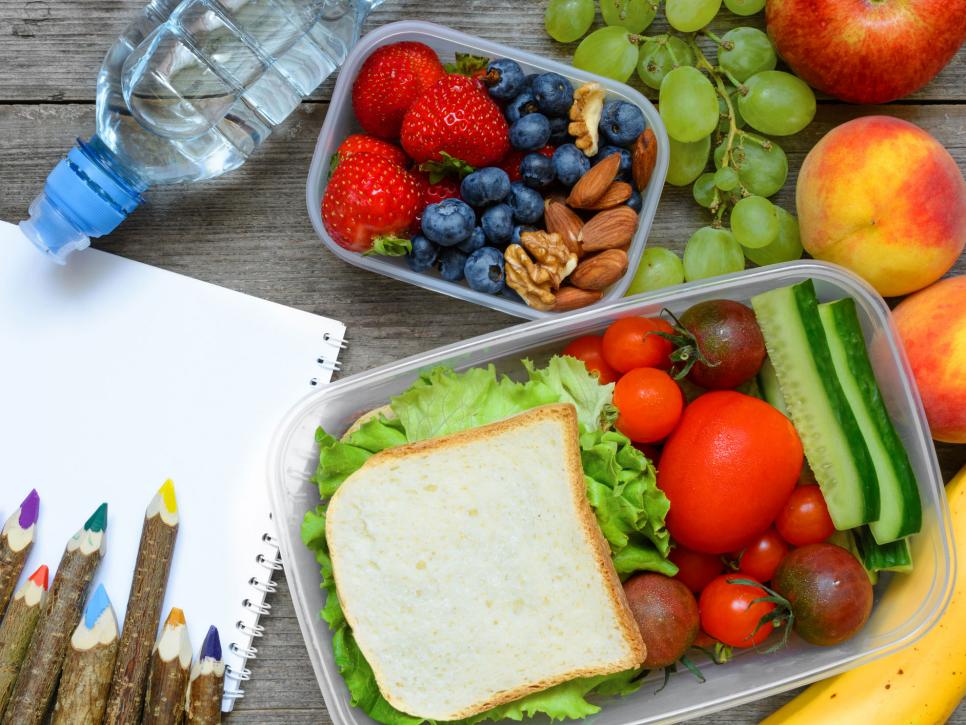 Find out what 8 nutritionists pack in their child's lunchbox....