Family dinners can be a challenge, more so when the food is healthy–even at the White House. "Yes, I'm the First Lady," Mrs. Obama said. "But, yes, my kids make dinnertime miserable because they like three things: pasta, pasta with cheese and pizza." So, to mark the third birthday of Let's Move!, her initiative to fight childhood obesity, and today's announcement of a massive virtual recipe swap with FoodNetwork.com and other media outlets on Pinterest, the First Lady shared her strategies as a mother for eating well as a family. Along with the Partnership for a Healthier America and Let's Move!, the First Lady's office is partnering to pin hundreds of family-friendly recipes from favorite Food Network chefs and others that fit the USDA's MyPlate guidelines. The goal for the partnership is to help lower obesity rates, and to bring together food brands and recipe websites with a common theme: to make it easier for families to make the healthiest choices. "We're all busy parents," said the First Lady. "I'm busy in a different way, but before being a First Lady, I was one of those moms out there trying to figure out how to feed my kids, hold down a job, get to the grocery store, then what to buy, how to cook it, how to get through a week and how to make lunch that the kids won't whine about."
Mrs. Obama talked through the challenges of getting a healthy meal on the table each night, described ways to convince kids that vegetables are important parts of everyone's diet, explained how to keep dinner simple (and delicious), and shared her own go-to baked chicken dish.
Make healthy changes early and they'll stick:
Mrs. Obama: "The sooner you start this stuff, the more it will be their norm. They just won't know any different. So if you start out by making your macaroni and cheese with a little cauliflower puree, so they get the taste of the cauliflower, the taste of too much cheese will be too much for them. If you start out diluting their juices so that they're never getting that 100 percent concentrated stuff, then once you put it in, it will be too sweet for them. Kids' palates are just so adaptable, and I think that's the point we're trying to make to parents — it just doesn't take much, and the sooner you start, the easier it will be to transition. You can still transition. I mean, my kids were 10 and 8 when I started making the changes, and then complained for a while; they still do. But they make the changes themselves now because they can't drink purely concentrated juices, and it's too sweet. It doesn't taste good to them."

Make small changes to food your family already likes:
Mrs. Obama: "Take the things you like and figure out how to tweak them. Oven-fried chicken is just as good as fried chicken; it really is. Whole-wheat pasta in a good sauce, a fresh tomato sauce, is better than the canned stuff. Fresh salsa — chop up some tomatoes — it actually is really good. It's just the same stuff. Just try this."
Healthy eating takes planning, and that planning can be tough:
Mrs. Obama: "I thought that my weekly schedule of eating was right — I had it planned out — I'd cook a dinner on Sunday that would last through Monday. By Tuesday, we were eating out. Then Wednesday, you would cobble together the eat-out food. And then that would get you to Friday, where you'd eat out again. So you looked up and you found yourself eating out a lot simply because just figuring out how to make that meal was a challenge, and how to do the shopping, and what actually works and tastes good."
Keep it simple:
Mrs. Obama: "The other day they were reminiscing about one of the meals I used to make all the time, which was this baked chicken. And I actually had this conversation with my sister-in-law, who's Barack's youngest sister who has two little girls, and she doesn't cook. She is a teacher and doesn't have much time to cook. I was trying to tell her that you can cook a simple meal. Well, what she's trying to cook is these complicated Asian dishes that require many pans and chopping. And I was like, no, no, you only do that if you have a sous chef. And we don't have any of that.
My simple meal was taking some chicken legs, seasoning them in the morning, coming back, popping them in the broiler or the oven to let them cook and get a little crispy outside because it made it seem like fried chicken. It was tasty because the seasoning flavored the skin of the leg, and the legs are good — kids like legs. They're easy and they're controllable. Serve it with couscous or rice. And broccoli, steamed broccoli. I could do that in 15 minutes, and then we'd have leftovers. Now my family is sick of that meal!"
Vegetables should be a part of our diets:
Mrs. Obama: "I think as parents we have to realize, as I tell my kids, vegetables are something that has to be a part of your diet so we'll find a few that you like, but there has to be a vegetable, and you have to finish it. You can skip the pasta, but you've got to eat the vegetables."
But kids don't have to love every vegetable:
Mrs. Obama: "In my household, when it comes to vegetables — and I encourage this with kids that I meet because I always say, do you eat your vegetables? They say no. So I say, just pick one, find one you like and own it. Broccoli is a winner in our household. So we do a lot of broccoli. And it works. Malia doesn't like snowpeas, but they will appear because I like them."
Master some easy sides:
Mrs. Obama: "One option is the baked sweet potato, because you can do a sweet potato in a microwave; my kids like sweet potatoes, too. So that's another quick side, with the broccoli. Or frozen peas — frozen peas were big in my house. The kids were talking about, hey, remember how you'd make those frozen peas? Frozen peas were great because you get them and you cut the bag open, dump them in. In seconds, they're done. So peas, broccoli — I had two vegetables."
Cook at home and bond over a family meal:
Mrs. Obama: "You do want to cook, because it's affordable, and it's healthier, and it gives you more control, and you can control portion sizes. It's a good way to bond. It's a good way to have those conversations with your family. It's a good way to teach rules and lessons. I mean, all of our major conversations in our family about rules and life, and ups and downs, happen at dinner. It happens at mealtime. It's the only time we're all together where the kids — if they're slow over their vegetables, they'll find a way to get into a good conversation about school, hoping that you won't notice that they haven't eaten the snap peas."
Make a game out of the healthy foods conversation:
Mrs. Obama: "Over Christmas we did a bracketing of foods — 'food bracketology.' This was the President's idea, and he's quite pleased with it — like March Madness. We were with a bunch of other families, and this was an evening activity where the fathers bracketed foods — like what would be the winner. And you'd have the top brackets — so you had your pizza and your fried chicken, but you had sushi and you had vegetables — broccoli, kale, salads. And everybody got to vote. The foods would go head to head. Bacon against pie, right? Everybody had to vote, and the kids could make an argument. You could make one argument per category when they got down to the final eight. This was an intense conversation. We were surprised at many of the kids, how many vegetables stayed in for a long time. They got to the top eight — beyond the Sweet 16."
Learn more about our partnership with First Lady Michelle Obama and Let's Move! and find hundreds of MyPlate-approved recipes on our Pinterest boards.
Photo by Adam Garber
This official White House photograph is being made available only for publication by news organizations and/or for personal use printing by the subject(s) of the photograph. The photograph may not be manipulated in any way and may not be used in commercial or political materials, advertisements, emails, products, promotions that in any way suggests approval or endorsement of the President, the First Family, or the White House. 
More posts from Michelle Buffardi.
Similar Posts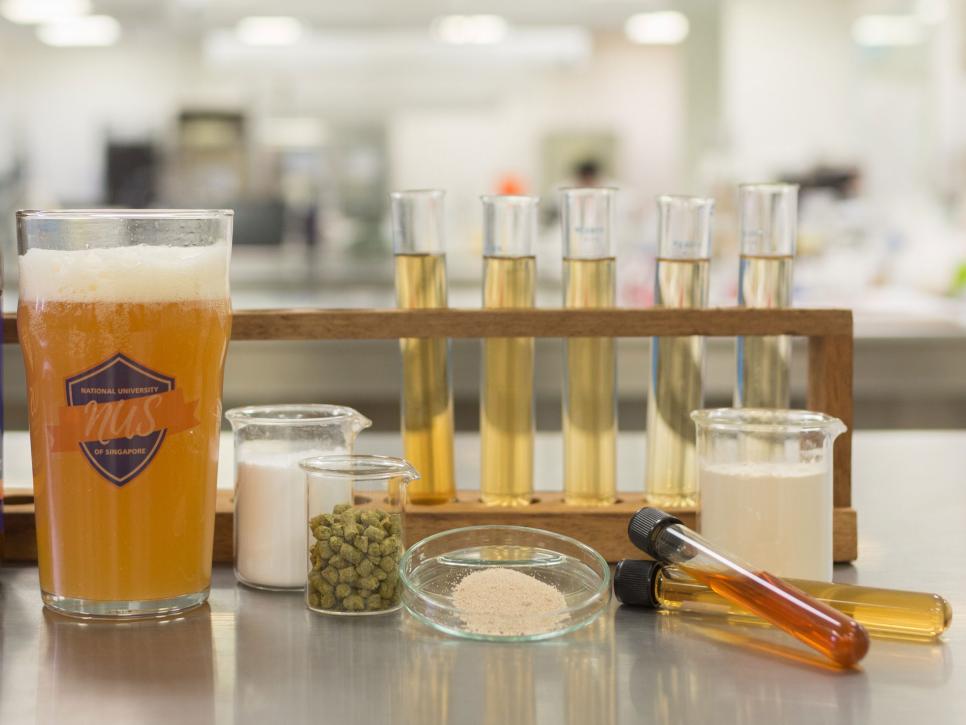 A research team at the National University of Singapore has created a probiotic sour beer....