We heart holiday food, but holiday food doesn't always show love our waistlines. Use these simple tricks to lighten up your favorites.
#1: Baked Ham
Ham is a lean meat but when recipes call for one pound per serving the calories skyrocket to 760 and the fat climbs to 44 grams! Also, when you're talking smoked or cured foods, the sodium can get out of control.
To lighten: Stick to 3 to 4 ounce portions and lessen the amount of salt added to flavor the ham or use lower-sodium versions.
Other tips to lighten up baked ham
#2: Jelly Doughnuts
The fried food frenzy can get out of control during the holidays. One jelly-filled doughnut weighs in at around 300 calories and 14 grams of fat—and it's tough to stop at only one.
To lighten: Opt for 2 or 3 minis and then step away from the dessert table!
#3: Egg Nog
If you like heavy cream in this holiday fave, at 50 calories per tablespoon (yes, tablespoon!) the calories can add up in a flash.  Mix in extra booze and you've got an extra 150 or so calories per 1 ½ fluid ounces.
To lighten: Swap low or nonfat milk for heavy cream or whole milk. Measure out the alcohol at about 1 ½ fluid ounces MAX per serving or just make it a virgin cocktail.
Try Food Network Magazine's Low-Fat Eggnog

#4: Holiday Cookies
Butter, sugar, and loads of ooey gooey ingredients can bust the calories on any holiday cookie.
To lighten: Go lighter on the toppings—use half the amount of nuts or other add-ins. You can also choose 60-70% dark chocolate to get more of those good-for-you antioxidants.
Get 9 healthy holiday cookie recipes
#5: Potato Pancakes
A.K.A. latkes, the grated and fried potato mixture is delightful topped with sour cream and applesauce. Depending on size, they can range from 100-200 calories each, not including the toppings.
To lighten: To lessen the calories, swap out some of the potatoes for carrots or parsnips. Keep the size small and stick with 1 tablespoon reduced-fat sour cream or homemade applesauce.
More tips to lighten latkes
#6: Heavy Casseroles
Dishes that are laden with cheese and butter are jacked up with calories, fat, cholesterol and sodium. Keep in mind: A recipe title with the word "au gratin" usually means it's drenched in fat.
To lighten: Use small amounts of freshly-grated strongly-flavored cheese (like Parmesan or Gruyere) to add flavor—a little goes a long way.
Try Ellie Krieger's Lighter Scalloped Potatoes
#7: Holiday Cocktails
Those fancy holiday concoctions can do a lot of damage to your waistline. Packed with alcohol, sugary mix-ins, and juice or soda they can topple over 450 calories each!
To lighten: It's easy to keep calories in check by ordering simple. Sip on nice glass of wine (5 fluid ounces has about 100 calorie) or beer (12-fluid ounces has about 150 calories).
Find out why beer won our recent alcohol food fight
#8: Dips
Mayo, sour cream, and cheese can sabotage the calories in any dip. You'll end up downing hundreds of calories before you get to your meal.
To lighten: Substitute reduced-fat Greek yogurt for mayo in most dips and stick with 2 tablespoon portions to keep calories under control.
Try Ellie Krieger's Warm Spinach Artichoke Dip
TELL US: Which trick will you be using this holiday season?
More posts from Toby Amidor.
Similar Posts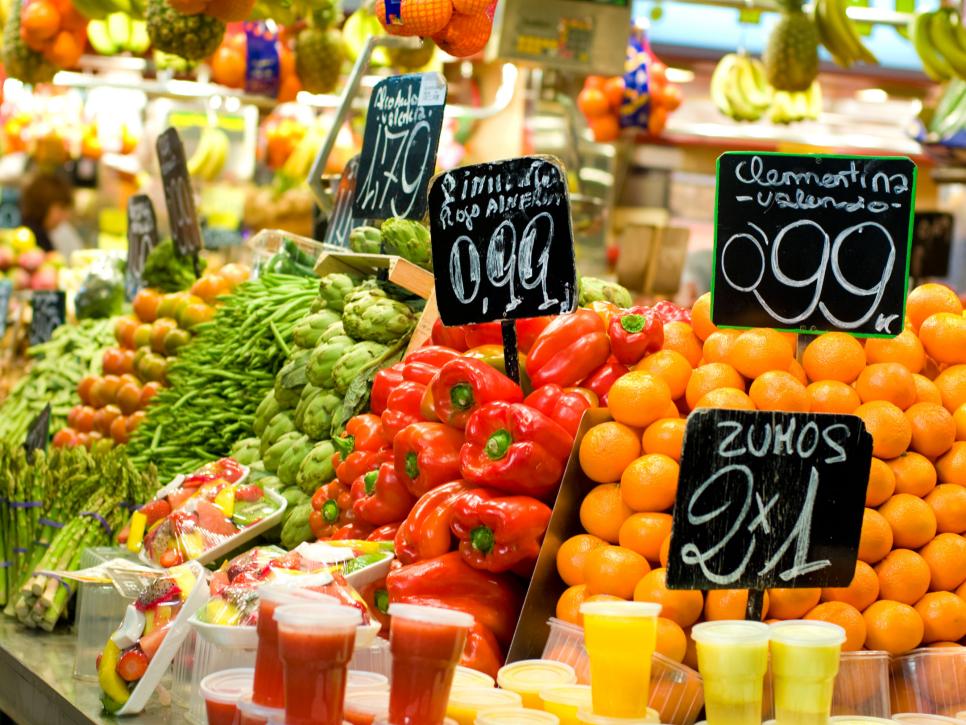 Stave off vacation weight gain with these easy, nutritionist-approved tips. ...