Tina Ruggiero is a dietitian, spokesperson, special correspondent for the Tampa Tribune and author of the cookbook, The Best Homemade Baby Food on the Planet. We chatted with her about her book recently and she offered to give you, our lucky readers, the opportunity to win a copy of her book!
Q: What inspired this cookbook?
A: Prior to writing the book, I had 17 friends and clients who where either expectant or new moms. They each had the same questions about infant and toddler nutrition, and at that point, I realized I needed to write this book.
Q: What does healthy mean to you?
A: To me, healthy means having the ability to enjoy life to its fullest. "Healthy" is a state of mind, a lifestyle and something to be embraced and celebrated. Healthy goes beyond food. When you have your health, you can achieve anything.
Q: If you could be any herb, what would it be and why?
A: Basil!  No doubt about it. It's versatile, lush, delicious, aromatic and instantly transcends memories of Italy to my plate (or cocktail glass, if I'm making an herbal drink!).
Q: What is your favorite recipe from the book?
A: There are so many recipes in the book that I love for different reasons. For toddlers, I like the To-riffic Tofu With Veggies and Peanut Sauce, the Lentils With Rice and Yogurt Sauce and Cuckoo for Couscous and Raisin Puree. They introduce new flavors textures to little tykes and really expand their palates. For the younger set, I like Highchair Haute Chicken with Peaches and Fuss-Free Banana Pumpkin Puree. They're tasty, nutritious and show mom how simple staples can be combined to make satisfying, quick meals for baby.
Q: Favorite healthy kitchen tool?
A: Vegetable peeler.  I use it to shave chocolate and cheese, soften hard butter … and yes, I do use it to peel vegetables!
You can buy a copy of Tina's book, The Best Homemade Baby Food on the Planet, or enter in the comments for a chance to win some. Just let us know, in the comments, your trick for getting healthy food on your kids' plates. The contest starts at 10:00 a.m. EST today, and ends on Friday, October 19 at 5 p.m. EST.
We're giving away one copy of The Best Homemade Baby Food on the Planet to one lucky, randomly-selected commenter. You must include your email address in the "Email" field when submitting your comment so we can communicate with you if you're a winner.
You may only comment once to be considered and you don't have to purchase anything to win; a purchase will not increase your chances of winning. Odds depend on total number of entries. Void where prohibited. Only open to legal residents of 50 U.S. states, D.C. or Puerto Rico, and you must be at least 18 to win. For the first day of the giveaway, all entries (answers) must be entered between 2:00 p.m. EST on October 17 and 5 p.m. EST on October 19, 2012. Subject to full official rules. By leaving a comment on the blog, you acknowledge your acceptance to the Official Rules. ARV of each prize: $19.99. Sponsor: Scripps Networks, LLC, d/b/a Food Network, 9721 Sherrill Blvd, Knoxville, TN 37932.
So tell us, what's your trick for getting healthy food on your kids' plates?
More posts from Katie Cavuto-Boyle.
Similar Posts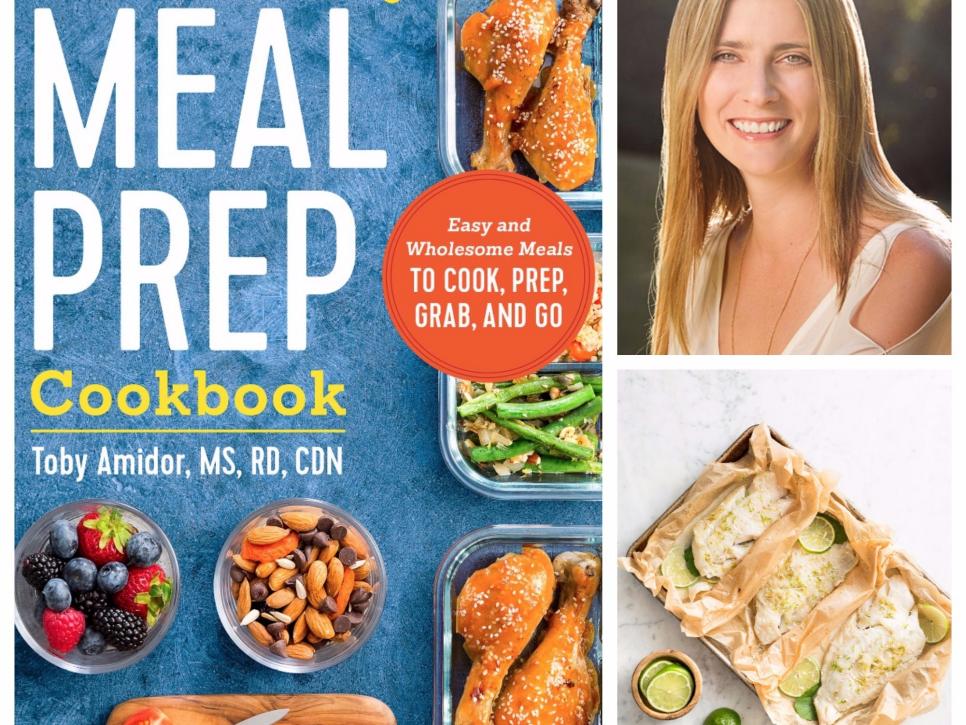 Healthy Eats talks to the author of the new meal-planning book, The Healthy Meal Prep Cookbook....