I try to hold on to the flavors of summer every way possible. Refrigerator jams are a fabulous way to get a few more weeks of out fresh fruit but wouldn't it be nice to savor it even longer?  If you haven't yet mastered the art of canning, there's still hope for enjoying homemade jam well into the winter months.
Freezer Jam Basics
Storing food in the low temperature of the freezer allows for long-term storage. This method also requires little or no cooking, which means the fresh flavors of summer are bursting in every bite.
The key to making successful freezer jam is the type and amount of pectin and sugar. Be sure to check the measurement instructions on your favorite brand, they may differ than what's in the recipes below.
Store jam in freezer-safe plastic containers, plastic bags or glass jars. It will keep for up to one year in the freezer and 3 weeks in the fridge. It's best to use jars with wide mouths and straight neck. When filling, make sure to leave ½-inch of room at the top for expansion upon freezing.
Version 1: No Cook
This version uses fresh berries and Ball Instant Pectin — there's no cooking whatsoever.
Double Berry Freezer Jam
Makes: 2 cups
2/3 cup granulated sugar
2 tablespoons instant pectin
1 ¼ cups fresh blueberries
1 ¼ cups fresh raspberries
In a small bowl, stir together sugar and pectin, set aside. In a large bowl, mash fruit with a potato masher until crushed. Add sugar mixture to fruit and stir for 3 minutes. Ladle into containers and set aside for 30 minutes to set. Cover and store in the freezer for up to 1 year.
Nutrition Info Per Tablespoon
Calories: 26
Total Fat:  0 grams
Saturated Fat:  0 grams
Total Carbohydrate:  6 grams
Sugars: 6 grams
Protein:  0 grams
Sodium:  8 milligrams
Cholesterol: 0  milligrams
Fiber: 0 gram

Version 2: Cooked
Low or no-sugar needed pectin allows you to use considerably less sugar than traditional cooked jam recipes. This version does require some cooking and works best sturdier fruit like peaches, pears and plums, though berries will also work.
Peach, Plum & Fig Freezer Jam
Peel the peaches but leave the skins on the plums to give this jam a tangy-tart edge.
Makes: 3 cups
2 cups granulated sugar
3 tablespoons no-sugar needed pectin
2 cups peeled and chopped peaches
1 ½ cups chopped plums
½ cup chopped fresh figs
Juice of one lemon
In a small bowl, stir together sugar and pectin, set aside. In a medium saucepan combine fruit and lemon juice, bring to a simmer over medium-high heat. Stir in sugar and pectin mixture and bring to a hard boil. Boil for 1 minute, remove from heat. Ladle jam into containers, cover and set aside to set for 2 hours to set. Transfer to freezer and store for up to one year.
Nutrition Info Per Tablespoon
Calories: 39
Total Fat: 0 grams
Saturated Fat: 0 grams
Total Carbohydrate: 10 grams
Sugars: 10 grams
Protein:  0 grams
Sodium: 0 milligrams
Cholesterol:  0 milligrams
Fiber:  0 gram
More posts from Dana Angelo White.
Similar Posts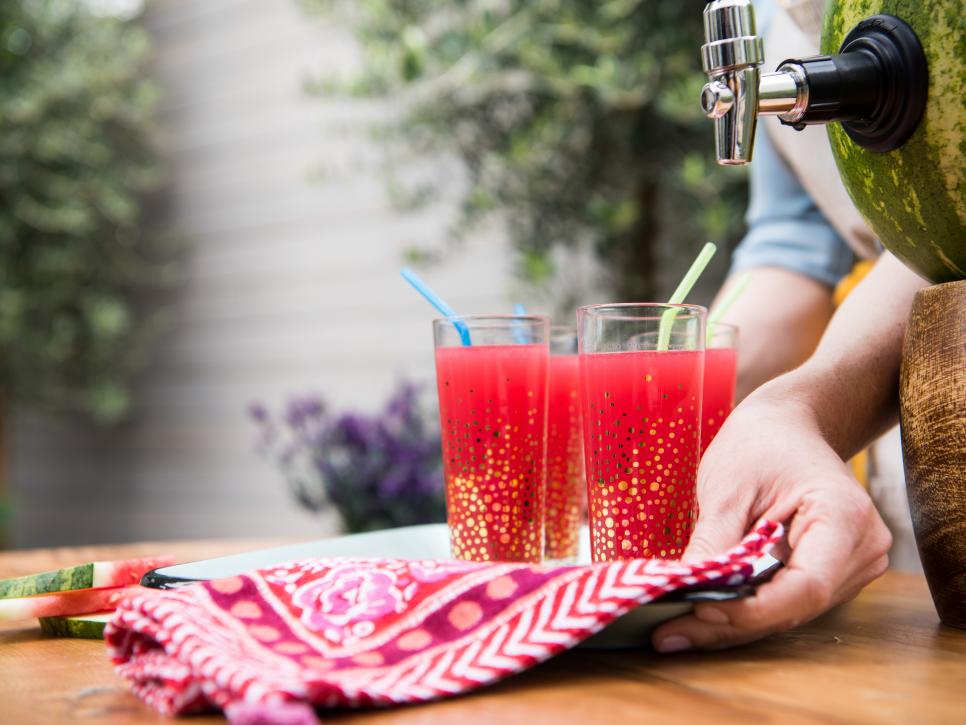 Tips and ideas for enjoying watermelon....