There's more to beating the heat than just drinking water. Electrolytes are important nutrients that help maintain your body's fluid balance.
Electrolyte Basics
Electrolytes are substances that conduct an electric current. In the body, they help to facilitate actions of the nervous system, maintain proper fluid and acid-base balance, and allow muscles to contract.
Many important minerals also act as electrolytes – some of the major players for healthy muscles are sodium, chloride, potassium and calcium.
Where to Find Electrolytes
You can find electrolytes in a wide variety of foods and beverages. If these foods are regular fixtures in your diet, you can rest assured you're getting enough.
Sports Drinks
A good choice after a sweaty workout, sports drinks like Gatorade and Powerade have fluid and carbs along with sodium and potassium.
Orange Juice
One cup of OJ has 12 percent of the daily recommendation for potassium. You'll also get vitamin C — it isn't an electrolyte but it does help keep muscles healthy.
Coconut Water
It's the new trend in sports drinks (but isn't actually a sports drink). If you're a fan of the taste coconut water, it comes jam-packed with potassium. It also contains a small amount of sodium.
Read our full write up about coconut water
Fruits & Veggies
Potatoes, raisins, bananas, spinach and sweet potatoes are just a few potassium-rich fruits and veggies. Get calcium from leafy greens like kale, Swiss chard and arugula.
Salty (Healthy) Foods
Canned tuna, canned salmon, soup, beans, pickles, olives and whole-grain bread are higher-sodium foods that are actually good for you. Since most of these foods are seasoned with table salt (a.k.a. sodium-chloride) you'll find both electrolytes.
Dairy
Milk, cheese and yogurt are packed with bone-building calcium. Folks that have trouble digesting dairy or who follow a vegan diet can get plenty of calcium from a combination of leafy green veggies and calcium fortified foods like juices, tofu, soy milk and cereals.
More posts from Dana Angelo White.
Similar Posts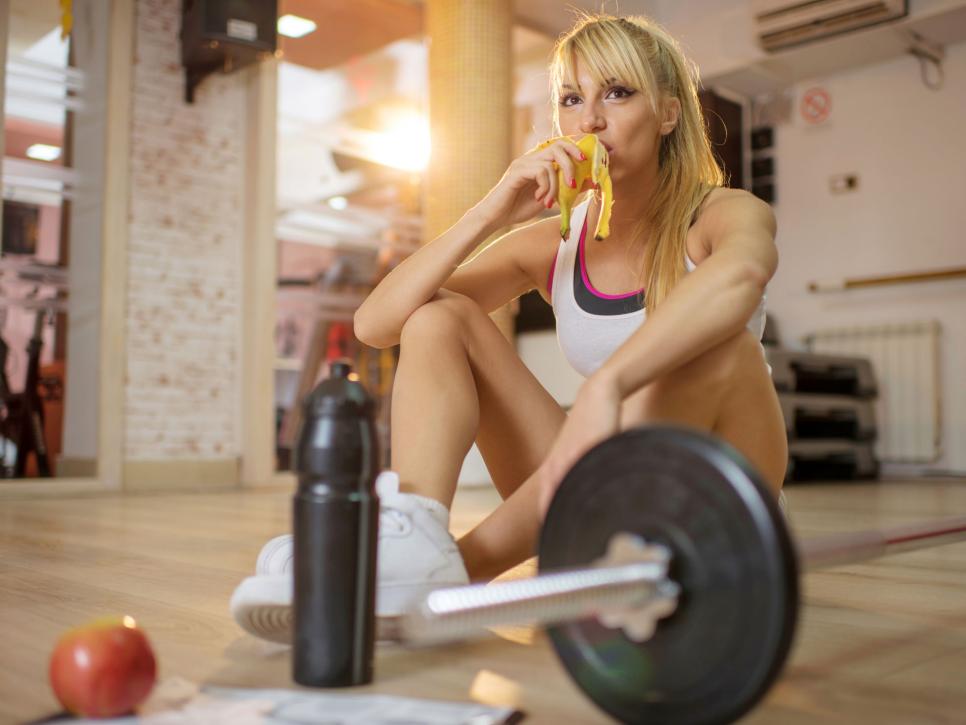 Take note of these nutritionist-approved foods that help hydrate, ease sore muscles and provide quick-acting fuel before a workout....