There are more uses for the juicy plum than eating around the pit and nose-crinkling when a prune comes into view. People love plums, of course, but they haven't reached the status of the heavy hitters: the oranges, apples and bananas. Even when it comes to antioxidants, that pesky pomegranate gets all of the attention. However, like many of our favorites, this stone fruit has some serious culinary chops, especially when they're in season and literally overflowing with ambrosial juices. Not to mention, this purplish-red beauty is brimming with nourishment and health benefits. It's about time we rethink the perks of the plum, people.
If there's anything we value in the kitchen, it is versatility. Try one of these spins on the fresh, in-season plum:
Grill It
There's something about cutting a ripe plum in half, clawing out the core and then getting it on the grill. It needs nothing more than some heat and maybe a brush of olive oil for the flesh to soften and caramelize and for a nice char to build up. It's as simple as that. After grilling, drizzle plums with a balsamic and black pepper syrup, bring in some brown sugar or stick them on a skewer.  And the plum doesn't need to go it alone; combine it with other stone fruits for a grilled treat.
Puree It
Blend plums with a few apples, cinnamon sticks, apple juice, sugar and for a killer (not to mention beautifully-colored) plum applesauce (pictured above).
Drink It
Orange juice. Apple juice. Lemonade. But what about plum drinks? No, we're not talking prune juice. Slurp down Bobby's Plum Prosecco Cocktail, which is laced with honey, bubbles and, of course, plum.
Sweeten It
Plums are as sweet as sugar. But when dessert rolls around, sometimes you need a bit more than a slice of fruit. Alton Brown's Honey Plums add sweet to sweet by cooking under-ripe plums in honey until soft but not cloyingly sweet.
Cook It
Believe it or not, plums — both dried and fresh — work well with their fair share of proteins. For a meal with sweet-and-sour flavors, go for Apricot Glazed Chicken With Dried Plums and Sage; it has a shot of vinegar offsetting the sweetness of the dried plums. More of a pork person? Rachael Ray's pork tenderloin shines with her plum barbecue sauce. Instead of getting her plum sauce from the jar, she uses fresh plums and the essences of ginger, five-spice powder and hoisin sauce.
Bake It
As a fruit, the plum does wonders when it meets a little butter, sugar, flour and egg. Take it from Ellie Krieger; her Plum Tart With Almond Pastry Crust centers around the purple fruit, which she poaches, skins and then bakes into an almond crust. Into crisp? Try Food Network Magazine's Plum Apricot Crisp, and go heavy on those plums.
Tell us: Do you cook with plums?
Ingredients, Inc.: Pork, Plums and Rosemary Kabobs
Virtually Homemade: Grilled Plum Pizza With Goat Cheese
Cooking Channel: Best Plum Dessert Recipes
BGSK: Grandma Esther's Plum and Walnut Cake
Delicious Lean: Plum Delicious Pork Chops
Daily*Dishin: Roasted Chicken With Plum Chili Salsa
Napa Farmhouse 1885: Time for Plum Cobbler?
Thursday Night Dinner: Plum BBQ Chicken
From My Corner of Saratoga: Plum Upside Down Cake
Cooking With Elise: Vanilla Plum Tart
Sweet Life Bake: Plum Pineapple Margarita
And Love It Too: Plum Pickin' Pineapple Jam
FN Dish: Perfect Plum Recipes
More posts from Allison Milam.
Similar Posts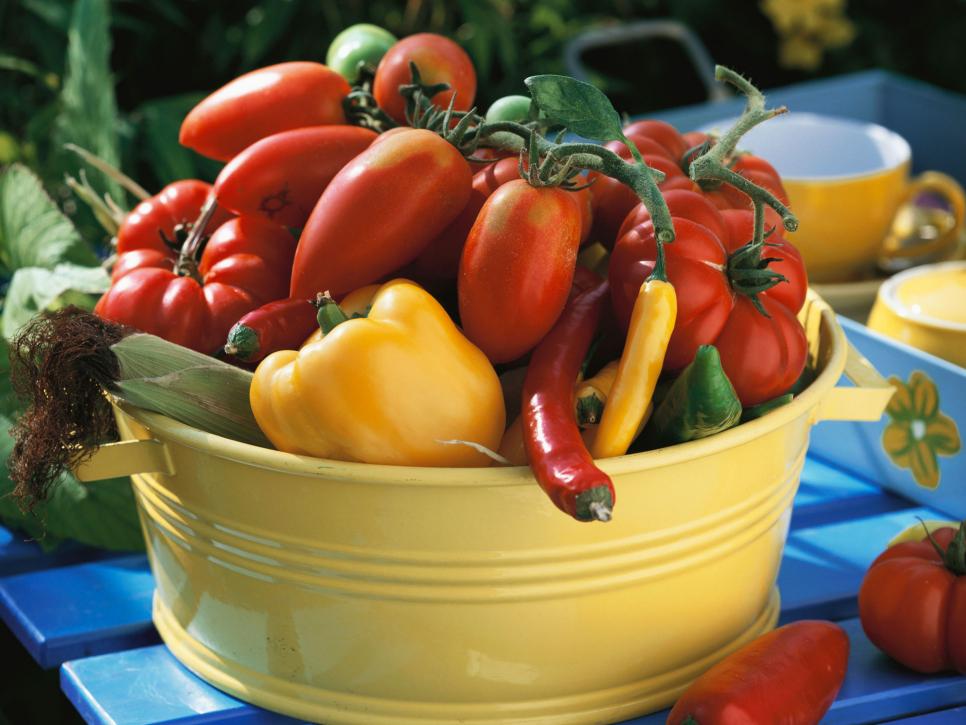 Check out these fresh ways to use an abundance of summer produce....