I'm always looking for something to liven up brunch menus. Try these buttery bite-sized treats at your next get-together.
Nutrition Facts
An average size plain croissant has 310 calories with more than 50% coming from fat. Pile in sugary and high-calorie fillings and it will quickly sabotage your breakfast or brunch. Smart downsizing is the way to have the best of both worlds.
The Method
Puff pastry dough may seem intimidating but it couldn't be easier to use. Start with a good quality brand (we like Dufour). Roll it out, slice into skinny triangles, add fillings, roll and bake.
The Fillings
The measurements of fillings are minimal – which is nice because the calories stay that way too. Use thinly sliced pieces of fruit and ¼ teaspoon of wet ingredients like jam or honey. For hard ingredients like chocolate or cheese use a 1/8-ounce piece for each croissant.
Flavor-Packed Ideas
Choose any combination of flavors. Here are a few suggestions:
•    Apricot jam, fresh strawberries and sliced almonds (recipe below)
•    Dark chocolate-almond candy bar
•    Pear and honey
•    Dijon mustard, ham & Swiss cheese
•    Fig spread and Manchego cheese
•    Lemon curd and chopped pistachios
•    White chocolate and orange zest

Strawberry-Apricot Mini Croissants
Makes 32 pieces
All-purpose flour for dusting
1 sheet puff pastry (14-ounces)
8 teaspoons apricot jam
8 large strawberries, thinly sliced
2 tablespoons sliced almonds
1 egg, beaten
Sparkling sugar (optional)
Equipment: pizza cutter, rolling pin, baking sheet, parchment paper
Preheat oven to 400-degrees F. Line a baking sheet with parchment paper and set aside. Place puff pastry on a floured board and cut in half. Roll out the half sheet into a rectangle that is approximately 15 x 9 inches. Using a pizza cutter, divide that piece in half lengthwise. Then, working from left to right, cut diagonal lines up and down to slice the dough into 4 triangles. Slice each triangle in half, leaving you with 8 pieces of dough. Repeat with remaining pieces of dough to finally end up with 32 pieces.
To assemble croissants, fill each piece of dough. Place apricot jam on the wider end of the triangle, top with a strawberry slice and 2 pieces of sliced almond. Gently roll up the dough towards the tip of the triangle and transfer to the baking sheet. Brush with egg wash and sprinkle with sparkling sugar, if using. Bake for 10 to 12 minutes until puffed and golden. Serve warm or at room temperature.
Nutrition Info Per Piece
Calories: 59
Total Fat: 4 grams
Saturated Fat:  3 grams
Total Carbohydrate:  5 grams
Sugars: 1 gram
Protein:  1 gram
Sodium: 43 milligrams
Cholesterol:  11 milligrams
Fiber:  0 gram
Dana Angelo White, MS, RD, ATC, is a registered dietitian, certified athletic trainer and owner of Dana White Nutrition, Inc., which specializes in culinary and sports nutrition. See Dana's full bio »

More posts from Dana Angelo White.
Similar Posts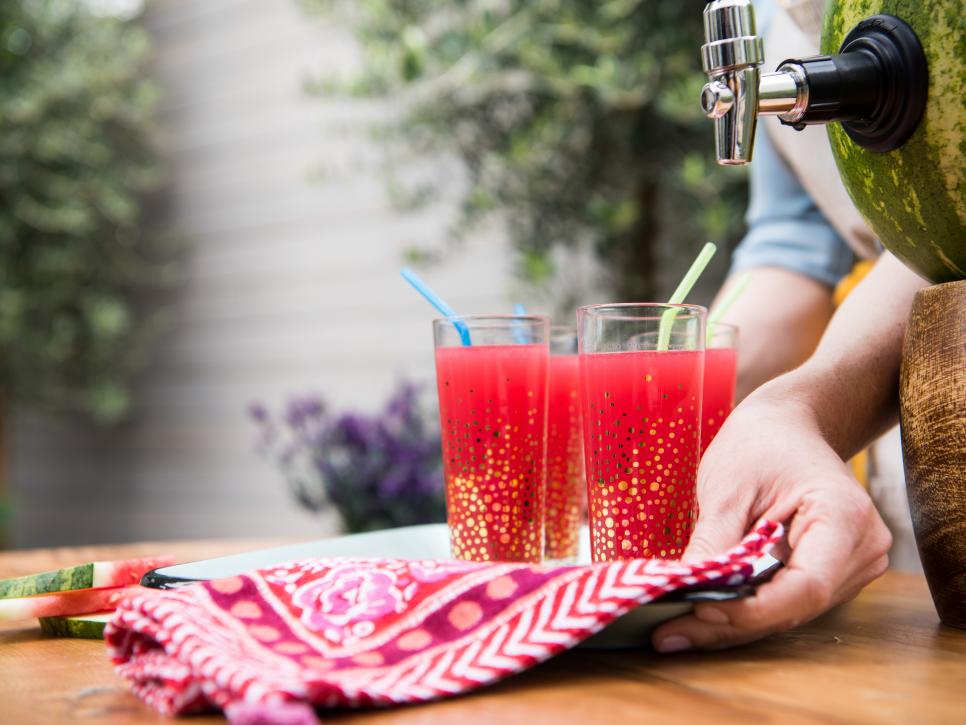 Tips and ideas for enjoying watermelon....