There are some packaged foods that make me want to scream! Some try to make not-very-healthy foods seem like they're super nutritious, while others take healthy food and make them less nutritious. Oftentimes the first thought in my mind is "who thought this up?" Check out these outlandish foods, and keep in mind that if a label claim sounds too good to be true, it probably is. You're better off eating real, whole foods over packaged or manufactured foods any day.
#1: Snap Infusion Supercandy
This candy is marketed as having "the deliciousness and instant gratification of candy, packed with super benefits." It's packed with a variety of B-vitamins, the antioxidant vitamins C and E, and a variety of electrolytes.
Instead: Be careful popping these over-fortified candies. Eat a balanced meal to get B-vitamin from proteins, vitamin C and potassium from fruit and veggies, vitamin E from healthy fats, and electrolytes from dairy.
#2: WhoNu? Cookies
These cookies contain 20 essential vitamins and mineral plus 3 grams of fiber. They come in a variety of 4 flavors too. The website touts that these cookies have "as much iron as a cup of spinach" and "as much vitamin C as a cup of blueberries."
Instead: Eat a cup of spinach and blueberries. What happened to real food?
#3: Uncrustables
This is a peanut butter and jelly sandwich without the crust. It can be stored in the freezer so you can grab and go.
Instead: Make your own PB&J on whole-grain bread and cut off the crust.
#4: Splenda with Fiber
You'll get one gram of fiber with every package of Splenda. It's marketed to help you bump up your fiber intake to meet the recommended 25 grams per day.
Instead: Meet your fiber needs by eating real food! Eat a balanced diet with whole grains, fruits, veggies, legumes, and nuts which all contain fiber.
#5: Crunch Pak Apple Slices
These are pre-sliced and packaged apples which need ascorbic acid (a.k.a. vitamin C) added so they don't brown.
Instead: If you're too busy to slice an apple…
#6: Bisquick Shake 'N Pour
A single-use mixture of pancake batter—all you do is add water to the container, mix, and pour. The mix also contains some funky sounding ingredients like dried eggs whites and defatted soy flour, which you won't find in the traditional version.
Instead: Get out your bowls and mixing cups and use the boxed mix if you don't want to measure out the actual pancake ingredients.  At least you can get more than one use out of the boxed versions. But do try making pancakes from scratch, it's surprisingly simple.
#7: Baconnaise
This product is exactly what it sounds like: bacon-flavored mayonnaise spread. The website touts that it has 10 calories less than regular mayonnaise  per serving (though it also contains the same amount of saturated fat and 1 gram more sugar per serving).
Instead: Stick to regular, reduced fat, or olive oil mayo (check out our favorite picks). Add bacon when you really feel the need.
#8: SumSeeds
These "energizing" sunflower seeds have caffeine, several amino acids and ginseng added.
Instead: Choose traditional sunflower seeds. Some of these add-ins can be downright dangerous for your heart and overall health. They can also interact with some medications that you may be taking.
#9: Parkay Spray Margarine
This buttery spray is marketed as being calorie-free. According to food labeling guidelines, any food that contains fewer than 5 calories per serving can be labeled as "calorie free." Unfortunately, if you like a lot of that buttery goodness on your food you'll be racking up calories.
Instead: Use tub margarine or spray olive oil. This way you can control the calories and not be blindsided by the inaccurate claims.
TELL US: What's the most ridiculous food you've seen?
You Might Also Like:
Toby Amidor, MS, RD, CDN, is a registered dietitian and consultant who specializes in food safety and culinary nutrition. See Toby's full bio »
More posts from Toby Amidor.
Similar Posts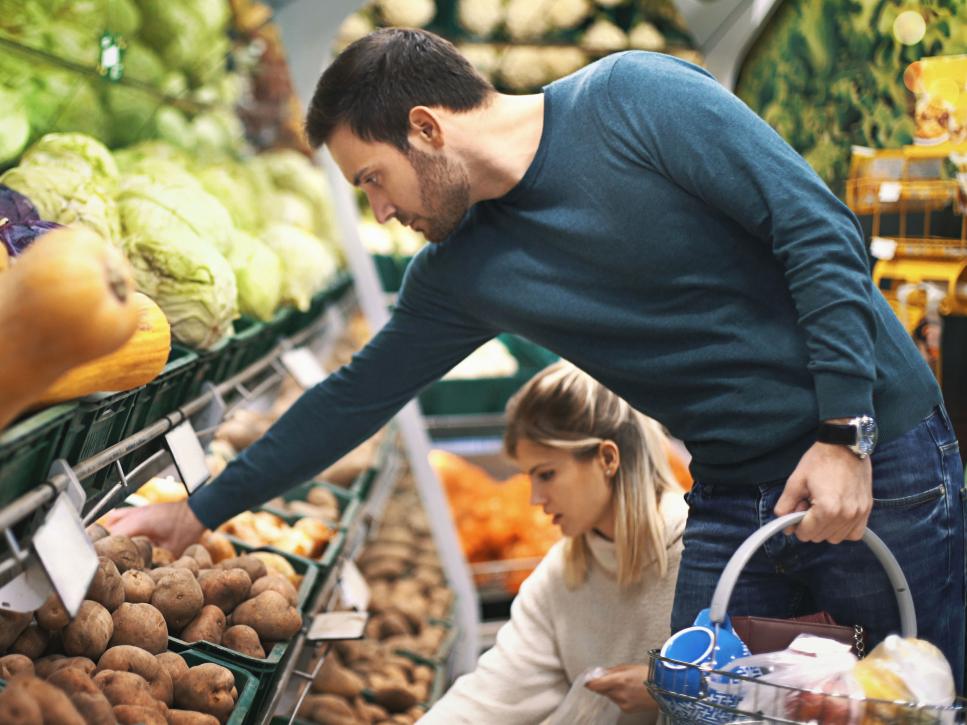 Tricks to avoid overspending at the supermarket....