The supermarket aisles are flooded with health claims from "healthy, all-natural" frozen dinners to "cholesterol-lowering" granola bars. We're constantly getting conflicting messages on what to what to eat — from organic produce to free-range or grass-fed meat — and what to avoid — from trans fats to high fructose corn syrup. It's not surprising that most consumers are left wondering what to believe and what it all means.
When it comes to making your selection it can be simple. Leading nutritionist and author of What to Eat, Marion Nestle, PhD, MPH advises "Never buy anything that has more than five ingredients, any ingredients you can't pronounce, anything artificial, with a health claim, or with a cartoon on the package."
The goal of this article is break down the information on the front of the packaging so you can make a more informed decision on the quality and content of the product you are purchasing. Words like organic and free-range may not be what you thought; can you trust these terms on labels or is it a marketing ploy? While certain labels are regulated, others are not. We have offered you a reliable list to follow when making your selections.  The outcome: more conscious food choices that will benefit your body and the planet.
This list is organized alphabetically:
Bird Friendly coffee is grown on farms in Latin America that provide forest-like habitat for birds, rather than farms that clear the land for direct sunlight and faster growing. Bird Friendly coffee is shade-grown and organic, meaning it is grown without the use of pesticides, which poison the environment. Farmers undergo a periodic audit by the Smithsonian Center to maintain this certification.
Certified Humane can be found on dairy, eggs, meat and poultry.  Certified Humane meets the Humane Farm Animal Care program standards, which includes animals fed a nutritious diet without antibiotics or hormones, raised with shelter, resting areas, sufficient space and with the ability to engage in natural behaviors. Manufacturers who maintain this certification must comply with the American Meat Institute's standards.
Demeter Certified Biodynamic can be found on cheese, eggs, fruit, meat, vegetables and wine. A holistic approach to farming, Demeter Certified Biodynamic emphasizes organic fertilizer, healthy soil, and farmer-customer relationships.   Food displaying this label is produced without fertilizers, synthetic pesticides, animal byproducts or genetically modified crops.
Dolphin Safe labels can be found on tuna and verifies that tuna in the eastern tropical Pacific Ocean was fished without deliberately harming dolphins. Vessels must have an independent observer on board attesting to the compliance. While the National Marine Fisheries Service doesn't monitor catches from other regions, tuna can still be labeled "dolphin-safe." It's still recommended to look for the label as these catches are better than those without the label.
Fair Trade Certified labels can be found on tea, rice, sugar, chocolate, coffee and tropical fruit. TransFair USA verifies that organizations pay Fair Trade prices and premiums and submit to rigorous supply chain audits. Ensuring that farmers and farm workers are paid a fair price for their products, TransFair USA prohibits the use of child labor and encourages sustainable farming practices.
Food Alliance labels can be found on meat, milk, wheat, vegetables, dairy products and frozen fruits. Farms and ranches must provide safe and fair work conditions, follow good environmental practices, and treat animals humanely. Food bearing this label is free of hormones and therapeutic antibiotics. Farmers also do not grow genetically modified crops.
Grass-fed or Pastured can be found on beef, milk, pork, and lamb. Products should carry both "USDA Process Verified" and "U.S. Grass-fed" labels. While the animals must have access to pasture and are not fed grain, they are allowed to receive hormones and antibiotics.
Rainforest Alliance Certified labels can be found on cattle, cocoa, coffee, tea, fruits and flowers. Farms must be audited by standards set by the Sustainable Agriculture Network. Farmers must practice fair labor treatment and use environmentally responsible farming, including integrated pest and disease management and soil and water conservation.
USDA Organic can be found on processed and frozen foods, coffee, beer, dairy, grains, produce, meat, shrimp and wine. The USDA certifies that foods bearing this label may not use synthetic fertilizers, sewage sludge, irradiation and genetic engineering. Organic animals are fed 100 percent organic feed without animal byproducts or growth hormones.  (This certification is expensive and the process is cumbersome, making it difficult for small farmers to become certified even though their farming practices meet USDA Organic standards.)
There is some confusion around whole grains both by consumers and manufacturers. The term is often misused but thanks to the work of the Whole Grain Council, consumers can trust that each product that bears the Whole Grain Council's stamp contains at least half a serving of whole grains.
The following commonly-found labels lack strict regulation and discredit the quality of the label, so purchase with care.
Label Claims to Beware of:
Antibiotic-free: The USDA banned the term "antibiotic-free;" however, it does allow the label to be used on meat and poultry products that claim to be "raised without antibiotics." Unfortunately, there is no system in place to regulate or certify these claims. This label can be found on dairy, meat and eggs.
Free Range: Beef, chicken or eggs labeled "free range" implies that the animals were raised in the open air or free to roam. Chickens allowed as little as five minutes of open-air daily meet the USDA standards for "free range." However, there are no regulations for eggs or beef.
Fresh or Never Frozen: A label that reads "fresh or never frozen" can be found on poultry products. By USDA regulations, the chickens can reach eight degrees below freezing and be labeled as "fresh."
Hormone-Free:  There are no systems in place to verify meat or dairy labeled "hormone-free." However, the USDA allows producers to claim their meat or dairy products are "hormone-free" without regulations in place to confirm or authorize these claims.
Natural: Natural is an overused term in labeling food that is "minimally processed" or made with "natural" ingredients. Although some ingredients were natural at the time of harvest, once the manufacturer processes the food and alters the nutritional structure, it's no longer in its "natural" form. As in the case with the other labels or claims used by marketers, there is no system in place to verify these claims.
Lastly, safe shopping at the fish market is complicated by a lack of regulated labeling. While fish is one of the smartest protein choices you can make, choosing which fish to buy can be confusing and guidelines are always changing. To make matters worse, the USDA does not currently offer an organic label for seafood. That's why it's best to rely on the experts.
The Monterey Bay Aquarium Seafood Watch program creates science-based recommendations that help consumers and businesses make ocean-friendly seafood choices. You can visit their website to download a Seafood Watch card for your region. Some good options are: albacore tuna, black cod, farmed rainbow trout, European anchovies, Spanish mackerel, and wild sockeye salmon.
Making the best choice is easier when you understand the labeling of the foods in the supermarket aisles.  Always remember, if you are not sure, just ask. Your fish monger, butcher or other grocery store team member should be able to help. The key is buying fresh foods from the source (like a farmers market) so the grower can answer your questions.
Tell Us: What label claims are you confused about?
More posts from Katie Cavuto-Boyle.
Similar Posts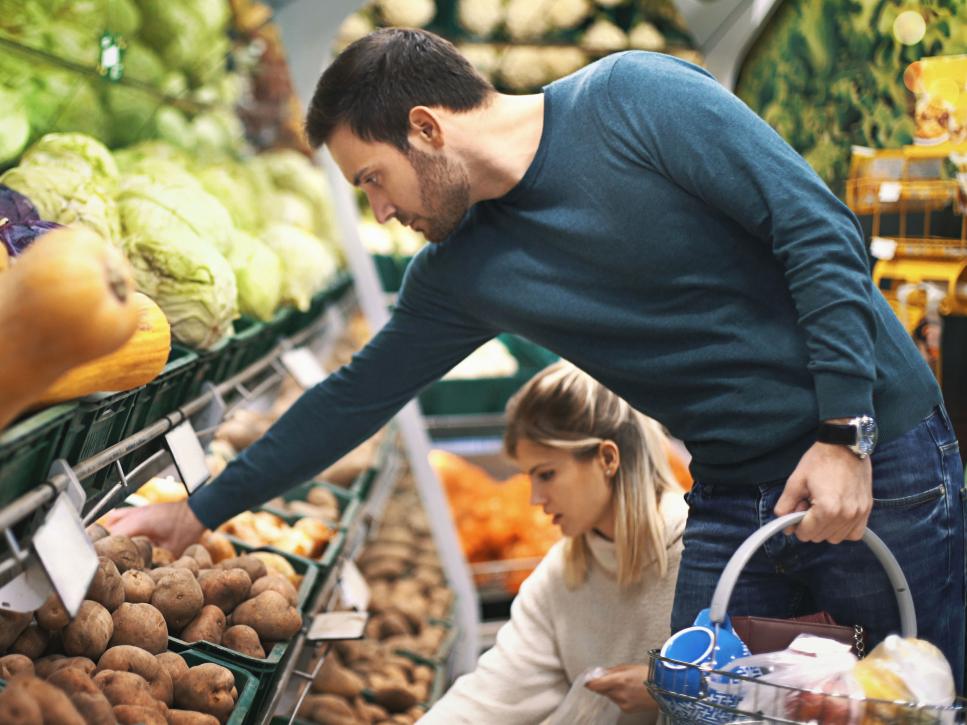 Tricks to avoid overspending at the supermarket....