This under-appreciated grain is a perfect way to get in your whole grains, plus it's gluten-free. Get tips on cooking it and creative recipes to try this tiny grain.
What is Amaranth?
Also called pigweed or Chinese spinach, amaranth was a staple crop of the Aztecs who used to make idols from amaranth, honey and human blood. This outraged Cortes who burned the amaranth fields and decreed that anyone growing the crop would be killed.
Amaranth was rediscovered centuries later and about 60 varieties are available today. Although amaranth is categorized as a grain, it's really a seed (just like quinoa). The tiny seeds are about the size of sesame seeds and have a yellowish color. The seeds can be used whole or ground into flour. They have a sweet and nutty flavor and are a bit crunchy when cooked. The greens of the plant are also edible and have a sweet flavor.
Today China is the biggest producer of the grain, but it's also cultivated in Mexico, Central America and some areas in the U.S.
Why Is Amaranth a Healthy Eats Pick?
One cup of cooked amaranth has 251 calories, 4 grams of fat and 46 grams of carbohydrates. It ranks as highest in protein of all the grains with 9 grams per cup. It also contains the amino acid lysine, which is missing in all other grains. It's an excellent source of fiber, iron, manganese, phosphorus and a good source of vitamin B6, folate, calcium, copper, selenium and zinc. It also contains the phytochemical squalene which has been shown to help lower cholesterol and fight cancer.
What To Do With Amaranth
The amaranth seed can be used whole or ground into flour. It cooks up like rice with 1 ½ cup of water per ½ cup dry amaranth. It tastes wonderful cooked with in a flavorful liquid like tomato juice. Cooked amaranth can be used in soups, stews, chili or in place of rice in most recipes. Amaranth seeds can be stored in an airtight jar in the fridge for up to 6 months.
Amaranth flour can be used to make muffins, breads, and pancakes. Since amaranth doesn't contain gluten, it needs to be mixed with an equal amount of wheat flour to make leavened breads.
The leaves of the amaranth plant can be boiled or fried just like other green leafy vegetables.

Amaranth-Ginger Muffins
Courtesy of Carol Fenster and the Whole Grains Council
The spicy bite of crystallized ginger pairs perfectly with the faintly peppery taste of amaranth in these gluten-free muffins. For the best results when making gluten-free breads and muffins, start with a blend of flours and starches like the mix of amaranth flour, potato starch, and tapioca flour suggested in this recipe.
Liquid Ingredients
2 large eggs, at room temperature
2/3 cup milk
1/4 cup canola oil
2 Tbsp. molasses (not blackstrap)
1 tsp. pure vanilla extract
Dry Ingredients
2/3 cup amaranth flour
2/3 cup potato starch
1/2 cup tapioca flour
1 cup packed dark brown sugar
1 Tbsp. baking powder
1 tsp. each xanthan gum, salt, ground ginger, and cinnamon
1/2 teaspoon each grated nutmeg and ground allspice
1/8 teaspoon ground cloves
1/2 cup finely chopped crystallized ginger
1/4 cup finely chopped walnuts

Ginger-Sugar Crust
2 Tbsp. sugar
1/2 tsp. ground ginger
Place a rack in the middle of the oven. Preheat the oven to 375°F. Generously grease a 12-cup or 6-cup gray nonstick muffin pan or line with paper liners.
In a medium bowl, beat the eggs with an electric mixer on medium speed until light yellow and frothy, about 30 seconds. Add the milk, oil, molasses, and vanilla and beat on low speed until well blended.
In a small bowl, whisk together the dry ingredients. With the mixer on low speed, gradually beat the dry ingredients into the liquid ingredients until the batter is smooth and slightly thickened. Gently stir in the crystallized ginger and walnuts. Divide the batter evenly in the muffin pan.
Make the crust: In a small bowl, whisk together the sugar and ground ginger and sprinkle evenly on the batter.
Bake the larger muffins 35 to 40 minutes or the smaller muffins for 20 to 25 minutes or until a toothpick inserted into the center of the muffin comes out clean. Cool the muffins in the pan 10 minutes on a wire rack. Remove the muffins from the pans and cool completely on the wire rack. Serve slightly warm.
Recipe courtesy of Carol Fenster, from the forthcoming 100 Best Gluten-Free Recipes.
More Recipes To Try:
More posts from Toby Amidor.
Similar Posts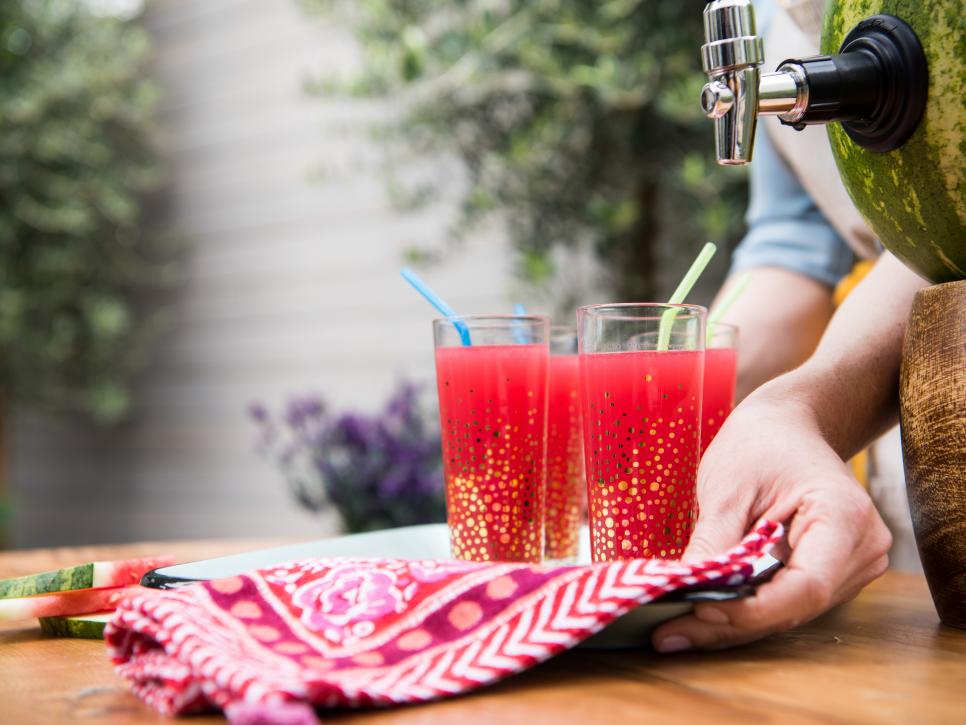 Tips and ideas for enjoying watermelon....