It's not exactly breaking news that deep-frying is one of the least healthy cooking techniques out there. You won't find fried chicken wings, mozzarella sticks or French fries at the top of any healthy food lists. But they are tops on every football party menu. Wings, especially, are a must-have for game day, especially The Big Game. We'd never suggest you watch the biggest football game of the year without this favorite football snack, but we will recommend that you bake them instead of deep-frying them. You'll get that same crispy, hot sauce-covered wing you crave, without the guilt (and without your house smelling like burnt oil).
The wing recipe featured in the latest issue of Food Network Magazine is a healthier twist on the classic bar snack; the wings are first cooked in seasoned chicken broth spiked with hot sauce so they're extra juicy, then they're baked in the oven until the skin is crisp and golden. Instead of high-fat blue cheese dressing, make your own blue cheese-yogurt dipping sauce to dip your wings and celery in.
Baked Buffalo Wings With Blue Cheese-Yogurt Dip
Serves: 6
For the dip:
3/4 cup plain nonfat Greek yogurt
1/4 cup crumbled blue cheese
2 tablespoons mayonnaise
1 small clove garlic, chopped
1 tablespoon skim milk or buttermilk
Juice of 1/2 lemon
Kosher salt and freshly ground pepper
For the wings:
Cooking spray, for the baking sheet
3 pounds chicken wings, split at the joints, tips removed
4 stalks celery, cut into thirds
4 carrots, cut in half
2 bay leaves
1 cup fat-free low-sodium chicken broth
1 cup Frank's Red Hot sauce (or 1/2 cup other hot sauce)
2 tablespoons paprika
2 tablespoons unsalted butter
1 tablespoon honey
Directions
Make the dip: Pulse the yogurt, blue cheese, mayonnaise, garlic, milk and lemon juice in a food processor until combined but still chunky. Season with salt and pepper. Cover and refrigerate until ready to serve.
Make the wings: Preheat the oven to 425 degrees F. Coat a rimmed baking sheet with cooking spray. Put the chicken wings in a deep skillet; add 3 pieces of celery, 3 pieces of carrot, the bay leaves, chicken broth, hot sauce, paprika, butter, honey and 1/2 cup water and bring to a simmer over medium heat. Simmer until the chicken is almost cooked through, about 18 minutes. Transfer the wings to the prepared baking sheet and arrange in a single layer; reserve the sauce in the skillet.
Bake the wings, turning once, until the skin is golden and crisp, 30 to 35 minutes. Meanwhile, simmer the reserved sauce over medium-low heat until slightly thickened, about 15 minutes. Discard the celery, carrot and bay leaves. Reserve one-quarter of the sauce for serving. Return the wings to the skillet and toss with the remaining sauce. Serve the wings with the blue cheese dip and reserved sauce; cut the remaining celery and carrot into sticks to serve on the side.
Round out your football party menu with these healthier game day favorites:
Chips, Dip and More Game-Day Snacks
More football snacks from our friends participating in Food Network's virtual Super Bowl party (we can't vouch for the healthfulness of these snacks, so indulge in moderation!):
Drinks:
Liquor.com: Lights Out Punch, Marvelous Frothy Margarita and Black Velvet
Food52: Bubbly Manhattan
Dip Recipes:
Food.com: Buffalo Chicken Dip
BlogHer: Warm Tomato Basil Dip
Yahoo! Shine: Artichoke Dip
Appetizers:
EatingWell: The Best Guacamole
Devour: Sweet and Sour Pork Sliders from Ching-He Huang
The Daily Meal: Fancy Potato Skins With Chorizo
Food Republic: Spinach Artichoke Balls
Big Girls, Small Kitchen: Pork and Avocado Quesadillas
Fox News: Cheddar Jalapeno Hush Puppies
Mains:
Epicurious: Classic Beef Meatballs
YumSugar: Buffalo Chicken Pizza
Wings:
Men's Health: Angry Dijon Mustard and Honey Glazed Chicken Wings
Healthy Eats: Baked Buffalo Wings
FN Dish: Alton Brown's Buffalo Wings
Desserts:
Gourmet Live: Red Velvet Whoopie Pies
More posts from Michelle Buffardi.
Similar Posts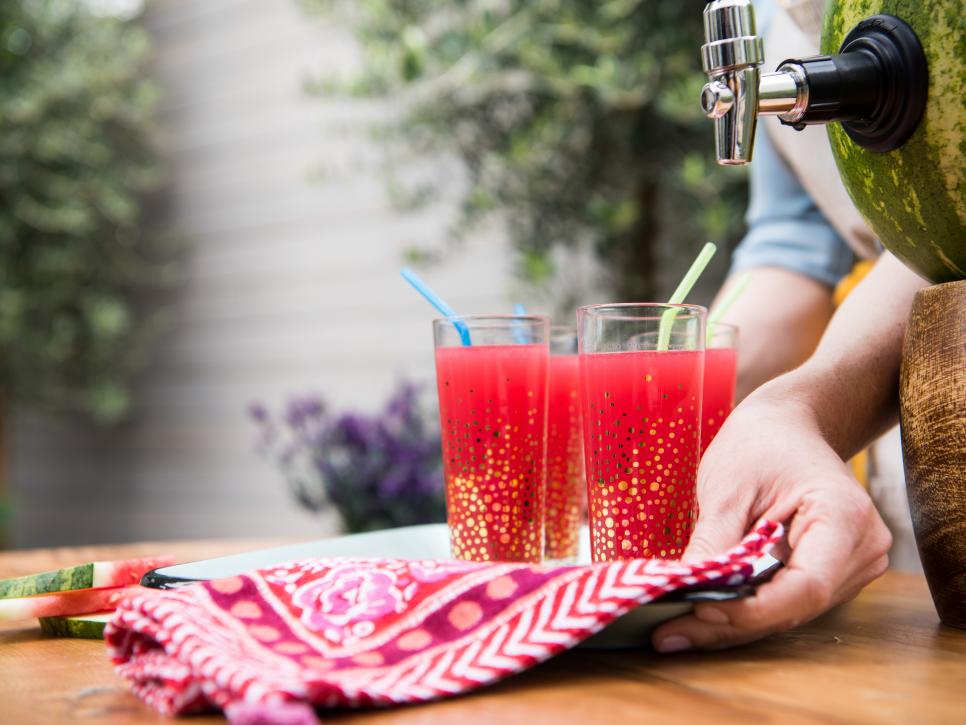 Tips and ideas for enjoying watermelon....