Whether it's for dinner, dessert or carving Jack-o-lanterns, nothing says fall quite like shiny orange pumpkins. We've got ideas for every day of the month.
1.    Check out your local farm or farmers' market for unique varieties like "Oz" or "Spooktakular"
2.    Did you know? Pumpkins can be found in different colors, like orange, green and white.
3.    Find out where the "pumpkin capital" of the United States is.
4.    When you're at the pumpkin patch – choose pumpkins with smooth, hard skin that are free of bruises or blemishes.
5.    It's not pumpkin season until you make Pumpkin Pie – try our slimmed down recipe.
6.    If you're buying canned pumpkin, look for pumpkin puree over sugar-filled pumpkin pie filling.
7.    Use pumpkin puree for this festive and ghostly dessert.
8.    Get your antioxidants: Pumpkins have a healthy dose of the antioxidant lutein.
9.    Practice easy peeling — use a vegetable peeler to remove the tough outer skin.
10.   Save those pumpkin seeds! They're too yummy to toss.
11.   Combine with fresh orange for a warm and cozy soup.
12.   Keep them fresh: Pumpkins can be stored in a cool, dry place for up to 3 months.
13.   Roast chunks of peeled pumpkin with olive oil, fresh sage, salt and pepper.
14.   Think outside the box –  Pumpkin Flan!
15.   Use shredded fresh pumpkin in your pumpkin bread to make it super moist.
16.   Cook chunks of fresh pumpkin in a saucepan, low and slow, for a naturally sweet pumpkin butter.
17.   Get 10-percent of your daily fiber needs in each cup of pumpkin.
18.   Use canned pumpkin to make a savory and creamy pasta dish.
19.   Combine ground cinnamon, nutmeg and ginger to make your own pumpkin pie spice.
20.  Sink into a comforting bowl of Pumpkin Rice Pudding – for only 240 calories per serving.
21.   Pumpkin + Curry Powder = Heaven!
22.  Make a batch of sweet, chewy and crunchy Pumpkin Caramels.
23.   Learn more about the nutrients found in orange foods.
24.   Freeze cooked, mashed pumpkin in an airtight container for up to 6 months.
25.   Turn pumpkin, water and some sugar into fruit leather.
26.   Did you know? Pumpkins are in the same family as cucumbers and watermelons.
27.   Whip up a batch of Mini Pumpkin Cupcakes for the kiddies (and the grown-ups).
28.   Kick up pumpkin seeds — roast with a sprinkle of spicy chili powder.
29.   Cocktails anyone? How about a martini made with homemade pumpkin vodka?
30.   Pumpkin season runs through November is many parts of the country so you can enjoy through Thanksgiving.
31.    BOO! Make a Jack-o-latern for Halloween but don't forget to save all the seeds and scraps – they are too delicious to throw away.
What do you love to do with pumpkins?
Dana Angelo White, MS, RD, ATC, is a registered dietitian, certified athletic trainer and owner of Dana White Nutrition, Inc., which specializes in culinary and sports nutrition. See Dana's full bio »
You Might Also Like:
More posts from Dana Angelo White.
Similar Posts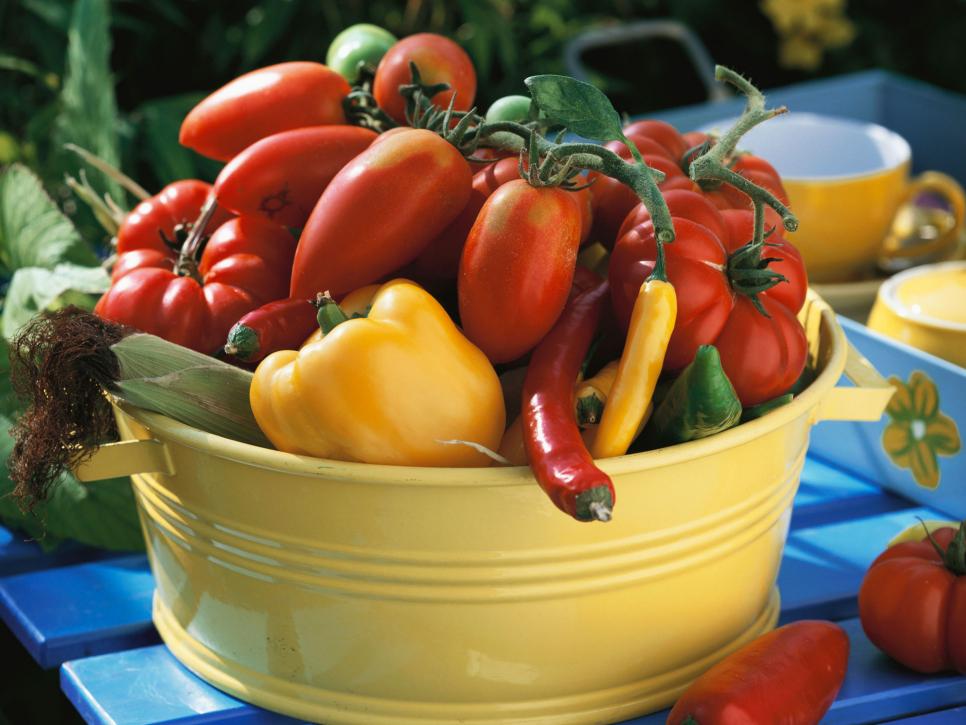 Check out these fresh ways to use an abundance of summer produce....