We covered the basics of making your own ice pops, now it's time to get fancy. From sweet to savory and icy to creamy, grab some Popsicle molds (or paper cups and wooden sticks) and get chillin'.
Popsicle Basics
Ice pops are a healthy indulgence. They can be made with nutritious ingredients like fruit, fruit juice, herbs, milk and yogurt. A little sugar, honey, or even alcohol can make them extra special. Since they're portion controlled, there's no need to feel guilty.
You can freeze almost anything into an ice pop – use these simple tips for success every time.
Always use freezer-safe containers.
Allow at least 6 hours to freeze (overnight is ideal), then run molds under warm water to release.
Adjust amounts of sweeteners and other flavorings to taste.
Watch portions of alcohol – use too much and the pops won't set up properly (you'll have slush instead).
Recipe Ideas
Mix up these fabulous fillings until they're an easy to pour consistency, then transfer to molds and freeze.
Fruity
Wild Berry Buttermilk
Combine mixed berries, low fat buttermilk and honey in a blender. Reserve a few berries and drop them in whole before freezing.
Honeydew Lemon-Lime
Puree diced honeydew melon with fresh lime juice and zest in a food processor. Mix puree with lemon-lime soda.
Peaches 'n Crème
Blend fresh chopped peaches, heavy cream and orange juice.
Pomegranate-Cherry-Banana
Fill mold one third of the way with pomegranate juice. Drop in slices of fresh cherries and freeze for one hour. Then add a second layer made from blended 2% Greek yogurt, ripe banana and more pomegranate juice. Freeze for another hour and finish with one more layer of juice and cherries.
Outside the Box
Sweet-and-spicy hot chocolate pops.
"Hot" Chocolate
Combine low fat chocolate milk and a pinch of cayenne pepper in a blender, blend until frothy.
Key Lime Crunch
Blend 1 part evaporated milk and 2 parts sweetened condensed milk with fresh lime juice and zest. Pour into molds and add pieces of broken up graham crackers – press down with stick to distribute throughout.
Cool, refreshing cucumber-mint pops.
Tea-riffic
Combine brewed tea of choice with citrus slices or small chunks of fresh fruit. If tea is unsweetened – add a touch of honey or simple syrup.
Cucumber-Mint Fizz
Pour in sliced cucumber, fresh mint leaves and sparkling water – add a little simple syrup to sweeten things up.
Adults Only
Margarita
All you need is margarita mix – add tequila to it before freezing or choose a brand that already comes with alcohol (we used Jose Cuervo Light Margarita). To serve, remove from molds and serve with lime wedges and salt for dipping.
Spicy Bloody Mary
Mix tomato juice, freshly squeezed lemon, prepared horseradish and a few dashes of Worcestershire and Tabasco sauce. Feel free to add a touch of vodka too.
Raspberry Prosecco
Stir 1 part ginger ale with 2 parts Prosecco (Italian sparkling wine), drop in fresh raspberries.
Sex on the Beach
Mix 1 part vodka with 2 parts a mixture of orange and cranberry juices- add a splash of peach schnapps.
More Recipes To Try
Mango-Basil Freeze Pops
Spiked Watermelon Pops
More tips for Making Your Own Popsicles
And in light of the coming heatwave, here are some tips on keeping your kitchen cool, from the FN Dish.
Dana Angelo White, MS, RD, ATC, is a registered dietitian, certified athletic trainer and owner of Dana White Nutrition, Inc., which specializes in culinary and sports nutrition. See Dana's full bio »
More posts from Dana Angelo White.
Similar Posts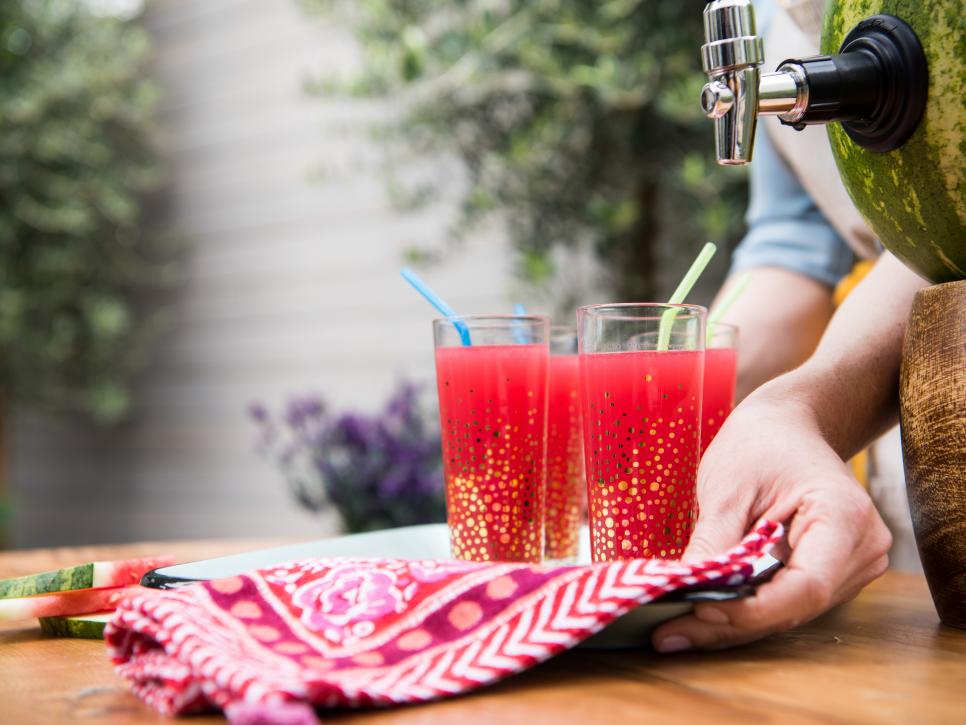 Tips and ideas for enjoying watermelon....