We're teaming up with food and garden bloggers to host Summer Fest 2011, a season-long garden party. In coming weeks, we'll feature favorite garden-to-table recipes and tips to help you enjoy the bounty, whether you're harvesting your own goodies or buying them fresh from the market. Today, we're exploring peaches.
Peaches are finally in season, so get your hands on some while they last and enjoy them in as many ways as you can (but don't forget to freeze some for the colder months!). Here are 8 healthy ways to eat the sweet stone fruits that you might not have thought of.
8. As a side dish: Tomato-Peach Salad from Food Network Magazine (pictured above)
7. With chicken: Bobby Flay's Grilled Chicken With Spicy Peach Glaze
6. Sweet-tart: Peaches With Balsamic Cherries
5. For dinner, spooned over grilled pork: Rosemary Roasted Pork With Peaches
Grilled pork with peaches, from Food Network Magazine.
4. In a glass, with wine: Peach Sangria
3. On the barbie: Grilled Peaches
2. For breakfast, in an overnight French toast bake: Ellie Krieger's French Toast Bake
1. With cream: Peaches and Cream (ok, maybe this one's obvious, but this version's healthy)
What's your favorite way to eat peaches? Shout it out in the comments, or let us know on Twitter; use the hashtag #cookingwith.
More peaches with our family and friends:
CIA Dropout: Peachy Keen Panna Cotta
What's Gaby Cooking: Peach and Blueberry Cobbler
In Jennie's Kitchen: Easy Peach Preserves
Daily Dishin: Fresh Peaches and Cream No-Bake Pie
Cooking with Books: Peaches and Cream Cheesecake
Cooking With My Kid: Peach & Friends Cobbler Pie
White on Rice Couple: Peach Heirloom Tomato Salad
Cooking With Elise: Bruschetta with Grilled Peach Chutney
FN Dish: Summer Fest: Peach Recipes
Taste With The Eyes: Warm White Peach and Blackberry Cobbler
Recipe Girl: Fresh Peach Pie
A Way to Garden: Farm Fresh Peaches Frozen to Perfection
Napa Farmhouse 1885: Fresh Peach Cookies
Sassy Radish: Peach, Apricot and Blueberry Cobbler with a Cornmeal Crust
Sweet Life Bake: Sweet Peach Ancho Chile Salsa
Indian Simmer: Indian Peach Gujiya
Dixie Chik Cooks: Peach Cobbler
Food2: 5 Killer Peach Flavored Cocktails
Cooking Channel: Peaches on the Grill
Add a Pinch: My Grandmother's Peach Cobbler
And Love It Too: Pan Seared Salmon with Fresh Peach Salsa
From My Corner of Saratoga: Double Caramel Peaches
She Wears Many Hats: Peach Wontons
I Am Mommy: Peach Bread
More posts from Michelle Buffardi.
Similar Posts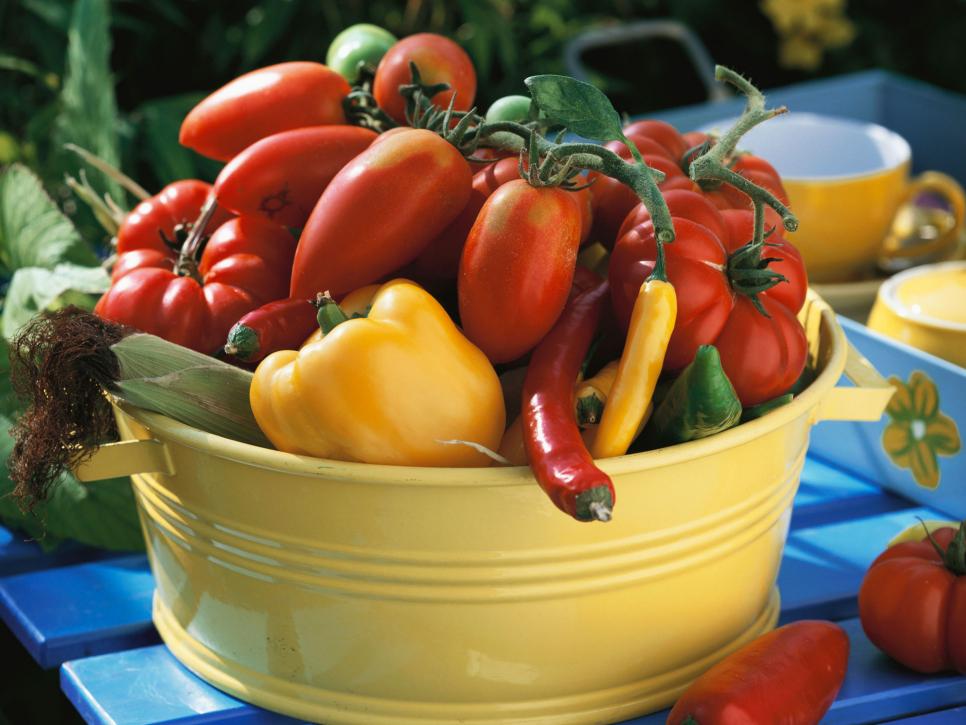 Check out these fresh ways to use an abundance of summer produce....