Robin's Firey Turkey Burger With Avocado and Jack Cheese
Lighten up this year's July 4th party with a winning menu: spicy turkey burgers piled high with creamy avocado, grilled sweet corn with tangy lime butter, Asian-inspired slaw with crunchy noodles, and a spruced-up, modern version of strawberry shortcake. Bye-bye gluttonous get-together fare!
Fiery Turkey Burgers With Avocado and Jack Cheese (pictured above)

You can make these burgers as spicy as you like just by adjusting the amount of chipotle chilies.
Cooking spray
1 pound ground turkey breast
1 large egg
3 tablespoons chopped fresh chives
2 tablespoons minced chipotle chilies in adobo sauce
1 teaspoon dried oregano
4 (1-ounce) slices Pepper Jack or Monterey Jack cheese
4 whole wheat hamburger rolls
1 ripe avocado, pitted, peeled and sliced
1 ripe tomato, thinly sliced
Coat a stovetop grill pan or griddle with cooking spray and preheat to medium-high.
Combine turkey, egg, chives, chipotle chilies, and oregano in a large bowl; add salt and freshly ground black pepper to taste and mix to combine. Shape mixture into four patties, each about 1 inch thick.
Place burgers on hot pan and cook 3-5 minutes per side, until cooked through.  Top burgers with cheese; cook 1 minute, until cheese melts. Place burgers on rolls; top with tomato and avocado.
Serves 4


Grilled Corn With Lime Butter
Adding fresh lime to butter adds a wonderful tartness that pairs perfectly with sweet corn.
Cooking spray
4 ears cob corn, shucked
2 tablespoons unsalted butter, softened
1 lime, juice and zest
Coat a stove-top grill pan or griddle with cooking spray and preheat to medium-high.
Place corn on hot pan and grill 8-10 minutes, until golden brown and tender, turning frequently.
Meanwhile, combine butter, 2 teaspoons lime juice and 1/2 teaspoon finely grated lime zest; mix well to combine. Season corn with salt and freshly ground black pepper. Serve corn with butter on the side.
Serves 4

Asian Slaw with Crunchy Fried Noodles
4 cups shredded cabbage
1 cup shredded carrots
1/2 cup chopped scallions
1/4 cup chopped fresh cilantro
2 tablespoons diced pickled jalapenos
1/4 cup mirin (Japanese rice wine)
2 tablespoons seasoned rice vinegar
2 teaspoons sesame oil
1/2 cup crispy chow mein or rice noodles
Combine cabbage, carrots, scallions, cilantro, and jalapenos in a large bowl.  Add mirin, rice vinegar and sesame oil and toss to combine. Season to taste with salt and freshly ground black pepper. Top with noodles just before serving.
Serves 4


Buttermilk Shortcake With Balsamic-Glazed Strawberries
It's quick and easy to make shortcake when you start with refrigerated buttermilk biscuits – just sweeten the dough with a little sugar. The combination of sweet strawberries and tangy balsamic vinegar is fabulous and takes this classic dessert to new heights.
2 cups sliced fresh strawberries
1 tablespoon good-quality balsamic vinegar
3 teaspoons granulated sugar, divided
12-ounce can refrigerated buttermilk biscuits
Cooking spray
Light whipped topping (8-10 servings)
Preheat the oven to 375ºF.
Combine strawberries, vinegar and 1 teaspoon of the sugar in a medium bowl; toss to coat the strawberries. Set aside.
Separate dough into biscuits (container will have 8 to 10 biscuits). Transfer biscuits to a baking sheet; spray with cooking spray. Sprinkle remaining 2 teaspoons of sugar over biscuits. Bake 8-10 minutes, until golden.
Split biscuits through the equator and arrange on dessert dishes. Spoon strawberries on bottom half of biscuits, allowing some strawberries and liquid to drip over the sides. Top with sugar-coated top biscuit and whipped topping.
Serves 8-10
Robin Miller is a nutritionist, host of Quick Fix Meals, author of "Robin Rescues Dinner" and the busy mom of two active little boys. Her boys and great food are her passion. Check her out at www.robinrescuesdinner.com.
You Might Also Like:
More posts from Robin Miller.
Similar Posts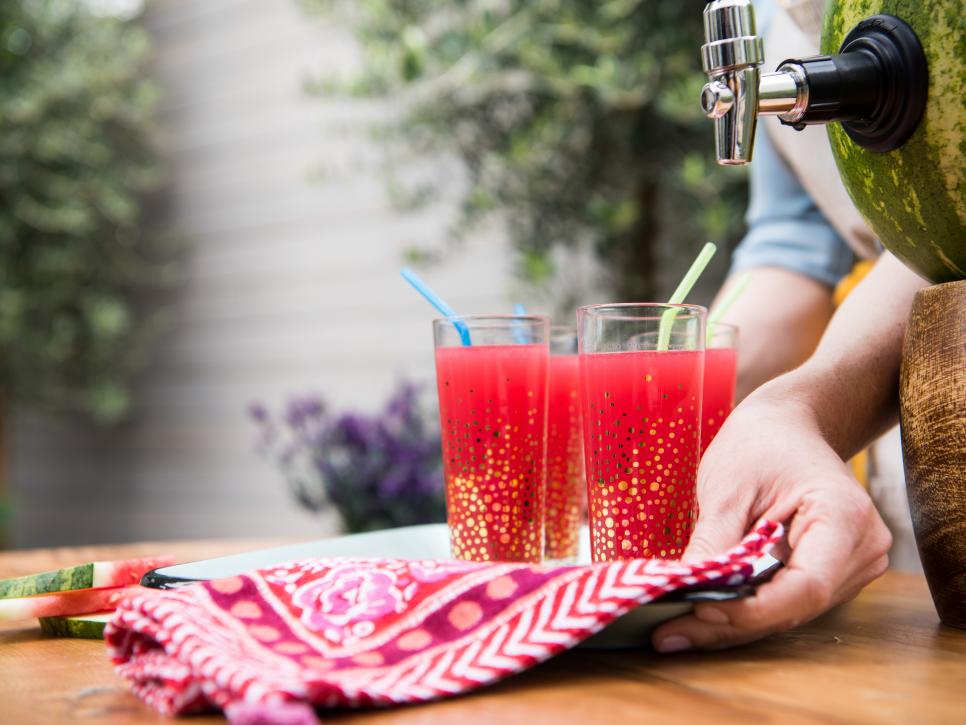 Tips and ideas for enjoying watermelon....