Celebrate National Iced Tea month this June by stirring up a batch of this summer favorite. We'll tell you how to sweeten this classic drink without going overboard on sugar.
The Processed Stuff
Think buying a bottle or can of iced tea is the answer? Think again! Many are processed with a laundry list of ingredients and way more sugar than necessary.  A 20-fluid ounce bottle of Arizona Iced Tea contains 239 calories and 59 grams of sugar. A 16.9 fluid ounce bottle of Nestle Iced Tea contains 186 calories and 47 grams of sugar – that's nearly 12 teaspoons!
The powdered mixes aren't great, either. One-and-a-half tablespoons of powdered iced tea mix contain 70 calories and 18 grams of sugar. Plus, the taste isn't great compared to the real thing.
Various other less sugar-laden iced teas are sold on the market, but why not make your own?
The Tea
Choose from regular teas like black, white, bitter green tea (link) or more fruity herbal varieties. Once you select your tea, brew, flavor and pour over ice. It's that easy.  If you plan ahead, try cold-brewing your tea for a smoother flavor: Just  throw 4 tea bags per quart of water in a pitcher and brew for 8 hours or overnight, stirring occasionally.
It's true that tea contains no calories, but they do have compounds called oxalates, which don't allow your body to absorb bone strengthening calcium. So stick to 1 to 2 cups per day.
The Sugar
With the explosion of various sweeteners on the market, you can get lost in all the choices. Here is a list of some common choices with nutrition info per tablespoon:
White sugar: 45 calories, 12 grams sugar
Brown sugar: 51 calories, 12 grams sugar
Honey: 60 calories, 16 grams sugar
Agave syrup: 60 calories, 16 grams sugar
Molasses: 70 calories, 14 grams sugar
Corn syrup: 60 calories, 5.5 grams sugar
Grenadine syrup: 54 calories, 9 grams sugar
Simple syrup: 22.5 calories, 6 grams sugar.
It's important to pay attention to how much sweetener you add, no matter what the source. Aim for (at most) 1 1/2  tablespoons of sweetener per serving, which comes out to about 90 calories per serving. Fruit juice is alternative way to sweeten your tea — aim for 1/2 cup juice, which has around 60 calories.
If you're looking to go the artificial sweetener route, here's the lowdown on common varieties. Just remember, that they too should be consumed in moderation and are not recommended for children.
The Flavors
Fresh fruit like sliced strawberries, star fruit, peach, pineapple or apple slices are sweet add ins, which allows you to cut back on sugar. For a touch of spice, try ginger root or for a cool, refreshing flavor, add mint. Sliced of lemons, limes or oranges add a splash of citrus to your iced tea.
Adults-only iced tea can be spiked with rum, but be aware that 1.5 fluid ounces of liquor (the size of a small shot glass) contains 100 calories. Between the sweeteners and alcohol, the calories can really add up quickly.
Recipes to Try:
Toby Amidor, MS, RD, CDN, is a registered dietitian and consultant who specializes in food safety and culinary nutrition. See Toby's full bio »
You Might Also Like:
More posts from Toby Amidor.
Similar Posts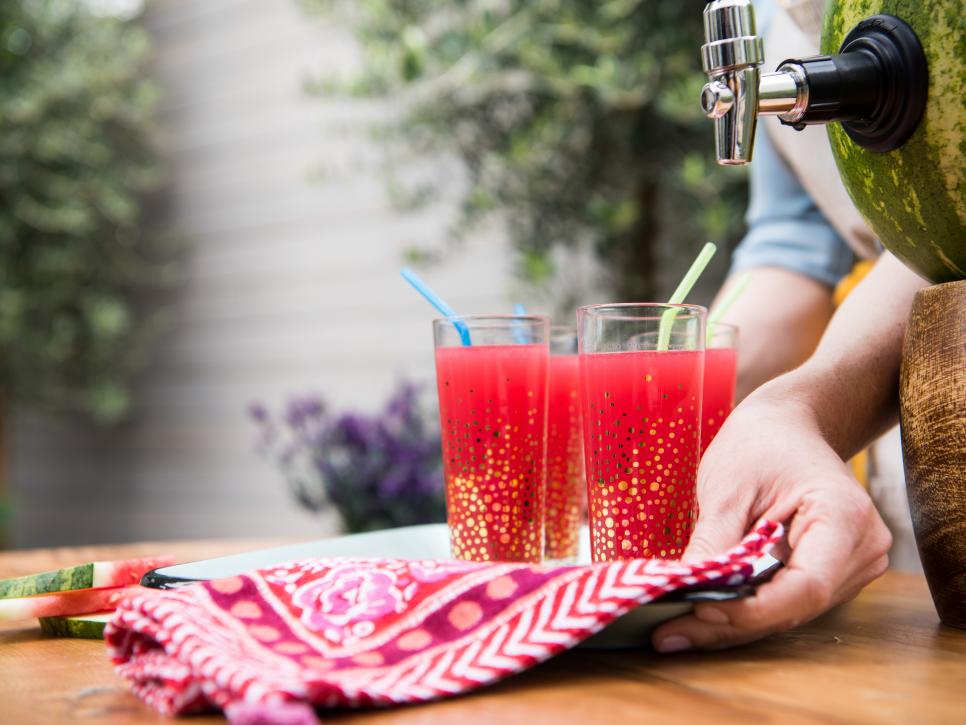 Tips and ideas for enjoying watermelon....