Giada's Italian Stuffed Artichokes
We're teaming up with food and garden bloggers to host Spring Fling 2011, a season-long garden party. In coming weeks, we'll feature favorite garden-to-table recipes and tips to help you enjoy the bounty, whether you're harvesting your own goodies or buying them fresh from the market. Recently, we dove into the worlds of asparagus and rhubarb — today, we're tackling artichokes.

I'll never forget the first time I saw an artichoke plant — it was wild and unexpected. When it comes to cooking, this veggie may also be a bit mysterious to some folks. Artichokes are more user-friendly than you might think. Oh and they're good for you, too.
When, Where & What
Artichoke season runs from March to June and then again in the fall months. Most of the U.S.-grown artichokes come from California — that's probably why I rarely see them at my local farmers' market in Connecticut. Because they take 150 days to grow and require attentive care, artichokes can be a bit pricey; they go for about $2 each at my local grocery store. They're definitely worth the occasional splurge, though.
An ancient symbol of fertility, artichokes vary in color from dark green to purple. Common varieties include Green Globe and Big Heart. "Jerusalem artichokes," or sunchokes, are tubers that look similar to ginger root, but don't be fooled — these guys aren't artichokes at all; they're actually a member of the sunflower family.
Nutrition Facts
One steamed artichoke has about 65 calories, no fat and 10 grams of fiber (that meets more than one-third your daily need). They're rich in vitamin C, folate and potassium and are high in antioxidants. In fact, cooked chokes ranked seventh on the USDA's top 100 list of antioxidant-filled foods. One particular antioxidant, silymarin (also know as Milk Thistle), is believed to help detoxify the liver.
What To Do With Artichokes
Artichokes have a mild, earthy flavor that's truly unique. I love that you can dress them up with a fancy stuffing mixture or dress them down by steaming and dipping pieces in olive oil-and-lemon sauce. Most folks are intimated by the trimming part. Once you learn that, you're all set. You can clean it two ways: trim just the rough leaf tips and steam the whole artichoke, or take off all the rough edges to reveal the tender heart — here's a great step-by-step guide from Food Network Magazine to master the technique.
When artichokes are out of season or you don't have time to prep them, go for canned (in water) or frozen artichoke hearts. You can roast or sautée tender artichoke hearts quickly. I add them to pasta, salads, dips and homemade pizza with lots of oregano. Last night, I made a quick quinoa side dish with sautéed asparagus, artichoke hearts, corn, basil and pine nuts. It was easy and absolutely delicious!
Shopping Tip: Choose artichokes that are brightly colored and firm and have tightly packed leaves. Store them in the refrigerator for up to 5 days.
Dana Angelo White, MS, RD, ATC, is a registered dietitian, certified athletic trainer and owner of Dana White Nutrition, Inc., which specializes in culinary and sports nutrition. See Dana's full bio »

Recipes To Try:
More Artichoke Recipes From Friends and Family
More posts from Dana Angelo White.
Similar Posts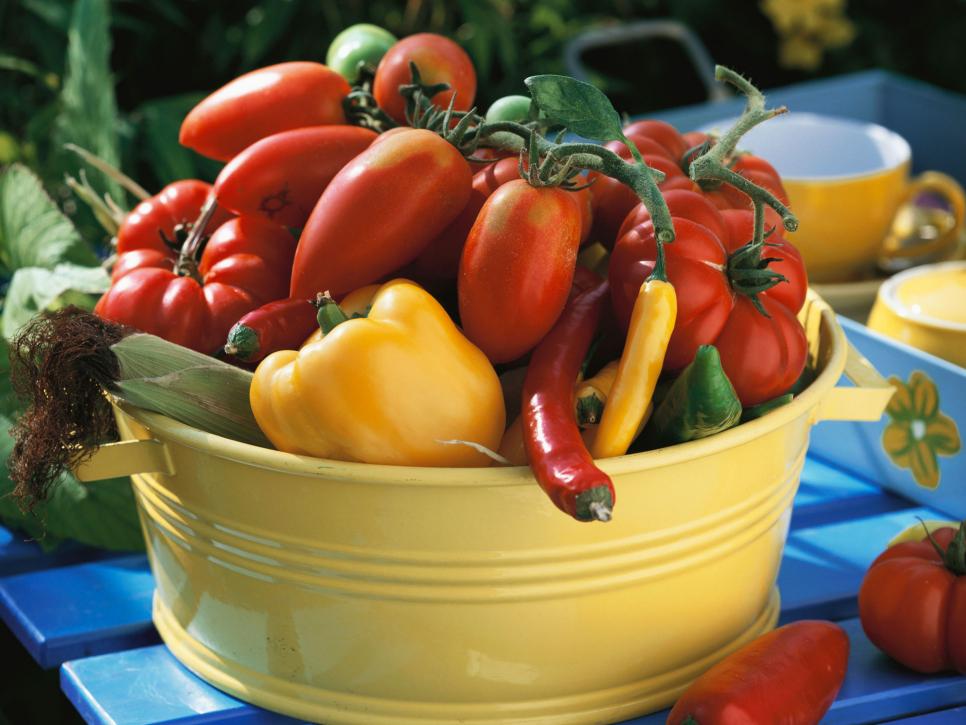 Check out these fresh ways to use an abundance of summer produce....