Although the Dukan Diet book has been a bestseller for years in France, it's been rapidly gaining popularity since Kate Middleton reportedly started the diet in order to lose weight for her upcoming royal nuptials to Prince William. Other celebs like model Giselle Bundchen and Jennifer Lopez are also said to have tried the diet to help them shed their post-baby pounds. But should you be following in the footsteps of these high-profile celebs? We're breaking down the basics (and the risks) of this hot diet.
Overview
Poor carbs! They can never catch a break. The new version of Atkins has arrived. Followers of the Dukan diet indulge in unlimited lean protein, but must eliminate carbohydrates (including fruits and veggies) completely, at least during the first phase.  French physician Pierre Dukan created the diet over a decade ago as a means to treats obese individuals, but the slew of celebrity followers and their weight-loss brought it into the spotlight.  As such, the Dukan diet fad has hit the U.K. by storm, and its gaining ground in the U.S.
The Plan
Just like Atkins, this plan has four phases, with lean protein being the main focus. During each phase, oat bran, tons of water and a 20-minute daily walk is required. It's suggested that dieters take a multivitamin with minerals. Here is a breakdown of each of them:
Phase 1- The "Attack" Phase: Unlimited amounts of lean protein, 1.5 tablespoons of oat bran and 1.5 liters of water per day. Choose from a selection of 72 lean or low-fat meats, fish, poultry, pork, soy, eggs, and non-fat dairy (not including lamb.)
Phase 2- The "Cruise" Phase: In addition to the low-fat proteins and oat bran (increased to 2 tablespoons), say hello to 32 vegetable options every other day. Some veggies that aren't allowed: sweet carrots and peas, corn and starchy potatoes.
Phase 3- Consolidation: This less-restrictive phase allows unlimited protein (including lamb) and veggies every other day. New allowable foods include one piece of low-sugar fruit, 1 portion of hard cheese, and 2 slices of whole grain bread each day. A few servings of starchy foods and celebration meals are also allowed each week. During this phase, you'll also choose one day each week (preferably Thursday or the same day each week) to eat only protein.
Phase 4- Stabilization: The final stage of this plan is maintenance. During this phase you can eat whatever you like as long as you follow a few simple rules: one day per week follow phase 1, and  eat 3 tablespoons oat bran and walk for 20 minutes each day.
The Costs
Dieters be warned! Expect to be hungry for the first 3 days on this diet, but Dr. Dukan claims hunger will disappear on day 4. In addition to hunger, other side effects of this diet include constipation, dry mouth, fatigue and bad breathe.
Weight loss on this diet is inevitable since there is a significant drop in the amount of calories you'll eat. However, the rate of weight loss is too quick, which can promote gallstones and muscle loss. Additionally, since most food groups are eliminated, you won't be getting in all your nutrients (including vitamins and minerals), which are needed to maintain a healthy body.
The official Dukan Diet website provides information on his philosophy, a community board, FAQ's, and other information about the diet. If you would like a personalized slimming diet from Dr. Dukan, the cost is about $200.00 to 250.00 which covers the time until you reach your "true weight." Or, there's a book about the diet philosophy: the U.S version of the Dukan Diet book comes out April 19.
The Good
Protein selection is from lean protein sources like fish, poultry, eggs and soy.
No weighing foods or calorie counting
The Not-So-Good
It's a very restrictive diet where most healthy food groups are eliminated.
The rate of rate loss is too rapid and unsafe.
Side effects of constipation, bad breath, dry mouth and fatigue.
Healthy eating habits are not learned on this plan.
High protein diets can lead to kidney failure, dehydrates and overconsumption of unhealthy fats (like saturated) and cholesterol, which have been linked to heart disease.
How much protein can someone realistically eat?!?
Tough to eat while traveling or on the go.
The Bottom Line: This restrictive diet is unhealthy and impractical. Just like Atkins came and went, so will the Dukan Diet. A well-balanced diet with all of the food groups is the way to go.
TELL US: Have you tried the Dukan Diet?
Toby Amidor, MS, RD, CDN, is a registered dietitian and consultant who specializes in food safety and culinary nutrition. See Toby's full bio »
You Might Also Like:
More posts from Toby Amidor.
Similar Posts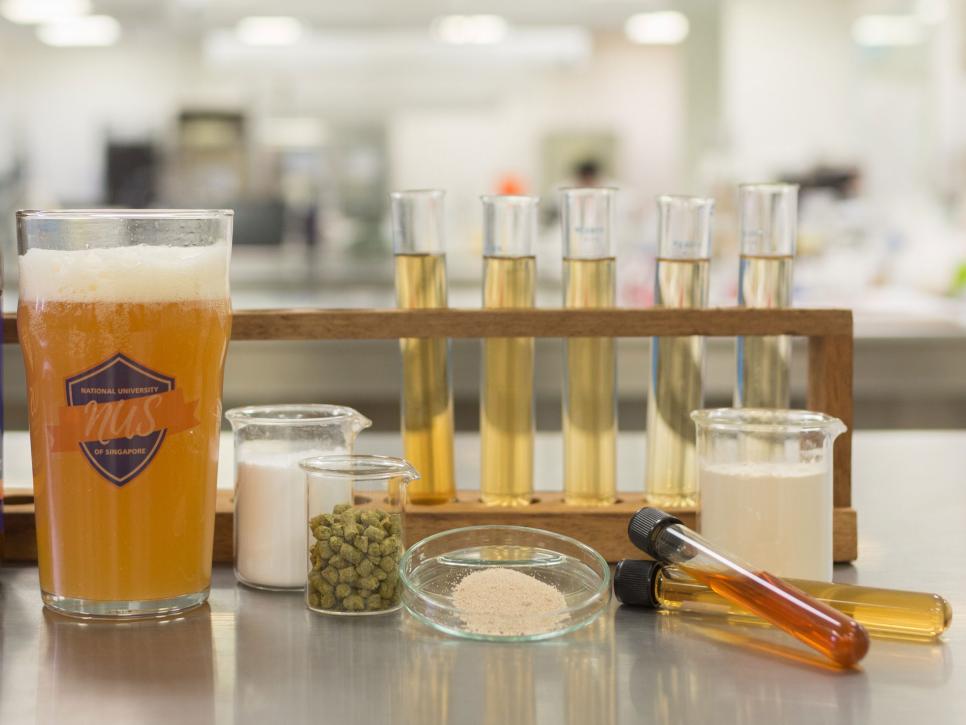 A research team at the National University of Singapore has created a probiotic sour beer....