Spring has sprung, and along with it comes the first of the delicate spring lettuces. Learn more about the varieties to look for at your local farmers' market, and get our favorite recipes for these tasty bites of spring.
Nutrition Information
Some lettuces are available year-round in the grocery store, but many varieties grown outdoors thrive in moderate spring and fall temperatures.  Varieties like arugula, watercress, Bibb lettuce, Boston lettuce, mache, mizuna and mesclun mix crop up around this time every spring.
Spring lettuce is chock full of nutrients and extremely low in calories — one cup contains less than 10! As a general rule, the darker the lettuce green, the more nutrients it contains. Darker greens typically have more than 50 percent of your recommended daily amount of beta-carotene. Other varieties like arugula are a good source of vitamin K and folate.
Varieties
Arugula
Arugula is actually a member of the cabbage family — it's not technically lettuce, we included it because it's super-popular in salads. You can also saute it and add to soups, pizzas, pasta dishes and stir-fries.
Recipe: Arugula, Caramelized Onion and Goat Cheese Pizza
Watercress
Part of the mustard family, this spring green can usually be found growing wild and around brooks and streams. You can also find it at the farmers' market or grocery store this time of year — it has small, crisp dark leaves and a slightly bitter, pungent and peppery flavor. Besides fresh salads, watercress can be used in soups and other cooked dishes.
Recipe: Cucumber Watercress Salad
Bibb and Boston Lettuce
These are the two more well-known lettuces from the butterhead family and are commonly referred to as butterhead or butter lettuce. It has a small, round, loosely formed heads and sweet, succulent flavor. The soft leaves range in color from pale green outer leaves to pale yellow inner ones.  It's great for salads, sandwiches and lettuce cups. For a new taste, try braising it with spring peas.
Recipe: Boston Lettuce with Vinaigrette
Mache
This narrow, dark green leafy green has a nutlike, tangy flavor. It can be used fresh in salads or cooked up and served warm. It's a bit tough to find, so you may pay a pretty penny for it.
Recipe: Mache Salad with Clementines and Seared Tuna

Mesclun Mix
Commonly referred to as "salad mix" or gourmet salad mix, mesclun is a combination of young, small salad greens. Depending on the mix, you might see arugula, dandelion greens, frisee, mizuna, oak leaf, mache, radicchio and sorrel.
Recipe: Mixed Greens with Tomato-Ginger Dressing
Mizuna
This Japanese lettuce is typically found in mesclun mixes, but can be found sold separately at the farmers' market during the spring and summer. It has a mild, peppery flavor and feather-like shape.
Recipe: Wasabi Seafood Salad
Shopping Tip: Choose spring greens that are crisp and free of blemishes. As these greens are highly perishable and delicate, wash gently and drain or blot with a paper towel to remove excess moisture (a salad spinner can save time). Don't soak lettuce, as water softens the leaves and removes vitamins. Store washed and drained lettuce in a sealed plastic bag for 3 to 5 days.
TELL US: What's your favorite type of spring lettuce?
Toby Amidor, MS, RD, CDN, is a registered dietitian and consultant who specializes in food safety and culinary nutrition. See Toby's full bio »
You Might Also Like:
More posts from Toby Amidor.
Similar Posts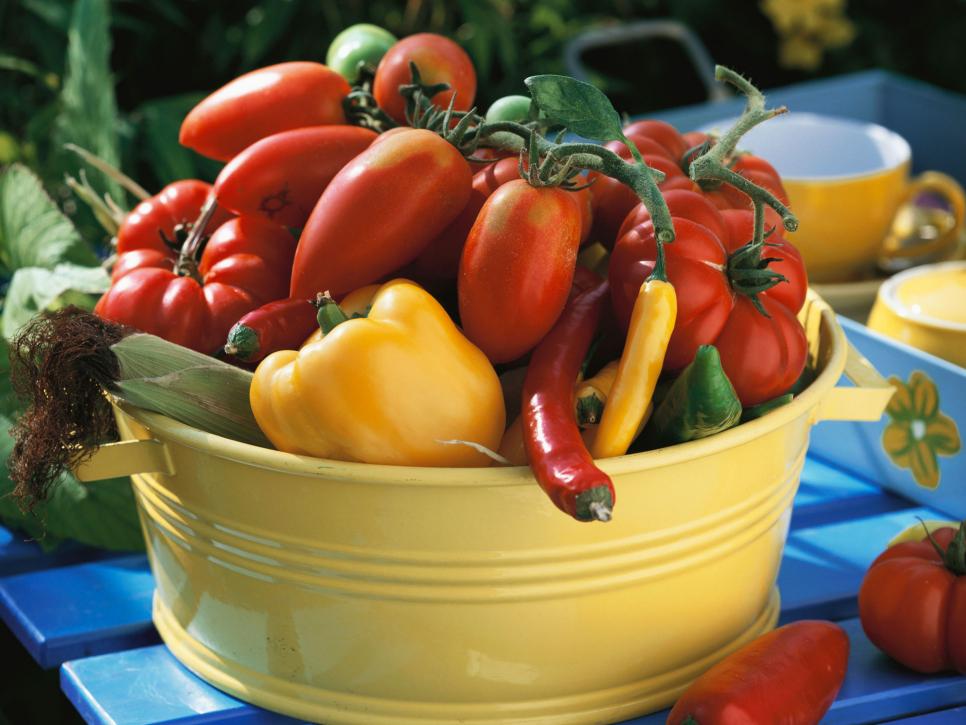 Check out these fresh ways to use an abundance of summer produce....