We gave you tips on mix-and-match healthy stir fries; this time we're tackling soups. Soups are inexpensive and there are seemingly endless varieties once you learn the basic soup-making technique.  We'll walk through the basics to get you started, and give you fun and exciting ideas to play with in the kitchen.
Soup Basics
There are a variety of soups such as broths, purees, bisques and creamy soups. We're focusing on basic broth-based soups, which are typically a healthier choice than a bisque or cream soup. (Check out how to lighten up chowders and potato soup.)
A broth-based soup is made from meat, fish poultry or veggies cooked in a liquid. If you have time, make your own stock or broth with aromatic veggies (like onion, celery and carrots) and flavorful cuts of meat like the neck, shank or shoulder or the meat and bones from chicken or turkey. You can also make vegetable stock from your favorite produce — mushrooms, parsnips, turnips, leeks and tomatoes all add loads of flavor. (Get our stock-making how-to here.)  No time to make your own? Use a low-sodium store-bought brand.
Once you have the base, add your favorite veggies, beans, peas, lentils — all high in fiber, which will also help make you feel satisfied.  Before you begin, soak the dried beans or lentils, chop the veggies and measure out any other ingredients you need.
Once the ingredients are prepped, here are your basic steps:
In a large stockpot, heat a touch of olive or canola oil. Add onions, carrots, celery or any other aromatics you plan to include — these will be the base of flavor for your soup.
Add long-cooking vegetables like potatoes or turnips.
Add stock or broth and bring to a simmer.
Add seasonings like dried thyme, bay leaves, parsley stems, fresh dill, crushed peppercorns and garlic.
Add starches like uncooked rice or pasta or dry beans and cook according to package directions.
Add additional vegetables with a shorter cooking time  — for example, canned beans, frozen peas or leafy greens.
Simmer soup over a low heat to allow all flavors to blend.
Check out Dana making her famous Speedy Soup in this short video.
The Protein
Although the stock or base of the soup can be made using bones, you can also add pieces of leftover chicken, turkey or beef. Cubed pieces of firm tofu are another protein-rich addition if you're looking for a change.
The Veggies
Go crazy with the veggies! There are so many possibilities…turnips, carrots, string beans, peas, spinach, potatoes, sweet potatoes, yams, parsnips, mushrooms, okra – the list can go on and on. If you don't have the time for fresh, then go for canned or frozen. With canned, be sure to rinse before adding to remove some of the sodium. When choosing frozen veggies, go for the plain varieties without sauces.
The Carbs
Again, mix up your carbs —s ome healthier choices include brown rice, barley, whole grain pasta (smaller sizes work better). Don't overwhelm the soup by adding too much, aim for about 1/4 cup cooked portions per person. Remember, there are other goodies in the soup to fill up on, too!
The Flavor
Herbs and spices add very few calories so don't be afraid of them! Some flavorful additions include dried thyme, bay leaves, parsley stems, fresh dill, fresh mint, crushed peppercorns, cayenne pepper, garlic, chives and Tabasco sauce.
Recipes to try:
TELL US: What's your favorite soup combination?
Toby Amidor, MS, RD, CDN, is a registered dietitian and consultant who specializes in food safety and culinary nutrition. See Toby's full bio »
You Might Also Like:
More posts from Toby Amidor.
Similar Posts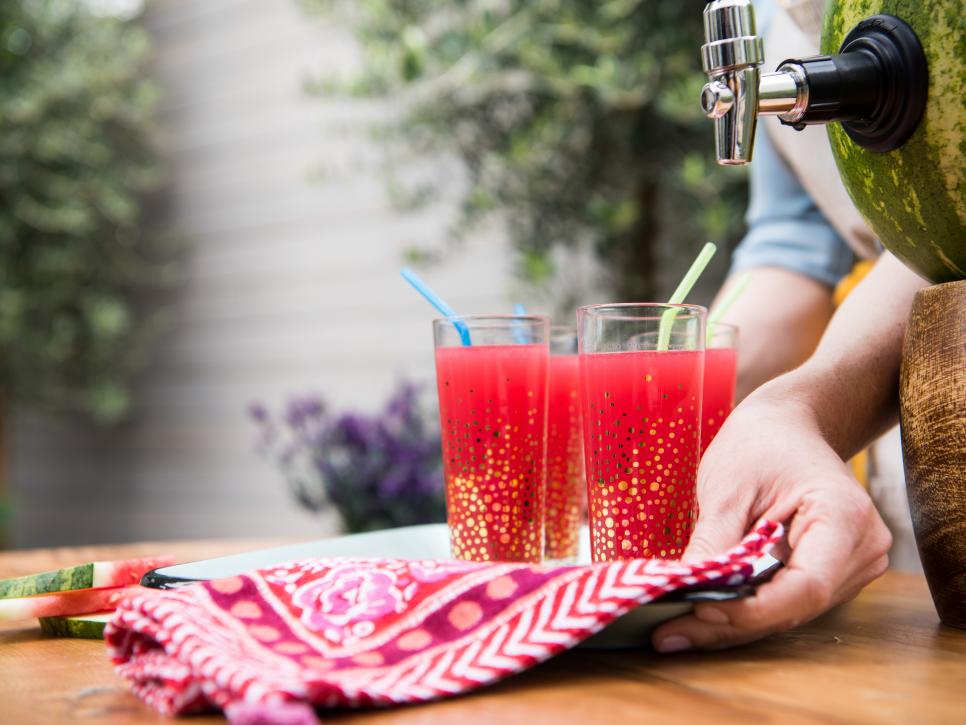 Tips and ideas for enjoying watermelon....