I love packing lunch for my two boys every day. It's a little part of me that I send in a brown bag (actually, a thermal lunch bag.) It like to imagine them opening lunch to find my surprises.  These are my favorite simple, healthy foods to pack up, plus, my easy prep and planning tips.
Prep It Ahead
Since our house is often a scramble in the morning, I prep some things the night before. The only thing I want scrambled in the morning is eggs!  The night before, I often chop fruit and vegetables and package dips, salads and crackers in reusable containers. I usually put small portions of a variety of things, since I never know what they'll be hungry for several hours later. This picture is the perfect example of the things I put in their lunches on a rotating basis.
Make Your Own "Lunchables"
Sometimes I make homemade "Lunchables," meaning I pack individual items that the boys can assemble at school. For example, I'll send a small pita, a small resealable container of tomato sauce and a snack bag of shredded mozzarella cheese so they can make their own mini pizzas. Or I'll put whole grain crackers or a tortilla in one bag and smoked turkey and cheese in another bag (sometimes they want the meat and cheese together, sometimes not). My son Kyle also likes mock tuna "sandwiches:" tuna salad nestled between cheddar Sunchips.
Keep It Cold
To keep everything cold, I add a frozen tube of yogurt that thaws by lunchtime. You can also use a plain old reusable ice back, but the yogurt doubles as a healthy sweet treat.
Get The Kids Involved
If your kids aren't loving what you're packing, ask them to help pack lunch so they can choose their favorites. You might be surprised how healthy it is!  Remember, you don't need the conventional sandwich and apple to create a balanced meal. Here are some of our other favorites:
Pasta with pesto and grated Parmesan (no need to keep chilled)
Whole wheat tortilla wraps (with ham or turkey, cheese, lettuce and mustard)
Whole grain pita topped with tomato sauce and mushrooms; packets of Parmesan on the side (shown in the picture – the Parmesan is from our local pizza shop!)
Peanut butter or Nutella sandwiches on whole grain bread
Cheese sticks, cubes and rounds
Almonds, peanuts and pistachios
Baked tortilla chips or whole grain tortilla chips and salsa
Raw green beans and carrot sticks with ranch dressing
Low-sugar pudding
Frozen yogurt tubes
Whole-grain crackers
Pretzel sticks with peanut butter
Dried fruit (cherries, mango, cranberries, raisins)
Cubed melon (cantaloupe, honeydew, watermelon)
Red and green grapes
Small apples or sliced apples
Small oranges or orange wedges
TELL US: What do you pack in your kids' lunchbox (or your own)?
Robin Miller is a nutritionist, host of Quick Fix Meals, author of "Robin Rescues Dinner" and the busy mom of two active little boys. Her boys and great food are her passion. Check her out at www.robinrescuesdinner.com.
You Might Also Like:
More posts from Robin Miller.
Similar Posts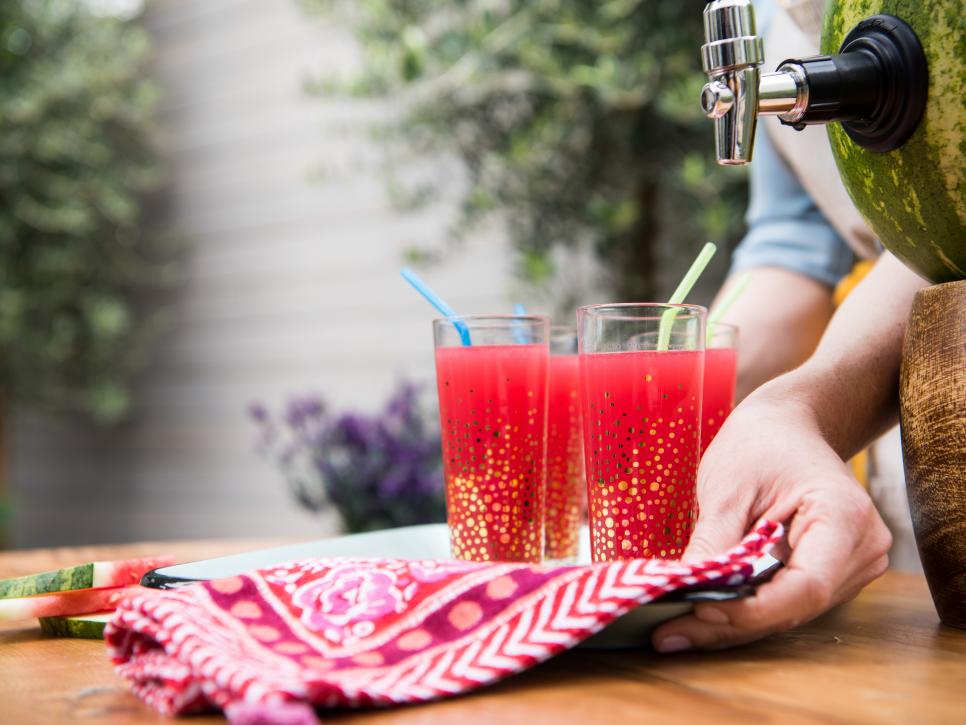 Tips and ideas for enjoying watermelon....