Alton's Chipotle-Smashed Sweet Potatoes
We're teaming up with other food and garden bloggers to host Fall Fest 2010, a season-long garden party. Each week we'll feature favorite garden-to-table recipes and tips to help you enjoy the bounty, whether you're harvesting your own goodies or buying them fresh from the market. To join in, check out awaytogarden.com.
Early this fall, I went on a tour of my CSA's farm. We walked past rows upon rows of waning okra, squash and tomatoes, then saw a glimpse of what was coming up next: the tiny greens sprouts that will become the spicy arugula I love so much, the beginnings of covet-worthy kale and the heart-shaped leaves of growing sweet potatoes, almost ready to be plucked from the ground.
Each week when I get my knobby, misshapen sweet potatoes, I think about the farm as I drizzle on oil to roast them. But this week's batch marked my last box of the season, so I'm breaking out of my roasting routine and going in a new direction. Here are the sweet potato recipes I'm trying this week.
Alton's Sweet (and Spicy) Potatoes
Alton gives this go-to Thanksgiving side dish Southwestern flair by mixing in a chipotle pepper with adobo sauce.  Keep it to 1 pepper unless your family can take the heat — these smoked jalapenos pack a punch!
RECIPE: Alton's Chipotle-Smashed Sweet Potatoes (pictured)
Baked Sweet Potato and Celery Root Fries
Celery root is often under-appreciated because its knobby peel looks so daunting at the store. Once you peel back the rough exterior, this root vegetable is great raw or cooked.  Its spicy flavor is a great match for sweet potatoes, and these fries are crispy, colorful and oh-so-satisfying.
RECIPE: Sweet Potato and Celery Root Fries
Sweet Potato Quinoa Salad
This hearty salad is the perfect fall lunch, and a great way to use leftover roasted sweet potatoes. Mix quinoa, sweet potatoes, black beans, corn and bell pepper, then top with a drizzle of olive oil, a squeeze of lime and a handful of feta cheese.
RECIPE: Sweet Potato Quinoa Salad
Vegetarian African Peanut Stew
There's plenty of turkey talk this time of year, but if you plan on celebrating the holidays meat-free, here's a recipe for you. Flavor sweet potatoes with curry powder and ginger, then add heft to the soup with chickpeas and some crunchy peanut butter. Add cilantro and a bunch of greens just before serving.
RECIPE: Vegetarian African Peanut Stew
Sweet Potato Chips With Black Olive Tapanade
For an easy, elegant (and bonus, inexpensive) fall appetizer, top crisp baked sweet potato crisps with an olive-and-sun-dried tomato tapanade. The sweetness of the potato chip contrasts perfectly with the salty tapanade, and the color combo makes for a striking presentation.
RECIPE: Sweet Potato Chips With Black Olive Tapanade
More Favorite Sweet Potato Dishes With Friends and Family:
More posts from Liz Gray.
Similar Posts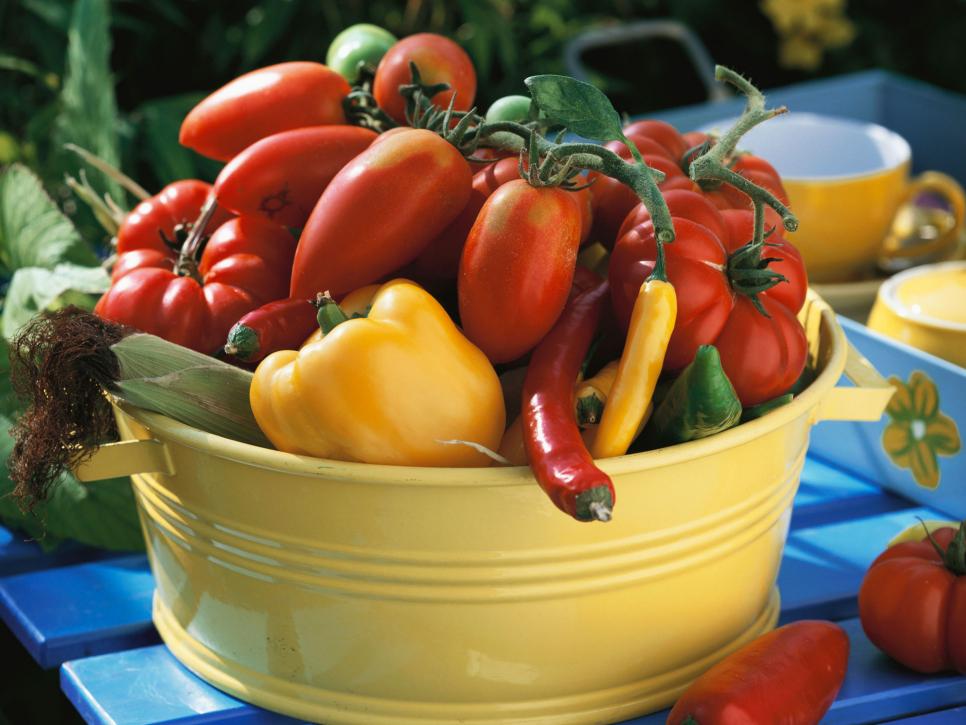 Check out these fresh ways to use an abundance of summer produce....