When my daughter turned old enough to eat solid foods, there was no question that I was going to make them for her – it helps that I love to cook! But what about moms with less culinary confidence? What about the time commitment? Here are the pros and cons, and a few easy recipes.
Pros and Cons
Babies don't need fancy food – simple and fresh is best. On the other hand, making baby food on top of everything else a mom needs to do can be enough to send you over the edge! Many moms I've talked to say that once they actually made some of their own baby food, it wasn't nearly as tough as they thought. Here's the breakdown of the most common pros and cons of DIY baby food.

Pros
You know exactly what's in it — premade foods are processed and sometimes contain preservatives
More affordable than the jarred stuff
Fresher
Better quality and taste
Make large batches at one time and store in the freezer for up to 6 months
Cons
Takes time
Food safety — food must be handled properly to avoid contamination
Not knowing what to make
Harder to pack for on-the-go
Tools of the Trade
If you do choose to make your own food, there are a few must-have gadgets. You probably already have many of them:
A food mill helps you change the texture of the food by using different blades as your baby gets older
A blender or a food processor
Ice cube trays and freezer-safe bags and containers for storage
Glass containers for reheating in the microwave
Month By Month: Recipes to Try
Many babies start eating pureed fruit and rice cereal as early as 4 months – the start time is really up to you and your pediatrician. By 6 months most babies are off and running. As the months go by, babies' palates and digestive systems become more mature and your options expand.
6 Months
My daughter loves bananas, only they don't freeze or defrost well. But when mixed with pears, they hold up well in the freezer. Pureed pears can also be a bit watery; the bananas make the mixture thicker.

Bananas & Pears
2 bananas
2 large pears*, chopped
Place pears in a small saucepan and cover with water. Bring to a boil and simmer for 10-15 minutes until tender. While the pears are cooking, mash raw bananas in a food mill, fitted with the finest blade. Using a slotted spoon, transfer pears to the food mill and puree into the bowl with the bananas, mix well to combine. Transfer to ice cube trays and freeze.
*you can leave the skin on if using a food mill
9 Months
Meat is a new frontier of flavor for tiny taste buds. Mixing it with creamy potatoes and peas helps make it more palatable.
Pork, Potatoes & Peas
1 large, bone-in pork chop
1 medium potato, peeled and diced
1 cup frozen peas
Place pork chop and potato in a medium saucepan. Cover with water and cook for 40-45 minutes, turn off heat and add peas. Transfer to a bowl to cool slightly, reserving 1 cup of the cooking liquid. Remove meat from the bone and transfer it along with potatoes and peas to a food processor and pulse until the mixture is well-combined but still has texture. Add a few splashes of cooking liquid to make mixture smoother, if desired. Transfer to ice cube trays and freeze.
Use the same method with other combinations – chicken thighs, carrots and  sweet potatoes are popular in my house.
12 Months
Once your baby is old enough for milk and wheat, you can make a baby version of mac and cheese. Add veggies and protein to make a complete meal.
Mac and Cheese with Chicken and Vegetables
1 cup broccoli florets
1 cup chopped carrots
3 ounces cooked chicken breast
2 teaspoons canola oil
1/4 cup low fat (1 percent) milk
3 slices American cheese, torn into pieces
2 cups cooked small-shaped pasta (such as Stelline)
Place broccoli and carrots in a small saucepan and boil until tender (about 15 minutes), drain, reserving 1 cup of the cooking liquid. Transfer cooked vegetables and cooked chicken to a food processor and pulse until well-chopped. Set aside.
Heat oil in a medium saucepan. Sprinkle with flour and let flour cook for 1 minute. Whisk in milk and 1/2 cup of the vegetable cooking liquid. Add cheese and stir with a wooden spoon until well-combined, adding more vegetable broth if desired. Stir in pasta and chicken mixture. Store in the refrigerator for up to 5 days or in the freezer for up to 3 months.
Get more ideas for making your own baby food.
TELL US: Have you made your own baby food?
Dana Angelo White, MS, RD, ATC, is a registered dietitian, certified athletic trainer and owner of Dana White Nutrition, Inc., which specializes in culinary and sports nutrition. See Dana's full bio »
You Might Also Like:
More posts from Dana Angelo White.
Similar Posts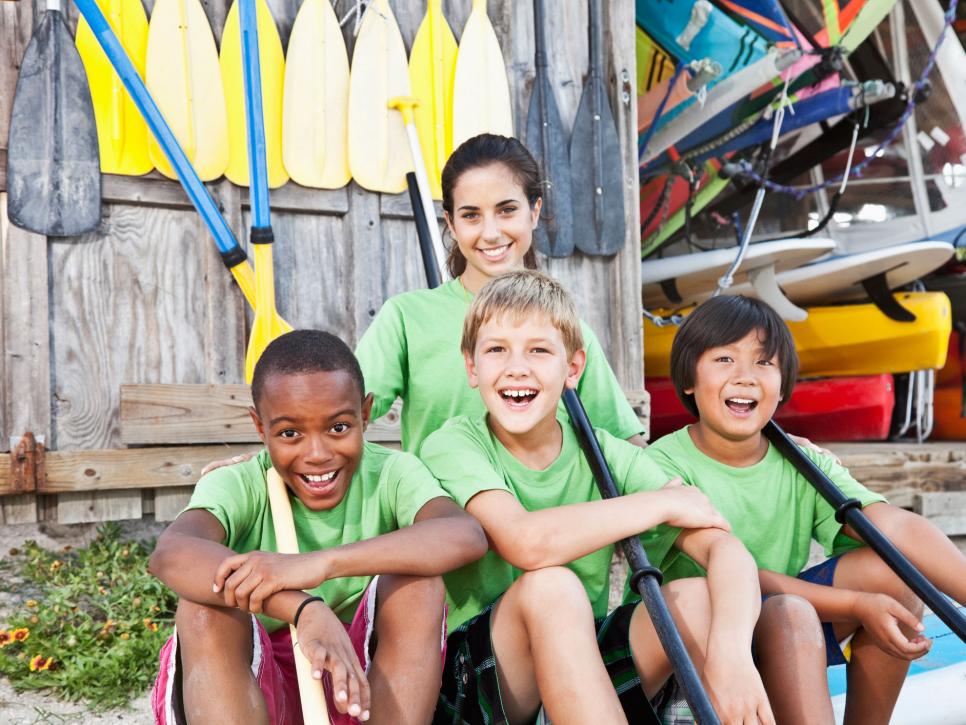 Keep your campers happy with these meal and snack ideas for summer camp....