Throughout the day you should eat a rainbow of foods — red, yellow, orange, green, blue, purple and white. Each color is rich in specific nutrients that help make a well-balanced diet. In this series we'll tell you why each color is important, and with Halloween around the corner, we thought it was most appropriate to start with orange. Find out how to get some on your plate every day.
What Orange Foods Have to Offer
What gives most foods their orange hue is the antioxidant beta-carotene, which also helps support healthy skin, hair and vision. Most folks typically fall short when it comes to beta-carotene in their diet, so it's important to make sure you have some orange on your plate each day. The yellowish color found in citrus fruit doesn't contain much beta-carotene, but is chock-full of another antioxidant, vitamin C which also helps fight infection. Here are 5 must-eat orange fruits and veggies, plus recipes to try.
Pumpkin
Don't worry if you can't go pumpkin picking this season; many recipes call for the canned stuff. Make sure to choose canned pumpkin and not the highly-sweetened canned pumpkin pie filling. Pumpkins contain the antioxidant lutein, which help give you healthy skin and eyes.
Recipe: Pumpkin Rice Pudding
Apricots
This orange fruit is a good source of potassium and fiber. Fresh ones make for an easy on-the-go snack. Apricot season runs from May to July, but you can use dried apricots year-round for trail mix or these Apricot-Oat Bars.
Recipe: Apricot Oat Bars

Cantaloupe
Besides being an excellent source of both vitamin A and C, cantaloupe is also a good source of folate. One-quarter of a medium melon contains 50 calories and can be added to salads or wrapped in a little prosciutto.
Recipe: Prosciutto Purses

Carrots
Carrots are a low calorie veggie — a medium one has just 30 calories!  Although you may have only seen orange carrots, they can also be found in purple, white and yellow. Dip carrots in hummus or one of these smarter dips or make an easy carrot salad, no mayo needed.
Recipe: Carrot Salad

Mangoes
Did you know that mangoes are the most widely consumed fruit in the world? With a half a fruit providing 70 calories of goodness, make mangoes part of your healthy diet.
Recipe: Mango Salsa
Oranges
This bright yellow-orange fruit is an excellent source of vitamin C and a good source of fiber. They also contain an antioxidant called cryptoxanthins, which helps protect cells from damage. One of Dana's favorite varieties of orange are blood oranges—they make a mean cocktail.
Recipe: Blood Orange Bellini
Sweet Potatoes
Sweet potatoes are the oldest veggie on record, and they definitely deserve their place at the table. One medium baked potato provides 105 calories, tons of vitamins A and C and a good amount of potassium. There are so many ways to enjoy this fall favorite, but this recipe is the most requested in my house.
Recipe: Honey-Roasted Sweet Potatoes
TELL US: How do you get your daily dose of orange?
Toby Amidor, MS, RD, CDN, is a registered dietitian and consultant who specializes in food safety and culinary nutrition. See Toby's full bio »
You Might Also Like:
More posts from Toby Amidor.
Similar Posts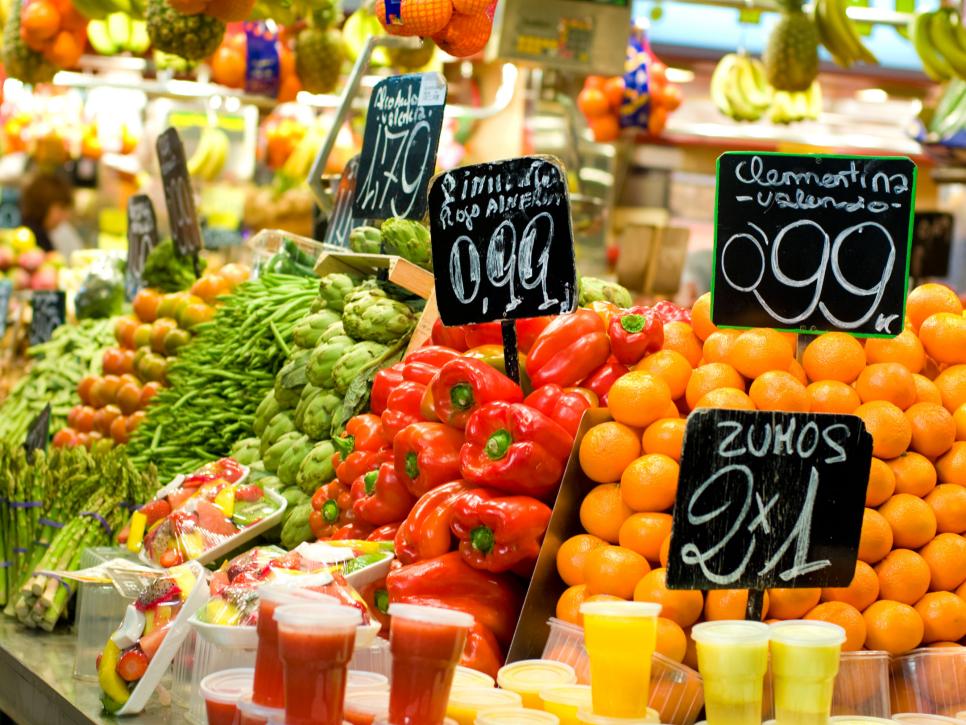 Stave off vacation weight gain with these easy, nutritionist-approved tips. ...